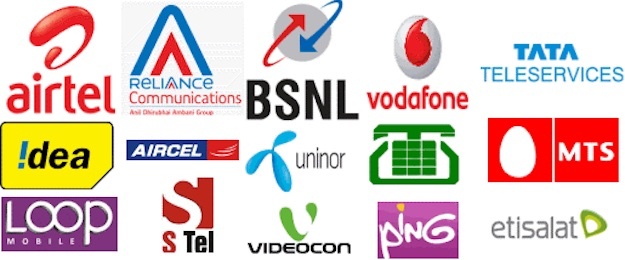 Communication is a vital part of our life. In today's technology-driven world, most of the communication is through electronic means termed as "Telecommunication". The term telecommunication is also referred to as Telecom through which we exchange information with each other over certain distances by electronic devices or mediums. This includes all types of data, voice, and video transmission. Most of the time, we interact with our Smartphones or laptops by using internet technology. So, different devices related to transmitting information such as phones (wireless or wired), televisions, laptops, satellites, radios, internet, etc. rely on telecom for providing us various content related to education, work, and entertainment.
Overview
The telecommunication industry consists of telecom companies that are telecommunication service providers for providing data or voice transmission services. Communication on a global scale is possible through these companies by means of phone or airwaves or the internet or cables or via wireless medium or wired. The technology infrastructure developed by telecom companies allows sending of data throughout the world in the form of voice, audio, words, or video. The various segments of these companies include telephone operators, cable network companies, satellite companies, cellphone and wireless service providers, and ISPs (internet service providers). So the telecom companies provide infrastructure facilities for communications and data transmission. Telecommunication services offered by telecom companies are mainly of two types, i.e. Wireless telecommunication services and diversified telecommunication services. Diversified telecommunication is further categorized into alternative carriers and Integrated telecommunication services. The description of these can be viewed in the below chart:
Types of Telecommunication Services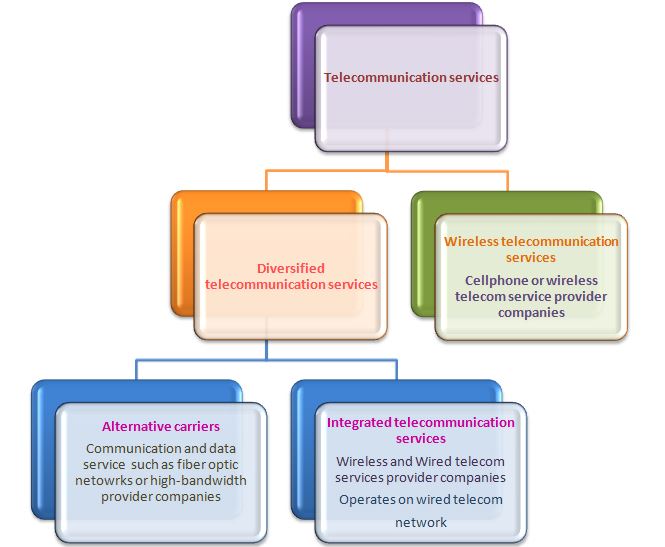 Few such renowned telecommunication service provider companies are Verizon, AT&T, Airtel, Idea Cellular, Reliance Jio, Vodafone, Airtel, Tata communication, BSNL, and many more.
Evolution
Telecommunication or telecom word is derived from combining two words i.e. tele (means distant) which is a Greek prefix and communicare (means to share) which is a Latin word. The beginning of the telecom sector in the 1830s is associated with telegraph invention, which is considered as the first mechanical device for communication. This device facilitated a reduced period of communication, i.e. from days to a couple of hours. Earlier, physical wires were required to connect businesses and homes. Today, the primary way of communication is through wireless digital technology. The telecom system has become more decentralized from a few big players. In present, telecom is more about images i.e. video streaming, high-speed broadband internet access, email communication.
Current Business Models of Telecom Companies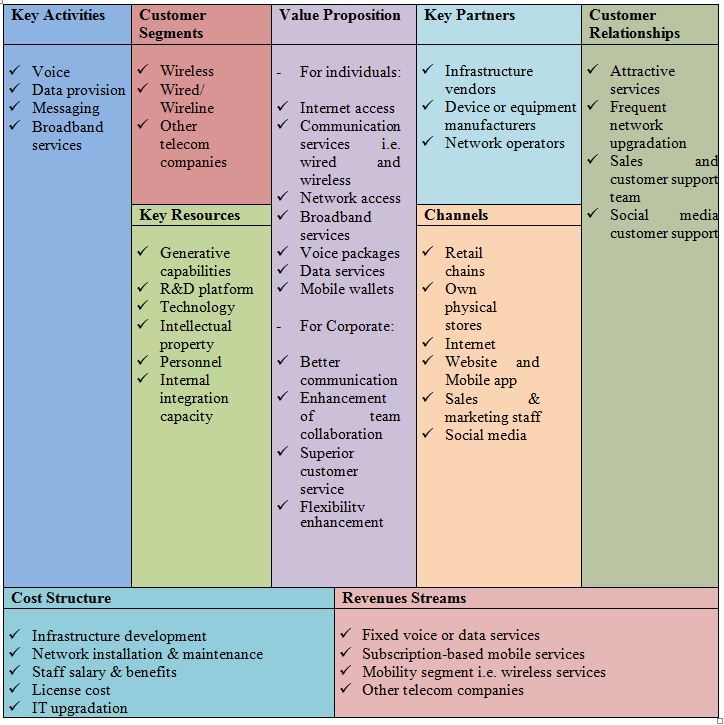 Different elements mentioned in the above business model canvas of Telecom Companies are as under:
Value Proposition
Offerings or the value proposition refer to different products and services as well as their key benefits offered by different firms.
 For individuals and households
The value proposition of telecom companies aimed at providing communication services to customers and providing access to the internet, own network access, network access of other network operators.
Telecom companies provide data and voice services i.e. phone service (both wired and wireless), television, internet, business, and home networking, etc.
Various services and benefits are offered by telecom companies like Wireless telecommunication, Fixed telecommunication, and Fixed broadband facility. Apart from providing Fixed telecommunication or landline traditional communication services, telecom companies also facilitate data service and wireless systems. Also, the television set is available of higher bandwidth speeds through fibre optics which is improved infrastructure.
For fixed telecommunication or basic landline, various options are available for end-users. Basic voice packages are offered by telecom companies that include calling, caller ID, and call waiting features.
Broadband internet access is one of the beneficial and most popular services provided by telecom companies. Discounted packages are also available for offering different services altogether, i.e., telephone.
One unique service offered by telecom companies is Mobile money or mobile wallets. Various main telecom companies have facilitated users with mobile wallets such as Reliance Jio Wallet, Airtel Money, Vodafone M-Pesa. for the purpose of providing digital payment facilities to customers. The various benefits of mobile money include money-saving in an efficient and effective way, means of transferring funds that is both inexpensive and easy, providing access to unbanked people for basic financial services, and other financial service access i.e. loans, insurance, etc.
For businesses or corporate
The Value proposition offered by telecom companies to corporate or businesses are as under:
Better communication: Telecom companies provide information networks that can be electronically exchanged using both wireless and wired methods. This information is sharable across the country and in different rooms. Few examples are fax machines, telephone, handheld devices for communication, and computers that are internet-connected. Capabilities have increased through mobile communication devices offered by telecom companies, i.e. tablets and smartphones. Using these devices, employees can access various applications and information, exchange emails, work on different documents, and attend conversations through teleconference.
Team collaboration enhancement: Most of the organizations or businesses have cross-functional teams who work together on various business aspects such as new product development, corporate initiatives, marketing campaigns, etc. For these, they get together in the form of various meetings regularly to discuss plans, progress, and ideas. Telecom companies support this get together of employees by providing the access and capabilities for communication.
Flexibility enhancement: During global crises like today's Covid-19 pandemic, organizations prefer remote working of employees for safety. Also, different roles demand excessive travelling for client meetings or training purposes. For all these requirements, telecom companies provide appropriate communication and data services to let the employees and their superiors stay connected to each other.
Superior customer service: Through 24/7 internet broadband services, landline, and wireless phone services; it is convenient for customers to communicate for any query or service. The telecom companies facilitate effective communication between organization and customers with various offerings that helps organization to strengthen its customer relationship both with current and prospective customers as well as brand value.
Customer Segments
This includes different segments of customers to whom telecom companies deliver their offerings or value proposition.
Wireless consumer segment: This includes different residential customers and corporate. Different residential customers mostly take data and voice services. This segment is further categorized into Post-paid and Pre-paid customers.
Wired or Wireline customer segment: Businesses i.e. medium and large enterprises fall under this category as they mostly have a worldwide presence. The need for telecommunications services for these enterprises is much wider than individual residential customer needs. Their requirement includes geographic coverage, customized, and reliable services. Networking solutions, advanced voice and video communications, fixed-line infrastructure are also required by them. So, large multinational companies look for heavy investment in telecom infrastructure to facilitate wide operation network.
Other telecom companies: Telecom companies also provide network connectivity services to different other network companies that require it.
Key Partner
This includes the network of different partners and suppliers that facilitate a business model to operate.
In the case of telecom companies, various infrastructure vendors, network operators, device or equipment manufacturers, etc. are the main key partners. Telecom service providers purchase mobile devices from manufacturers of these devices, i.e. device manufacturers. They further sell the devices to customers or end-users to enhance or make their customer portfolio.  To build networks, service providers take services of infrastructure vendors and also, tie-up with other network operators for traffic agreements in order to allow the access of other networks to their customers.
Key Activities
All those primary activities that a business is indulged into for the main purpose of earning profit are considered as key activities of a business model.
 The key activities of telecom companies consist of mainly 4 activities i.e. voice, data provision, messaging, and provision related to broadband services.
Voice: Voice telecommunication or Telephony communication is related to a sound communication between people over a distance through wireless or wire phones and other related technology. Different telecom service providers supply voice telecommunication services by either their own network infrastructure or using the network infrastructure of a network operator.
Data provision: This includes all the multimedia content traffic between different parties i.e. application, service, end-users, etc. Telecom companies provide a lot of products and services to facilitate customers with increase access to data services. Few of such services are related to supporting access to music, internet, television, and game services.
Messaging: Another key activity of telecom companies is message services that include both SMS and MMS services. SMS stands for short message service and MMS is a multimedia messaging service. Both services are used for sending and receiving messages through the mobile handset and different other devices. SMS allows customers to exchange short messages in the form of text messages to and from mobile phone devices. Wherein, MMS service offers customers to send and receive multimedia based messages in the form of music, pictures, videos, sound, and text as well.
Broadband services: Broadband internet connection services are also provided by telecom companies.
Key Resources
The key resources are as under
 Physical network infrastructure e. towers and cables that enable telecom companies to operate their telecommunications network across the globe. The network infrastructure of telecom companies is the main source to deliver their voice, data, and messaging services to customers. Customers are connected through the network's access part which ultimately links to the core network. The core network manages routing and set-up of calls, message transfers, and data connections.
Licenses: Through licenses, telecom companies can deliver mobile and fixed communication services to customers.
Human capital: Sales and marketing team, technical team, supply chain management team, etc. play a significant role in the operation of telecom companies.
Suppliers or supply chain management: Handset or device manufacturers, network equipment manufacturers, IT, and marketing service providers are also key resources of telecom companies.
Apart from above, a few other key resources include IT capabilities, partnerships and alliances, Research & Development, etc.
Channels
Different channels which facilitate telecom companies in communication with end-users include retail chains, internet, own physical stores, sales and marketing team, Mobile apps, websites, social media, etc. Telecom companies have direct stores that they own and sell their services to customers and for customer support services. The sales force is also an important key channel for promoting and selling telecom products and services along with providing customers with a user friendly and easy way to access support and manage their services. Different indirect distribution channels such as retailers, distributors, third-party service providers, dealers, etc. are also key channels of telecom companies.
Customer Relationship
Telecom companies build and enhance customer relationship through providing a bundle of services along with more attractive data plans. The regular investment in their network up-gradation also facilitates them to offer much better customer services. The sales team of telecom companies is available for accessing their services in the store or over the phone. Also, customers can take services from their website and mobile app as well. Customer interaction is also available through social media such as Facebook, Twitter, etc. An exclusive help and support section is usually maintained by telecom companies on their website to support customers in their issues and queries.
Cost Structure
Expenses of telecom companies include infrastructure development and network maintenance cost, network installation cost, after sale support services, IT capacity development costing, Licenses cost, etc. Other elements of cost structure comprise salary and benefits to staff, retail outlets, etc.
Revenue Streams
 Telecom companies make money in various ways. Earlier just telephone calls were the only source of the biggest revenue for the companies but now due to advance network technology, the revenue scenario is evolving. Now telecom is focusing less on voice and more focus is on text, video, and data. More revenue sources are inclined towards services that are delivered over mobile networks. Internet access that provides computer-centric data apps like interactive entertainment and broadband services is contributing to revenue generation of telecom companies.
Revenue Model of Telecom Companies
 Telecom companies generate revenue via subscription mobile services, fixed landline, and wireless broadband services. These companies offer a high-speed broadband facility, wireless network, and mobile security-related services to businesses. Money is earned by providing entertainment services such as television and advertising facilities, etc.
Income from fixed-data services: Such as IP, satellite, Integrated Services Digital Network, etc.
Retail fixed-voice service revenue: Comes from the sale of all services to end-users. This includes voice-related long-distance and local services such as line subscription/rental, calling charges, and fee-related to the connection.
Mobile telecom services revenue: This includes income earned via mobile data usages such as SMS, mobile data access, and mobile phone calls.
Mobility segment i.e. wireless and mobile subscription services also contribute to the revenue of telecom companies. These companies charge from big multinationals for premium services such as video-conferencing and high-security private networks.
Telecom companies also source revenue from other telecom companies by providing them with network connectivity.
Emerging Business Model of Telecom Companies
The telecom companies play a significant and central role in the lives of people and businesses. To ensure innovative communication services such as broadband and other services like 4G or recent 5G up-gradation, these companies are required to bear huge investments. The appropriate return on these investments is connected and challenged by the extremely competitive environment of the telecom sector. Today, telecom companies work in saturated and much mature markets. To add new products and services is becoming challenging as severe competition with over-the-top service providing companies such as WhatsApp.
Below are the different aspects that are creating demand for adopting new business models by telecom companies:
Voice service demand declining: One of the key challenges telecom companies are facing today is the maturity of their mobile voice services and declining of the traditional business i.e. fixed-line. Nowadays data connectivity or network access is the primary or main product and voice is considered as a feature of any app rather than the main product.
The entry of over-the-top (OTT) players: OTT apps such as WeChat, WhatsApp are over-taking the traditional ecosystem. The free voice and video calls, text messages, etc. are the benefits of these OTT players over similar paid services of telecom companies.
Evolving customer priorities: The rapid changes in expectations of customers are also key reasons for restructuring the business model of telecom companies. For example, people now use multiple devices for internet access.
So, the rapidly changing business environment of telecom companies demands a more innovative business model. The new era of the digital customer, a decline in revenue streams, and also upcoming opportunities in emerging sectors, etc. are the clear indication that the current business model of the telecom industry demands innovation-based on the latest and advanced technology system.
The emerging business model of telecom companies in a world of 5G technology
In the coming 5G technology in the communication industry, different emerging business models can be adopted by telecom service providers. The two main alternatives available for telecom companies are:
Continuation of their core operations
Diversification into digital services and transformation into a digital enterprise.
Telecom companies as a provider of connectivity: In this business model, the main focus is on the core business of telecom companies i.e., connectivity. Different key factors to be considered are growth in ARPU (Average revenue per user), IoT (Internet of things) connectivity, subscriber growth, etc.
Partnership-based business model: This business model includes the partnership-based business of telecom companies. The partner may be an application provider of 3rd party for providing content or a Virtual Network Operator.
Business model as a provider of digital services: In this business model, telecom companies provide services beyond the services of core connectivity i.e. digital services such as smart homes, financial services, and Video content.
Location-based service business model: Telecom companies are coming up with various services that are based on usage data of cell-phone and location tracking. For example, the tracking of agents of insurance companies can be easier using this data and it will be easy to monitor the time spent by them with clients. Moreover, different services are being tested by telecom companies to enable truckers to reschedule deliveries or reroute through real-time based traffic information.
Summary
The tremendous growth in the telecom industry can be seen over the last decade. Though the telecom industry provides a lot of services to its customers, the telecom companies are still struggling to choose an appropriate business model in today's technology-driven environment. Business models of telecom companies are being transformed. New opportunities for these companies have emerged due to the adoption of social networking, the proliferation of devices, cloud computing, and wireless mobility at a much wider level.