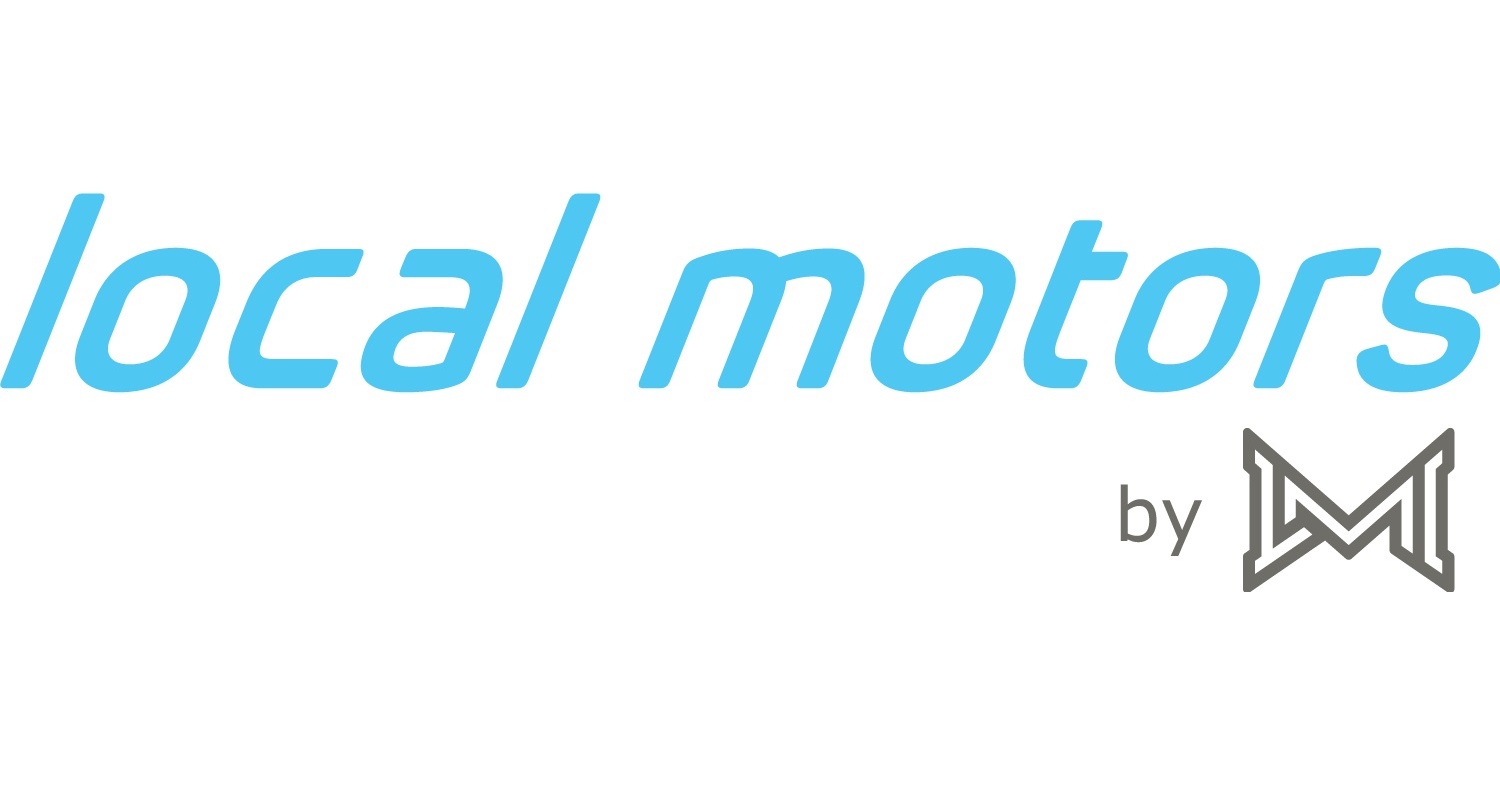 Local Motors is a motor vehicle manufacturing company, based in America, that focuses on low-volume manufacturing of open-source motor vehicle designs by using multiple microfactories. The company produces vehicles using 3D Printing and takes the help of vehicle designs provided by the online community. It believes in open collaboration and co-creation.
History of Local Motors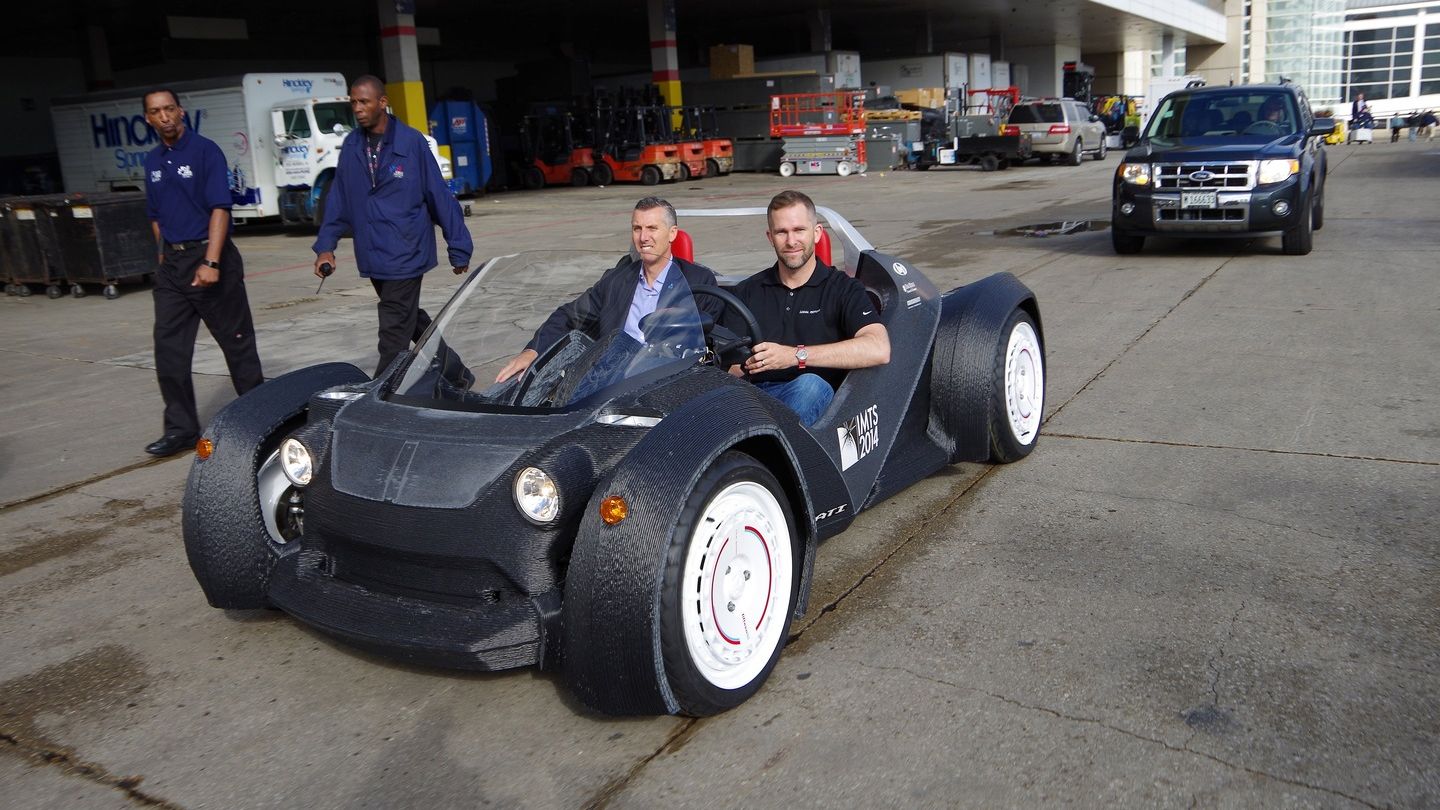 It was founded in 2007. The headquarters is in Phoenix, Arizona. John B. Rogers, Jr. is the CEO and co-founder of Local Motors and of its parent company, LM industry. Following are some models that have been manufactured by Local Motors.
Business Model
The term business model is used to roughly describe how a business operates. At its core, a business model is a description of how our business makes money. It's an explanation of how the company delivers value to its customers at an appropriate cost. As per Joan Magretta, a business model lets the company experiment, test, and use different ways through which they could structure their business. Local Motors' business model is formulated around its micro-factories. These micro-factories focus on a few and unique types of vehicles. Every micro-factory tries to source components locally to the largest extent possible. And each features a modular factory floor that can be configured and reconfigured to match the demand for individual vehicles. Let's look at the elements of the business model of Local Motors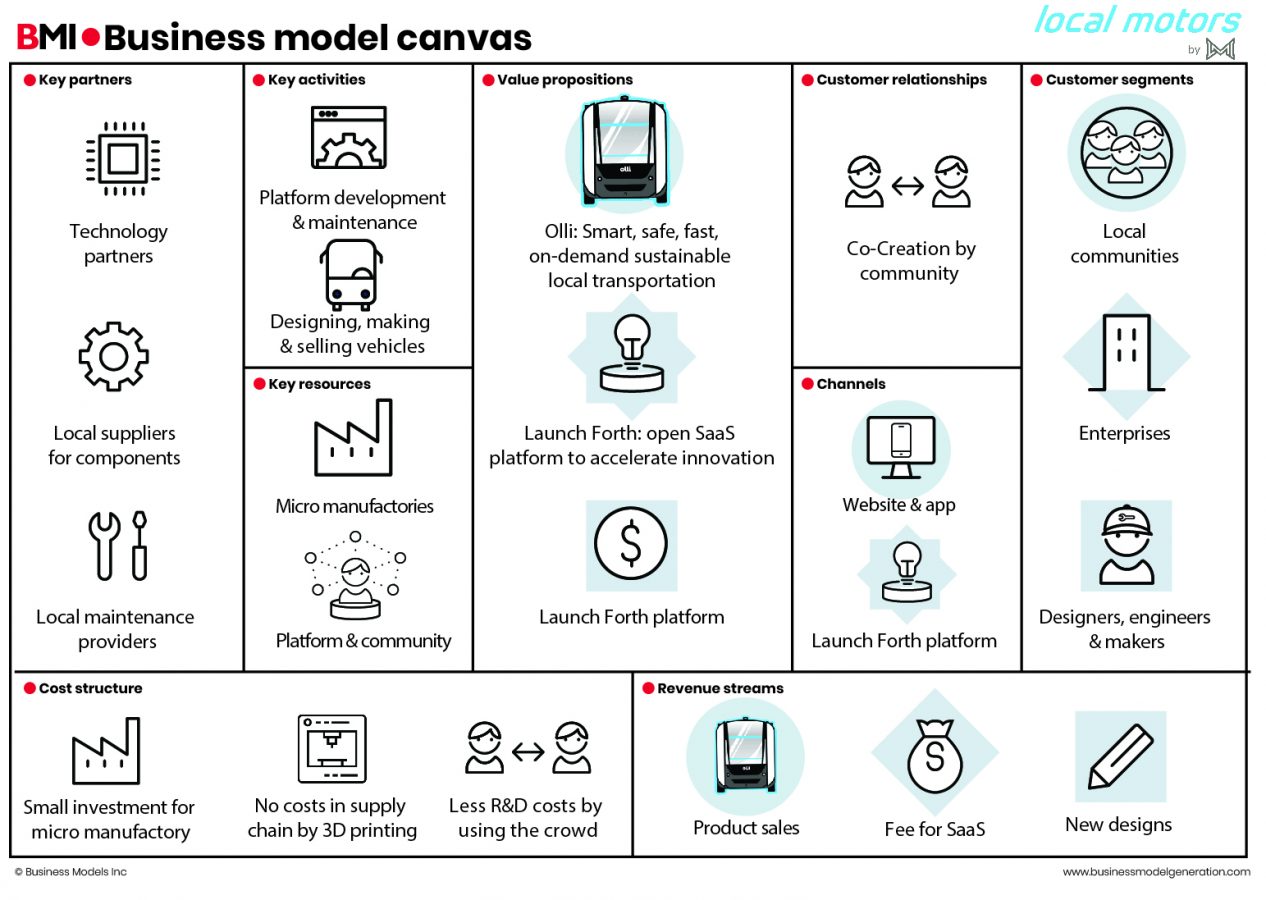 Value Proposition
Following is the value proposition of local motors.
Local Motors focuses only on a niche market and produces just 2000 units before retiring that model. They do not aim to build a million units. So they are able to create a new customer segment every time.
Their primary focus is on an "economy of scope" instead of an economy of scale.
Because it is an open-source vehicle company, so it openly shares body data. So the parts can be easily downloaded and easily modified as per one's preference.
Keeping the niche target in mind, they also have started micro-factories in Knoxville and Washington, D.C. for 3D printed cars. Local motors think when a customer walks into their store, all they have to do is to go up to a screen, choose one of nine or 10 unibodies, choose power trains which they buy from other manufacturers, choose wheels and tires and colours — and they will print it while the customer waits or by the next day when the customer comes back. By this method the time lead time also reduces.
The thrill of walking into the factory and watching your car get customized right in front of you is unique. For such an unmatchable experience and a DIY project, people do not hesitate in paying a higher price. By involving the buyer in designing his own car from scratch, Local Motors have naturally build up the strong customer base and brand loyalty for the company.
Local Motors has an online community which is growing fast. It comprises engineers, designers, and other enthusiasts. The idea is when people contribute to a vehicle, Local Motors bring the vehicle to the market and people get a royalty on every unit they sell. However, not all vehicle designs people work on hit the market. But the community continues to work over a variety of products making Local Motors not just an automobile manufacturer but a vehicle-technology company. It does add to the in-house inventory of ideas to fall back on, as and when the company may need them.
It is worthwhile to note that Local Motors were profitable, even with their very first car, in terms of the variable costs. They were able to bring a vehicle to market at about 1/100th the cost and five times faster as they brought in the expertise from a diverse background.
With limited edition cars of local motors, the customers are able to showcase their economic status also, and it instils in them a sense of pride.
Local Motors uses regular and unbroken feedback which has enhanced the value of its products giving it a desirable competitive edge over others.
Local Motors strives to bring new innovative vehicles. Currently, they are trying to build a prototype military vehicle- the XC2v -for the Defense Advanced Research Projects Agency, a research arm of the Pentagon. They have launched the best pizza delivery vehicle for Domino's Pizza and the best shoe for driving for Reebok. They also want to build a crowd-sourced motorcycle, a boat and a more affordable car.
Local Motors' own first vehicle, the Rally Fighter, took just 18 months to take off from a 2D drawing to a vehicle ready for pick-up. The industry standard normally is of 3 to 5 years. The company wants to streamline this even further, with a goal of a 12-month timeline.
The cars are produced and designed using the co-designing type of co-creation, that is called crowdsourcing. For instance, the road-legal cars were produced in 18 months, which is faster than the usual process by five times.  Around $3 million was spent to develop the car, which is less than the amount spent on commercial models by the automakers. This was achieved by reworking the car's features.
Key Partners 
Local Motors' focus is on rapid product development and commercialization. As it grows, in order to increase its profit and to reinforce safety and reliability in lockstep, it looks to partner with teams who have a proven track record. Such partners often share the same vision of Local Motors in providing sustainable, accessible transportation solutions to all, and are devoted to supporting Local Motors. These are the partners of Local Motors.
Professionals (designers, engineers, makers)
Venture Capital Investors
Raw material and component suppliers
Local Motors chose premier engineering service provider, Hinduja Tech Inc, as the latest partner for the continued development of the world's first co-created, self-driving vehicle, Olli. For accessories and other parts, it depends on Honda, and others. Local Motors indulges in open platform development by cooperating with leading companies throughout the world, bringing the latest and newest in technological advancements and safety to mobility products at unparalleled speeds.
Key Activities
Local Motors believes in the rapid development of connected hardware by pairing advanced manufacturing with open innovation tools for the future of mobility. Rogers, CEO of Local Motors, has always been enthusiastic about transportation, and he pushed the boundaries of the industry with the world's first co-created vehicle. By including and involving all the stakeholders in the designing and developing the car, Local Motors had opened a two-way communication. Rally Fighter is the fruit of one such communication process. Following are the key activities of Local Motors.
Microfactories development
Local Motors focuses on vehicle innovation. In its online community, the content is created by users who discuss designing, engineering, and building innovative vehicles. Members contribute their own ideas and projects, which are discussed within the community. This open collaboration is one of the key activities of Local Motors. Co-creation is a technique used by Local Motors to enhance new product development. Select organizations have partnered with the company to facilitate co-creation of their products including the US Army,  Domino's, and Airbus. Local Motors use co-designing type of customer co-creation in which the selective process is designed by its community and some features such as frame and structure is looked over by the company. The chart explains co-creation in Local Motors.
No matter the users are novices or experts, all users can participate in this step. Users create drawing designs and decorative ideas in their own style. Post that, users present their designs on the website. The best design that is selected by people in the community is developed by the company. Finally, the company launches the co-designing motor into the market. Using this co-creation method, the company gains the customer's engagement and loyalty.
Customer Relationship
In today's cut-throat competitive world, consumers are well informed and ask for real-time information for sharing concepts and ideas. Shopping behaviour is invariably changing and customers are much more pressing in their demands as they have many choices available at their disposal. Local Motors builds a good customer relationship by inviting invites the users to share their ideas and designs how they would like the car to look, feel and perform. Among the multiple designs available, the most pleasant, practical and highly demanded design is voted and selected by users in the community which is eventually developed by the company on a small scale in the micro-factories. This helps in gaining the trust of customers. Though the car can be entirely tailor-made to a customer's specifications and wants, yet it has some elements that are standard like the body, which are made by Local Motors themselves, so that the quality of the product doesn't suffer a setback. Once the buyer gives the order for the car, he is called to any of the local micro factories for co-building the car from scratch. It is a 6 days process which means 2 weekends (Friday-Saturday-Sunday). The buyers/owners of the car indeed indulge in the labour work with the professional to co-build their car. The company is able to maintain a healthy relationship with the dealers through co-creation. From the customers' point of view, after-sales,  good service is critical to maintaining long-term relationships. This ultimately leads to higher engagement level and a positive impression and news in the industry, which results in a positive partnership. All the stakeholders involved are benefited in varying degrees in the process as there are constant improvement and innovation which results in revenue growth, higher retention leading to increased satisfaction and loyalty while maintaining lower operating cost.
Local Motors has facilities in Phoenix, Tempe, Knoxville, and National Harbor. This ensures that they are available for customers almost everywhere. The company also hosts educational events that are focused on technology, science, and manufacturing topics, to generate greater penetration into the market. People can purchase sustainable and locally-sourced merchandise from retail locations in Knoxville and National.
Along with this, Local Motors are innovative in the way they retain their customer loyalty, for example, if the customer wants to upgrade the hardware within a year then they would melt the entire hardware, and give the credit to put towards your next vehicle. The other option is if the customer comes back within a month, then they can swap in a new battery technology that has just come out. Their aim is to integrate technology as quickly as it comes to the market rather than waiting seven years in order to give an entirely different experience to the consumer. This is one of the strongest advantages that the company has.
Customer Segments
These are the customer segment of Local Motors.
Key Resources 
Jay Rogers is convinced about the capacity of humans. He says, "we are not in a hard deterministic world, and therefore we cannot do everything with robots. Our products are so complex that the human component is indispensable to leverage the power of technology." By reinventing mobility and manufacturing at once, something that has been unprecedented, and no other car company has done over the last 100 years, Local Motors is bringing tooling costs down by 50%, while at the same reducing the production time with 90%. These are the key resources of Local Motors:
Key Channels
One of the key channels of Local Motors is crowdsourcing and co-designing. It was able to bring the Rally Fighter to the market, just 18 months after starting the business. This car was an open-sourced vehicle, meaning that the crowd had helped to design and manufacture it. They immediately set a record for bringing a car to market in 18 months, something that was unimaginable in the automotive industry. Moreover, In 2014, Local Motors was the first company to make 3D-print car. In 44 hours, Strati was printed. The car only consisted of 50 individual parts, whereas a normal car consists of roughly 30,000 individual parts. It is because the crowd was used for co-creation.
They proved that they were able to engage their community with co-creation and use micro-manufacturing to build high-technology products at a speed that no one could imagine. These are the key channels of Local Motors.
Cost structure 
The automotive industry is a very hard market to enter. You need experienced engineers, a massive capital investment, and a network of retailers. Along with this, there is a massive cost involved. The cost structure of it can be depicted below.
Maintenance of micro factories
Revenue Model
The Local Motors business model creates value and revenue by designing, manufacturing and selling vehicles. It makes money also through branded sourced retail, which included tee-shirts and other lifestyle-related goods tied to the vehicles. The retail aspect of the business was an attempt to capture some of the interest around the vehicles that Local Motors produced, like the Rally Fighter, which were unobtainable due to price point and other reasons. The strategy for the branded-sourced retail was similar to that of Ferrari, which actually makes more money off of the licensing of the brand than the sale of vehicles. The company also makes capital on what is now called Launch Forth that is a "white label" co-creation service and software offering that brands like Airbus, GE, Dominos and HP have used to accelerate product innovation and development.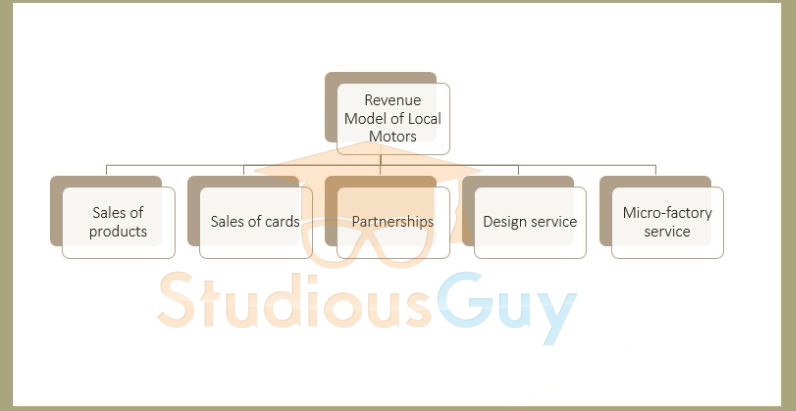 Competitive strategy
Local Motors' competitive advantage comes from its ability to produce in a cost-effective way at small scale, rather than betting on cost efficiencies at a large production scale. They have vividly shown how 3D printing can turn the concept of economies of scale upside down. This generates greater flexibility in localization, and more diversified creation of local jobs. Local Motors has been an early adopter and poster-boy of digital manufacturing, and its experience can teach us a lot about the future of manufacturing.  Local Motors is now eyeing on autonomous driving. It believes it will scale first and faster for shared mobility, starting in more controlled environments such as college and corporate campuses.
Marketing strategy of Local Motors
Marketing is a set of activities that a firm launches for creating, communicating, delivering, & exchanging offerings that have value for customers, clients, partners, and society at large. Kotler says, "Marketing is a process by which organizations can create value for its potential and current customers and build strong customer relationships in order to capture value in return.
Capturing the untapped market- In mature markets the profitability is often stable but the market potential is less as most of the players have already taken market share based on the segment they are serving. However, Local Motors has created a segment for itself, for example, it has ventured into autonomous driving in 2020.
Technological competence – Local Motors has tapped on this aspect, as it uses the capability of all stakeholder in generating the culture of innovation and development in the industry.
Summary
Local Motors has revolutionised manufacturing by transforming the future of mobility. Ever since its inception, Local Motors has adopted a philosophy of open collaboration and co-creation, and embracing 3D printing to manufacture vehicles through a network of micro factories.  Local Motors have ventured into the modern consumer market by their involvement strategies. It can be affirmatively said that this is only the beginning.