Introduction
More often than not, the office space that we work in is designed by another company. A player with a strong foothold in this field is WeWork. WeWork is an American company that focuses on commercial real estate business in which it offers its rented services of shared workspaces to its huge range of clients who need a physical or virtual workspace for either full-time or part-time work.  Moreover, It provides services to entrepreneurs, technology start-ups, small companies, freelancers, and large organizations. The office space provided by the company is equipped with different services and facilities like free of cost refreshments, internet of high-speed, printers, private telephone booths, etc. Generally, there is a long term contract between the landlord and the company for physical space. WeWork provides a combination of workspace, community with collaboration, and services like healthcare, HR solutions, and so on. Headquarter of WeWork is in New York in the U.S. and its parent company is named as The We Company. Its reach has increased with time. Currently (April 2020), the company has its operations or offices in 837 locations, and 125 cities across the world.
 A Brief Background of WeWork
WeWork was founded by Adam Neumann and Miguel McKelvey in 2010. Adam Neumann who served in the Navy and Military of Israeli came to the US for establishing his own business and there he met with an architect Miguel McKelvey in New York City. Both desired to initiate some business but were not clear on what to start. They were residing in a huge vacant space building and thought to utilize this vacant space by sharing it. So, with this idea, they founded a company "GreenDesk" for the purpose of sharing office workspace. Further, they renamed it to WeWork in 2010.
Initial Journey and Further Growth
WeWork has recorded rapid growth since its inception and it comes under the category of most visible and one of the largest co-working chains across the world. Year on year growth journey of the company is as under:
In 2010, WeWork was launched in SoHo in Manhattan for facilitating different start-ups, entrepreneurs, small businesses, freelancers by creating share workspaces.
In April 2011, WeWork's first lab was started in SoHo in New York. The company's offices were opened in the Leather District of Boston in 2014.WeWork acquired any company first time in 2015 i.e., CASE which was a real estate and construction-based company. The company had 51 offices in different locations like Europe, U.S., and Israel in 2015, which were double numbers as of 2014.
It expanded its operations in different locations in China and also, opened locations in India in 2016. A new related venture "WeLive" was also launched by the company in the same year.
The company expanded its operations in Latin America in 2017 and launched offices in new locations such asColombia, Mexico, Argentina, and Brazil.
In 2018, WeWork became the biggest occupier in providing office space in London and Washington and also, the biggest tenant in providing private office in Manhattan. In early 2019, the company repositioned itself as We company from WeWork and its valuation was recorded to $47 billion. The rebranding or repositioning was taken to approach a wide range of audiences and for further growth of the firm.
The company started its first space in the technology park Hub 71 of Abu-Dhabi in February 2020.
WeWork Business Model
In a broader term, a business model is described as a plan of any business or company of how to make a profit for their organization. It includes identifying the products or services for sales, the target market or customers, and anticipating expenses or costs. So basically, a business model of an organization defines its way of making money. It explains that at a particular cost, how an organization can earn profit by delivering maximum value to its customers. A Business model of any business includes below main elements: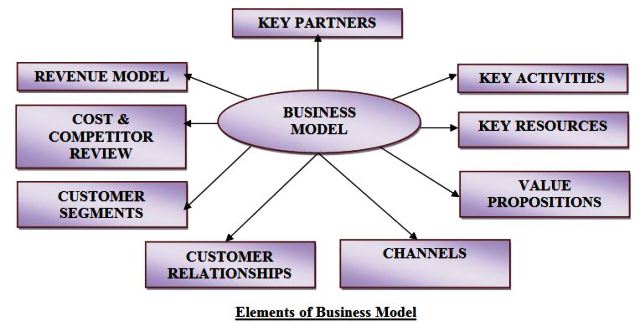 1. Value Proposition
Below are the different ways through which WeWork offers value addition in his services to its customers:
The pricing model of the company is flexible and quite competitive as the office spaces or workplaces it offers to its customers are spacious enough that too on competitive rental costs. Rental contracts are also flexible and can be renewed.
WeWork is a one-stop-shop brand where each small requirement or facility of customers is taken care of even if it is utility bills or refilling of ink in the printer. It provides smooth functioning for its members by keeping everything in place so that they can concentrate on their work.
Workspaces of WeWork are not only equipped with the state-of-art facility but also it offers dynamic work environments where there is ample scope of collaboration and creativity. Its office locations are designed as such that different stylish common areas like screening rooms, bocce greens, leisure activities room, arcade games, etc. can be enjoyed. Also, fitness classes, private schools for kids are part of its additional services.
The company provides superior-quality and modern office locations along with various amenities like free of cost refreshments and internet facility, private phone booths, office equipment, etc.
WeWork has various office locations in different international countries other than India like Europe, Australia, the US, Australia, U.K., Mexico, etc.
The company fosters a community atmosphere along with its office locations in which it provides an opportunity to get socialize and stay in touch with their network online as well as offline mode. Different office locations of WeWork also organize various social events, workshops, product launch ceremonies, etc. so that its members can get connected to each other. Through its community atmosphere, the brand encourages interactions of its customers and they can share their ideas and provide feedback.
Through its various partnership network companies, WeWork offers discounted facilities or services to customers. It also includes healthcare and HR related-solutions, distribution services, payment processing facilities, gym memberships, health insurance, etc. at lower prices. Members get access to various discounted professional services to facilitate them in their growth.
WeWork business model is flexible too and clients need not bother for long-term lease agreements. There are four membership levels that the company offers i.e. Hot desk, Private offices, Dedicated Desks, and Custom build-outs.
Hot desk: This membership option is the low-cost option for single workers in which they can show-up as per their suitability and can acquire any available seat of their choice in a common space to start work immediately.
Private offices: It offers private offices membership, which includes furniture and facilitates dozens of staff once business grows. Any business or team can opt for this option irrespective of its size.
Dedicated desks: These office spaces are available as a more stable option that is given on lease to one business or one client.
Custom build-outs: This comes as a most personalized office space option, which offers the maximum facility to customize the workspace as it has features like conference rooms, CEO room, or labs, etc.
Moreover, usually, the lease period of WeWork to provide its properties on lease is of 10 years, which is much beneficial to commercial property owners as it is an easy way to have lease contract with one single big company over a fixed period. Even it's more troublesome if the building is situated in a challenging real estate area. So, to negotiate with one tenant is much easier as it involves fewer resources, time, and efforts.
2. Customer Segments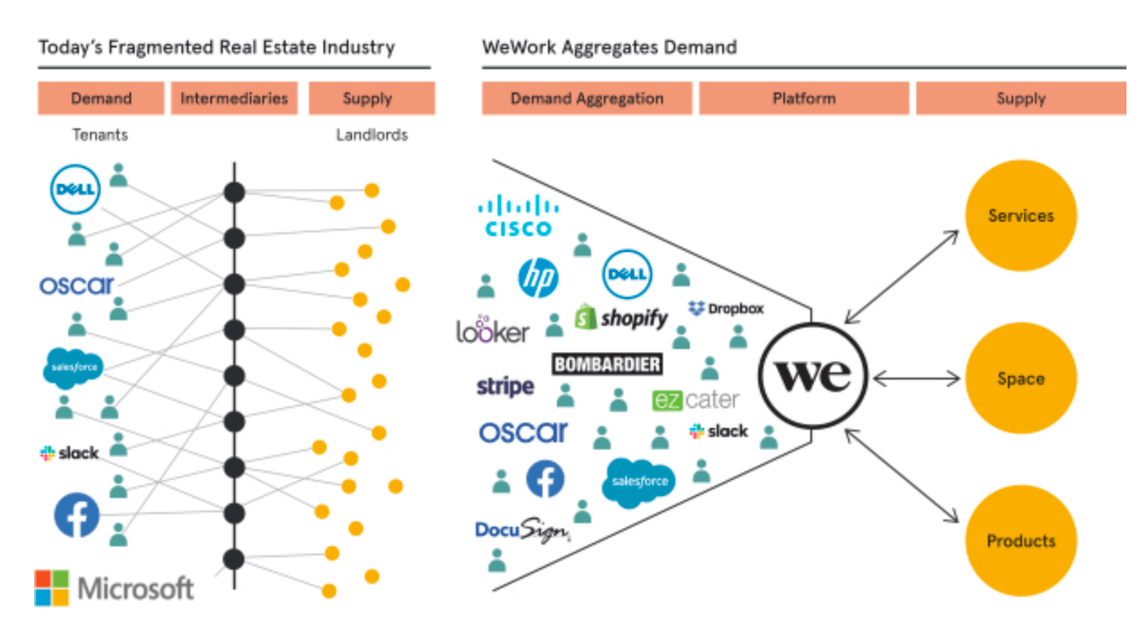 WeWork offers a range of services to customers of different types. Its customer base includes the following segments:
Individuals that are entrepreneurs who look for working space and suggestions to refine their ideas. Also, that type of workplace where their startup can function well.
Freelancers and independent professionals.
Startups that look for cheaper functional workspace options by less investment of amount in real estate.
Small and large enterprises and medium-sized organizations for their expansion plans and to enter in new geographical areas. The large enterprise customers of the brand include different technology-based organizations i.e., IBM, Spotify, Microsoft, KPMG, Pinterest, Dell, etc.
3. Key Partners
WeWork is in collaboration with various businesses and companies for providing world-class facilities and services to its customers. These stakeholders or partners are as under:
Investors: Different companies are the key investors of WeWork including holding conglomerate SoftBank, Hony Capital (a private equity firm), Greenland Holdings (a real-estate company), Goldman Sachs, T. Rowe Price, J.P. Morgan, and many more.
Real-estate companies: Mainly includes property developers and WeWork collaborates with them for developing office locations.
Brokers and Referral network: This includes different companies and websites that facilitate the marketing and branding of WeWork's services. These usually work on a commission basis and get a commission by the company bringing a new client on the company's board.
Third-party suppliers and service providers: Different supplies who supply equipment, technologies, resources, and tools to WeWork at both national and international offices come under this category. This also includes various service providers that play a crucial role in supporting the operational activities of the company.
Strategic and Alliance companies: Different organizations with whom WeWork has collaboration on joint projects and for sharing resources are its partners. Different service partnerships of the company include a partnership with banks like Chase bank, human resources related partnership like with TriNet, partnership with inDinero for accounting purpose, and delivery partners like UPS.
4. Key Resources
The key resources of WeWork are:
The network of its offices at different locations
Its physical assets like private offices, meeting rooms, collaborative space, etc
Virtual assets like its infrastructure of IT and communication, App and web services
Partners and service providers
The ecosystem that includes space, service, and community.
5. Key Activities

WeWork key activities include both real estate development and property management. Its main tasks are to provide rental services for office space, consulting services, and different other business-related services to different types of customers including freelancers, startups, small and large business groups. Designing and developing virtual office spaces on a sharing basis are in essence of WeWork services. Apart from the above, other activities of the company include software development, event management, organizing workshops, managing day-to-day activities, arranging other complimentary amenities like internet facility of high speed, mail handling system, free refreshments, etc.
6. Channels
 The website of WeWork is a key channel of the company to provide services to customers. The website of the company i.e., www.wework.com acts as an information source to customers as WeWork displays information related to its services, amenities, and locations, etc. on it. The website facilitates customers to make inquiries and schedule an appointment for site visits straight away. Using an online customer portal channel of the company, customers can manage their accounts. It also provides an online payment facility. The same features are there in the mobile app of the company. WeWork's other channels include its in-house team of sales and service staff. The key activities of this team are to sell services and provide customer support. It has a separate corporate sales team that specifically handles customers of big corporates like IBM, Dell, Microsoft, etc. To assist customers in real-time and in-person, the company has an on-site support team as well.
 7. Customer Relationship
 WeWork believes in getting people together at a common workspace. It offers superior customer relationships through the connected community. It provides three basic features to its customers i.e., space, service, and community to support its customers to work while living life. The company has different resources or channels through which it provides better customer support to enhance customer relationships. Its website is used by customers for office viewing and its online payment portal is beneficial for making payments, account management, and for accessing other services without any direct interaction with its supporting team. WeWork has a dedicated team of sales who is responsible for maintaining customer relationships with large enterprises. Corporate customers are assisted by an account manager who provides personalized services to these customers. Also, on-site staff is available for providing assistance to customers for any type of query or grievance over a phone call or through email or online contact form. WeWork has presence over social media sites as well like Facebook, LinkedIn, Instagram, Twitter, etc. where customers can interact directly with the company's representatives.
 8.  Costing and Competitor Review
Costing
The cost structure of WeWork includes the following costs:
Investments in different new facilities and projects like WeLive, WeWork Labs, WeGrow, etc.
Salaries of staff and taxes.
Competitor Review
The top 10 competitors of WeWork include Convene, IWG, Industrious, Knotel, MakeOffices, Techspace, Regus, Servcorp, Serendipity Labs, and iLoftSpace. WeWork has a competitive advantage of positioning the brand as a tech startup rather than just a typical real estate company. It has great control over the full building lifecycle and also it is a master in data-informed design. Due to these strategic advantages, WeWork has the expertise of designing spacious and efficient workspaces in non-identical areas.
Apart from the above, WeWork has the following competitive advantages:
Brand: The WeWork brand itself resembles a community where people can meet and have networks. This feature of the company differentiates it from its competitors as it has managed its identity more than a typical workspace provider.
Data: WeWork does research work and collects data on different aspects like people working areas, time period of their productivity, etc. This data helps in redesigning and optimum use of the building area. It also eliminates the wastage of space as different rooms or facilities can be built as per the requirement or usage.
Flexibility: WeWork has space for everyone i.e., freelancers, individuals, startups, big corporate, small businesses, etc.
Revenue Model of WeWork
 The primary source of revenue generation of WeWork is the rental of workspace. As stated above, the business model of the company comprises renting office space at cheaper prices through lease contracts i.e., long-term. The rates of the company vary according to its membership plans. The company also gets revenue from its other ventures. Its membership plans start at $45 on a monthly basis. The company generates revenue by taking buildings on rent at a fixed price and rents them to clients at higher rates. Once taking buildings on rent, WeWork converts them in office spaces by updating the interior and including different facilities like community spaces, cafes, workspaces, etc. Other than earning money from the rent, it also takes a fee for providing other services like car rentals, the partnership offers with local businesses. The membership options of WeWork are described below through which the company provides leased spaces on rent to earn money:
Desk Spaces: These are considered as the cheapest services offering by the company and start at $190 per month. Different amenities are arranged by WeWork in this like IT facilities, cleaning, utilities, maintenance, etc. The three different desk plans of the company are Dedicated Desks, Hot Desks, and Labs Desk.
Private Offices: Private offices cater to the need for larger enterprises like Adidas, Microsoft, Facebook, etc. Standard private office options are also available for remote workers, small businesses and teams that start at $400 per month.  Different private offices plan of WeWork includes Office suits, Standard private office suits, etc.
On-Demand Access: Different additional services are also available at WeWork like car rentals, local business partnerships, etc.
 The value-added services and ventures of WeWork also contribute significantly in its revenue i.e.,
The WeWork services store provides attractive discounts and deals on various services like office requirements, sales & marketing, fitness tools, etc.
The "Rise by We" venture, which is situated in the Manhattan location of WeWork, is a luxury gym concept. It offers services like fitness classes, spa, cardio equipment, general workout space, yoga studio, boxing space, personal training sessions, etc.
WeGrow venture is a private primary school of WeWork and designed for children.
WeLive is a co-living venture of WeWork that offers apartments on rent with shared spaces and different shared services like cooking, cleaning, laundry, events, and other group activities.
Summary
It's a great achievement of WeWork that it gained massive success and growth in a short span of time. The main credit goes to its alignment strategy of office space with its strengths of community, design, and right selection of sites. The biggest contribution in the brand's growth is its enterprise clients. Different renowned companies like Twitter India, OnePlus, Spotify, Zee Entertainment, and Discovery India are shifting large areas of their offices in WeWork's office spaces in order to make better occupancy levels, longer duration contracts, and much better visibility in business. People have started looking WeWork as a permanent solution provider of workspace.  A lot of companies are looking at the company's space for headquarter purpose and sales office. Even it's being used by the financial companies for their trading floor. This has become possible through the biggest value of WeWork's business model i.e., the capability to utilize their space network in different cities across the world.