Overview
India is a country where weddings are celebrated with great gaiety and fervour. There is always a craze for marriage ceremony and a series of events are included in it. As a wedding becomes a lifetime memory, so people of different countries, especially in India, try to make this event a special one. However, at the time of the wedding, couple and their family members usually face various obstacles such as reservation of wedding hall or a marriage palace especially in marriage seasons, booking a decorator and caterer, etc. as these wedding-related services are unorganized and no benchmark price is there to avail of such services. So, it is quite difficult to plan and organize perfect wedding-related things in such an unorganized market of the wedding. Moreover, now the young generation is keener to look for a one-stop solution for wedding planning in order to save time. To sort out such wedding needs, a technology-based online platform "Weddingz.in" has emerged as India's largest wedding organization. This is a marketplace for wedding vendors and venues. From finding or discovering the right vendors and their costing to taking care of all other wedding requirements, Weddingz.in is a one-shop-stop for customers. With the use of technology, it is aimed at helping its clients to choose the right options according to their requirements for the wedding. Weddingz.in provides services like identifying and booking vendors, ordering supplies for parties, booking party packages that are exclusively curated, taking orders of party gifts, event management, etc. The company has expertise in making all celebrations extraordinary such as birthday parties, weddings, corporate events, etc.
A Brief Background of  Weddingz.in
Weddingz.in is a technology-based online platform for wedding planning which was founded in January 2015 by an entrepreneur Sandeep Lodha, aiming at simplifying wedding-related finding process and booking services. Lodha, who is an MBA degree holder, has professional experience of more than 15 years in renowned organizations like Bain & Co., Walt Disney, Intel, etc. on key management positions. While returning to India from the US, he recalled the hurdles he experienced a couple of years back at the time of his own wedding. He recollected that organising a wedding was a tiresome experience because he needed to visit different places to look for the best available options to arrange venue and vendors within the budget. A number of negotiations with every vendor added frustrations too. This was the point when the idea of launching such an online platform for wedding–related service clicked Sandeep.
Initial Journey and Further Growth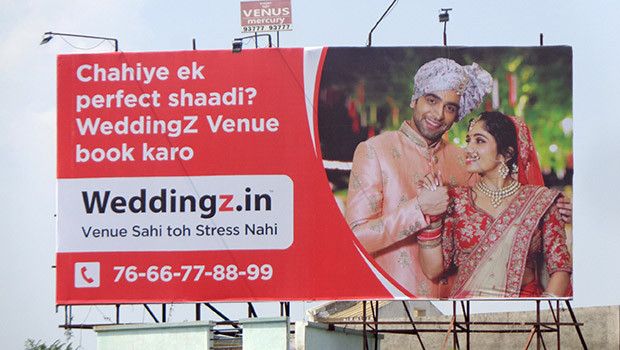 Weddingz.in got its first booking in May 2015 and within a year they recorded a whopping 1000 plus bookings.  Subsequently, In 2017, the company raised funding of $1 million. Further in August 2018, Gurugram-based OYO hotels acquired Weddingz.in and after this, the company recorded 480% growth in its revenue. At present, Weddingz.in has its presence in 26 cities and more than 20,000 wedding vendors & venues are there in its kitty. Also, it has organized 25,000 plus events.
Business Model of Weddingz.in
A Business Model in an organization is considered as a structure that is based on concepts that support the feasibility of a product or organization and demonstrates how an organization works, generates income, and how it moves forward to achieve its objectives.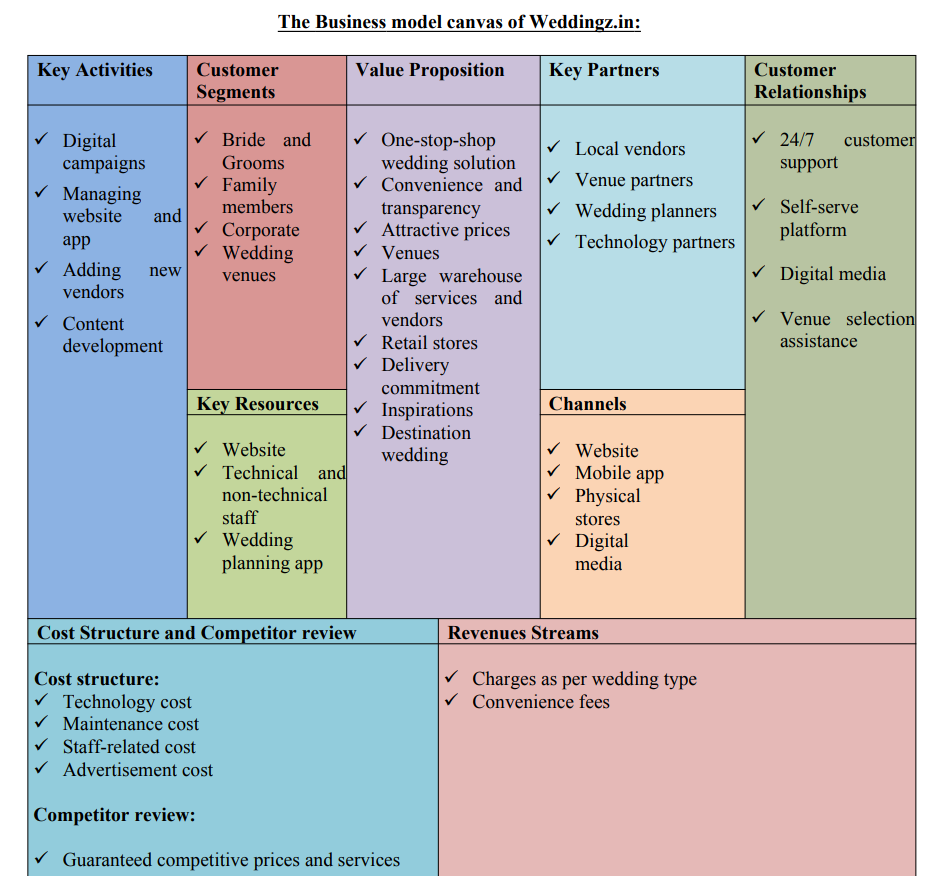 So a business model comprises all the processes and policies that an organization adopts and pursues. Now let's discuss the above elements mentioned in the business model canvas of Weddingz in detail.
1. Value Proposition
The unique values offered by Weddingz.in to its customers are as under:
All wedding solutions under one roof:. With just a single click, customers can scroll various comprehensive solutions for their social occasion without any trouble of searching and visiting multiple contacts or websites.
Convenience and transparency: The Company offers a strong value proposition i.e. convenience by providing all wedding-related services at the most competitive rates at a single place. Also, services are available in 100% transparency mode to all stakeholders
Attractive prices: There is a transparency in prices for customers also.  Attractive offers and discount such as" up to 30% off" adds to the advantage.
Venues: In has a huge directory of venues i.e. above 1500 venues along with destination wedding venues. Also, customer reviews of these venues are available and customers can check online availability of these.
Sizeable warehouse of vendors or services: The Company has a large warehouse consisting of experienced and trusted wedding service providers. It has a wide range of in-house team of wedding vendors i.e. over 20,000 and customers can find all services at a single place i.e. Photography, Entertainment, Décor, Wedding Planners, Rentals, Anchor, Mehendi, Gifting, Band-Baja, DJ, Invites, Ghodiwala, etc. at best possible rates.
Retail store: It has also initiated an offline wedding platform through its physical retail store which includes both venue and non-venue wedding services including makeup, transport, photography, jewellery, bridal wear, etc. from top lifestyle and fashion brands for providing a superior customer experience. It provides best-in-class interiors and experienced consultants who have expertise in the latest trends of a wedding.
Delivery commitment and hassle-free services: It ensures that all the wedding services delivered to its customers are as committed so that they can get a hassle-free experience. They also offer a guarantee for executing events properly.
Inspirations: One can also get wedding inspiration by browsing lots of videos, blogs, and pictures from the large collection of weddings that are arranged by Weddingz.in. The in-house magazine of the company i.e. The Wedding Trunk offers a complete guide on all the latest updates and trends related to the app.
Destination wedding: The company also offers a destination wedding that includes more than 200 venues listed for a destination wedding that includes various heritage places of the country.
2. Customer Segments
Brides and Grooms: The biggest customer segment of Weddingz.in to market their services is those people who are looking for wedding services to get married. This includes people mostly in 25-35 years of age group and working adults.
Family members: Different family members and guests who attend weddings and other related-events like birthday parties, anniversaries, social parties, etc. are also categorized as customers of the company. They look for services of Weddingz.in for gift and decoration ideas, other supporting events and so on.
Wedding venues: Venues that look for the services of the online platform of Weddingz.in to increase their customer base are also customers of the brand.
Corporate: It also extends its services to the corporate that look for services like venue booking for organizing events and parties.
3. Key Partners
Local vendors: Different vendors become partners of the company to provide requisite services for wedding and other occasions or events like Photographers, Decorators, Caterers, Make-up artists, Mehendi artists, DJs, Invitation cards, Anchors, Transport, Gifting, Priest or Pandit, etc.
Venue partners: Different hotels, resorts, restaurants that provide their premises for weddings, and other events are key partners of Weddingz.in. The company acts as a sales and marketing partner for vendors and venues.
Wedding planners: Customers are offered a guarantee for organizing a great event that is guided by dedicated wedding planners.
Technology partners: These are the enterprises or people who assist the brand in designing their website and mobile app.
4. Key Resources
Website: The website of Weddingz.in i.e. weddingz.in is the largest website of wedding planning in India and it acts as one of the major resources to deliver its services.
Technical and non-technical staff: Staff members of the brand who are taking care of the website development, mobile app development, vendor management, event management, marketing activities, customer support team, etc. are its key resources.
Wedding planning app: The app of Weddingz.in is a one-stop solution for all types of wedding-related services. One can get the best suggestion on the app irrespective of wedding, budget, event, or location. It contains all the last minute preparation solutions like the purchase of jewellery, searching for the best wedding makeup artist, etc. Also, the latest trends in weddings and planning of the wedding as per budget services are available on the app.
5. Key Activities
Digital campaigns: The company is involved in digital media marketing activities. Their digital aid campaign "Venue sahe toh stress nahi" is designed based on real-life hurdles faced by families and young couples at the time of the wedding. This campaign highlights the commitment of Weddingz.in in organizing superior events and fully transparent services with guaranteed delivery. The campaign is promoted through different online platforms like Voot, Hotstar, YouTube, Facebook, Instagram, Sony Liv, etc.
Managing website and app: As website and wedding planner app, It contains a lot of information and latest updates on services, wedding trends; the company maintains and upgrades these frequently.
Adding new vendors: To meet the wedding service requirements of customers, the company does additions into its vendor list in different cities.
Content development: The brand is also involved in developing first-class content that includes videos, blogs, data visualization, infographics, etc. for target audiences over different channels.
6. Channels
Website: weddingz.in, the website of Weddingz.in plays an important role as a key channel for providing and viewing different services related to the wedding. This helps in finding various vendors and venues in different cities.
Mobile App: Wedding planning app of the company is a channel to provide different wedding ideas to customers in the form of real weddings, photographs, blogs, expert opinions, and vendor guides. It provides wedding planning services from scratch and customers can search for the latest trends and vendors in their city, etc.
Physical stores: In has launched retail stores of the company as a key channel to bridge the physical gap between customers and the brand by facilitating them to interact by visiting the store and enhance the customer experience.
Digital media: The brand initiates different social media campaigns and blogs on social media platform like YouTube, Facebook, Instagram, SoyLiv, etc. as part of its promotional activities.
7. Customer Relationship
Self-serve platform: Both the website and app of Weddingz.in are self-served and main tools for customers to view its services.
Customer Service Support– The brand provides 24/7 customer support. Customers can contact the representatives through helpline numbers and email.
Social Media– The digital marketing of Weddingz.in consists of campaigns to reach its current and potential customers.
Venue-selection assistance: Customers can themselves check availability and select venues. Apart from that. relationship managers of Weddingz.in are available for providing assistance.
 

8.

Revenue Streams
 After the acquisition by OYO, the brand (Weddingz.in) has recorded 480% growth in its revenue. Also, it reported massive growth in its bookings i.e. 636%. The revenue structure of the brand includes a fee that is being charged from customers to avail its various services. The fees it charges depend upon wedding type i.e. Rs. 2,000/- for in-city wedding and Rs. 10,000/- for a Destination wedding. Customers pay the fees once booking the venue of their choice is done. The fee consists of different services that venue experts and weddingz experts provide. The additional convenience fee is also applicable for availing the assistance of weddingz service expert for booking other services like makeup, photography, etc.
9. Cost Structure and Competitor Review
Costing
The cost structure of Weddingz.in includes:
Cost of technology i.e. on website and app development
Costing involved in marketing and promotional activities i.e. online and offline advertisements and marketing campaigns
Staff-related cost i.e. salaries and hiring cost, cost of operations.
Competitor Review
The major competitors of Weddingz.in include ShaadiSaga, WedMeGood, WeddingPlz, Bollywoodshaadis, etc.
Summary
Weddingz forayed into the Indian market when the need for customised and grand wedding was at a peak. Weddingz has harnessed the opportunity and is able to carve a niche for itself by engaging in right mergers and partnerships. Unequivocally, Weddingz now rules the roost, in the wedding industry.