Indian Railway Catering and Tourism Corporation (IRCTC) is a subsidiary unit of the Indian Railways that handles catering services, travel and tourism, railway internet ticketing and package drinking water, and online ticketing operations of the Indian Railways, with around 6 lakh bookings everyday. It is a customer centric organisation.
Brief History of IRCTC
On 27 September 1999, IRCTC was found. It was blended under the Ministry of Railways to upgrade and professionalise catering services for Indian Railways and to promote tourism via Railways across the country After this IRCTC started expanding its operations. It played a pivotal role in the growth of Indian Railway. IRCTC fully moved into operation on 3rd August 2002. On the first day of the onset of e-ticketing service, only 27 tickets were booked in the country. With a small capital of about 20 crores, IRCTC was started. After that, in 2006-07, TCS designed the ERO for IRCTC.
Further Growth
IRCTC started an initial public offering on the National Stock Exchange in late 2019. After the listing was held, the share price rose very high, i.e., to ₹625 and ₹646 on NSE and BSE respectively and escalated massively from there. The IPO has brought Indian Railway's shareholding in the company to 87.40%. Besides, IRCTC started running private trains in 2019, with "Tejas Express" becoming India's first private train. Uttar Pradesh Chief Minister Yogi Adityanath inaugurated the first Tejas Express, the country's first "private" train run by its subsidiary IRCTC. It was used for Lucknow-New Delhi route.
Business Model of IRCTC
A Business Model of an organization is regarded as a structure that is based on approaches that support the feasibility of a product or organization and confirms how an organization works, generates income, and how it moves forward to achieve its objectives and targets. So a business model covers all the processes and policies that an organization adopts and pursues. IRCTC is not just the largest and fastest-growing e-commerce website in India, but in the entire Asia-Pacific region because of its business model and value proposition. Let us discuss the business model of IRCTC.
Value Proposition
The value proposition of IRCTC is that it is a subsidiary of Indian Railways, and thus it is the only entity that has credibility and accountability. Along with this, the food served at IRCTC counters is relatively healthier and cost-effective. IRCTC has special advantages, because of which other players have to face a big entry barrier. IRCTC only has been authorised by Indian railways to provide catering services to railways, online railway tickets and packaged drinking water at railway stations and on trains in India. This makes the company a powerful player in rail travel-related products.
Key Partners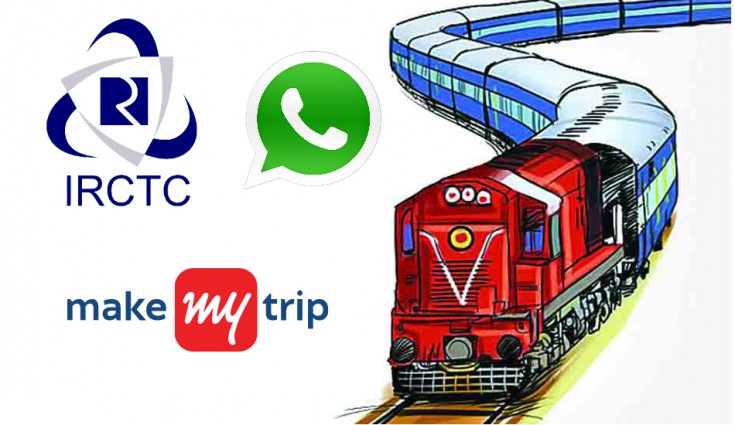 Many partners like MakeMyTrip and WhatsApp collaborate with IRCTC for ticket booking etc. IRCTC also involved in the initial public offering to expand its business. IRCTC's Initial Public Offer (IPO) is the grandest of all the four entities offered by the Indian Railways after RITES, Rail Vikas Nigam and Ircon. This offer worked successfully by receiving bids for 81% of the total issue by the first day.
Key Channels
E-Tickets for Indian Railway can be booked via mobile phone through IRCTC website www.irctc.co.in or by app. According to IRCTC officials, passengers can continue to book up to six tickets a month without validating their Aadhaar. There are several ways to make online payment like by using Master/Visa/Amex. Also, international credit or debit cards that are issued outside India are accepted. This option is possible when a ticket is booked at least 2 days in advance of the journey date. The person who has an account in several banks like SBI, PNB, Indian Bank, ICICI, HDFC, etc. can also do net banking by using respective bank credit/ debit cards and to book tickets. People can also use their different cash cards for giving payments. It can also be made through UPI/BHIM etc.
Customer Relationship
IRCTC keeps keen focus on good customer relationship. All India Helpline no. 138 can be used by the customers of Indian Railways to lodge complaints or suggestions regarding food and catering services. Besides, there is Twitter handle @IRCATERING to cater to the complaints/suggestions about catering services. Because of its credible image among customers, it has become one of the largest websites with a transaction volume of more than 2.5 crores per month, and with approximately 0.72 crore logins per day.
Key Resources
AS IRCTC is a centre-owned enterprise in India, it is owned by the union government of India. Thus, the key resources of IRCTC are the employees who work at IRCTC. The employees include permanent employees and contract workers also. TCS also manages their website, it is an important resource of IRCTC. 72.60 per cent of the total Indian Railways' ticket bookings happened through online medium, through the company's website/mobile application for the first five months of 2019.
Key Services
These are the key services of IRCTC.
Online Ticket  Service
IRCTC is one of the Miniratna companies of the Indian government. Before its inception, Indian railway passengers had few options for quality food while travelling. Passengers had to come down from trains at stations and purchase sub-standard, low- quality and unhygienic food available. The short stop at stations and the sudden outpouring of crowd at the stalls used to add to the travelers' panic. When IRCTC came into the picture, pantry cars were installed inside long or medium distance trains which catered to passengers by serving freshly cooked hot food, thus revolutionizing train travel and food experience in India. It also started internet-based rail ticket booking through its website, as well as from the mobile phones through WiFi, GPRS or SMS. Along with this, it also provides SMS facility to check PNR status and Live Train Status. In addition to e-tickets, Indian Railways Catering and Tourism Corporation also offers I-tickets that are similar to typical tickets except that they are booked online and delivered by post to customers. The  PNR status is also made available. Commuters on the suburban rail can also book season tickets via the website. It has also launched a loyalty program called Shubh Yatra for frequent travellers. Through this program, passengers can take discounts on all tickets booked round the year by paying an upfront annual fee. In order to make it easier to book e-tickets, it launched a scheme called Rolling Deposit Scheme (RDS). RDS is an e-ticket booking scheme that allows passengers to reserve seats against advance money kept with the corporation. Furthermore, It has also added flights and hotels booking facilities to their line of online reservation services. The website is managed by TCS. Also, TCS manage Indian passports.
Tatkal Scheme
In the Tatkal scheme, passengers who program their journey at short notice can book their tickets in almost all Mail/Express trains through the Indian railways internet portal. The booking starts at 10:00 AM daily for AC coach reservation and the Non-AC timing is 11.00 AM. Tatkal E-ticket can be booked for selected trains a day prior to the excluding date of journey from the train originating station. It can be booked on the opening day from 10:00 AM for AC coach and 11:00 AM for NON-AC. IRCTC has also launched a Lite version of the website, which doesn't include ads, pop-ups, etc.
Tourism
Indian Railways Catering and Tourism Corporation also gives budget and deluxe package tours to domestic and foreign tourists. A very attractive tourism package for budget tourists covering significant tourist destinations across India is called "Bharat Darshan". Furthermore, Luxury tourism packages are also available, that involve specific luxury trains such as Buddhist Circuit Train and Maharajas' Express operations. Apart from regular tourism, it also offers adventure tourism packages that include water sports, adventure and wildlife treks, etc. A provision for customising tours as per specific requirements is also an added advantage. Lately, a new venture of Indian Railways, named as "Rail Tourism India"  has been started to provide direct catering and tourism packages to users.
Cost Structure
The cost structure of IRCTC involves salaries to employees. Business and revenues of IRCTC are considerably dependent on Indian Railways. Any unfavourable change in the policy of the Ministry of Railways may detrimentally affect profitability. Besides, the ability to pass on any increase in raw ingredient costs is negligible, due to price regulation by Indian Railways.
Revenue Model
IRCTC is a 'mini-ratna' company that receives its revenues from four broad business segments. It is depicted from the chart below.
Catering (selling food on rail journeys),
Travel & Tourism (tour and destination specific packages),
Packaged drinking water- Rail Neer
Catering contributes to 55 per cent of the company's overall revenues. It is followed by travel & tourism that provides 23.3 per cent. E-ticketing has the share of 12.3 per cent and packaged drinking water also contributes 9.2 per cent. Along with this, IRCTC company also provides non-railway catering and services such as e-catering by partnering with local restaurants. Through this, it gets fixed percentage of revenues. It also provides executive lounges and budget hotels to its customers. IRCTC is also catering to about 45 per cent of the 1.8 million litres per day of total average daily demand for packaged drinking water at railway stations and trains in India. Besides, It is interesting to note that IRCTC earns revenue by air ticketing as well.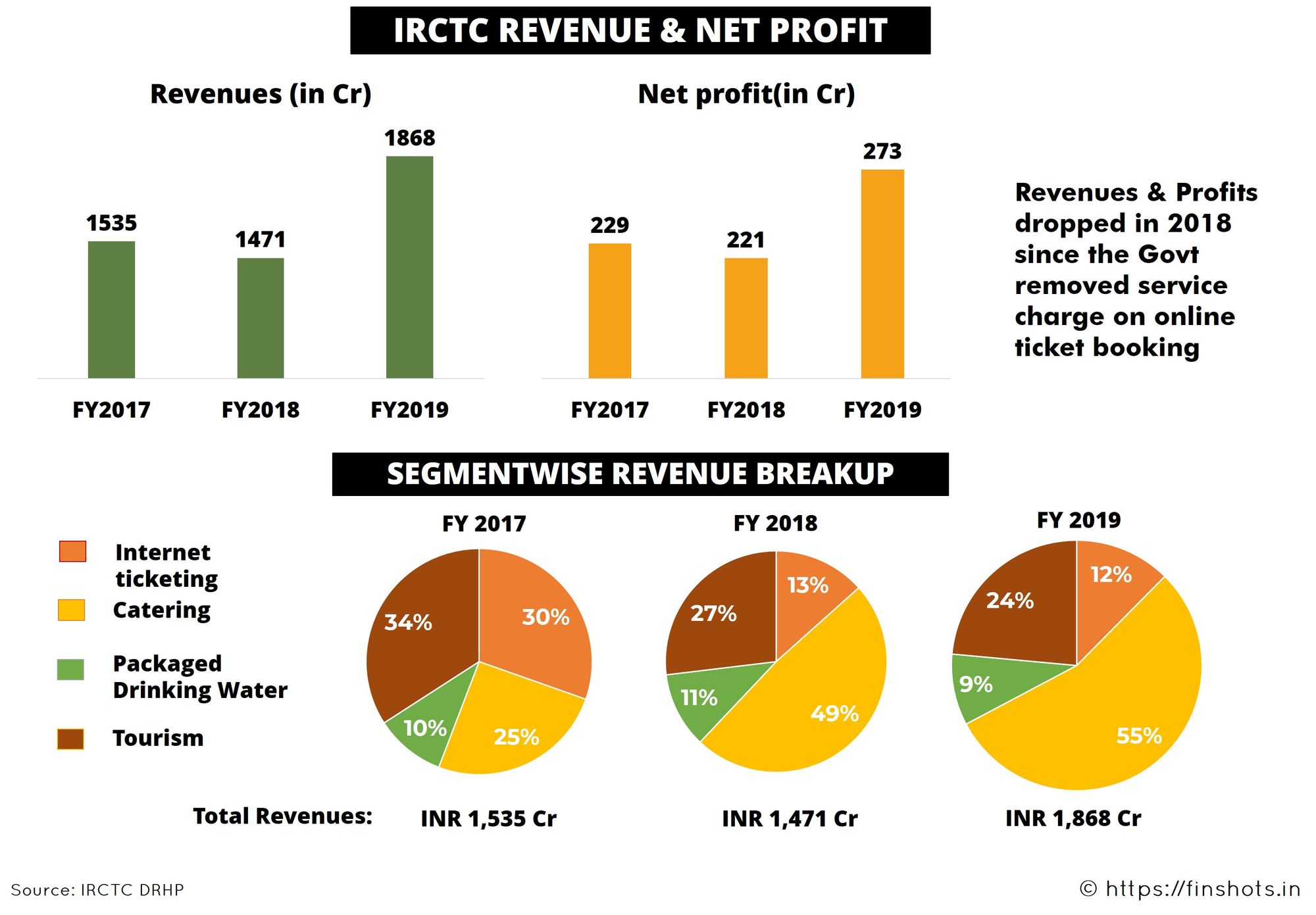 According to some studies, India's packaged drinking water market is supposed to grow 16-17 per cent CAGR and to reach Rs 18,000-18,500 crore by FY24. Besides, the rail catering industry is predicted to grow 7.5-8.5 per cent CAGR to Rs 1,450-1,550 crore in FY24 from Rs 1,100-1,200 crore in FY20. These figures highlight that IRCTC is likely to maintain its pace of revenue growth in the coming fiscals also. About 70 per cent of the train tickets booked online in FY19 were done through IRCTC. Its site has a transaction amount of more than 25 million per month. This gives the scope of engagement with the company's website. According to CRISIL NSE, online booking are expected to grow magnificently.
There is no doubt in the fact that IRCTC is one of the most dynamic Public Sector Undertakings of the country. IRCTC has a unique business model, and the company does not have any competition across business segmentation. Due to various parameters such as strong earnings profile, diversified business segment, healthy return ratio, debt-free status, and most important monopoly business, IRCTC has earned a distinct image in India.