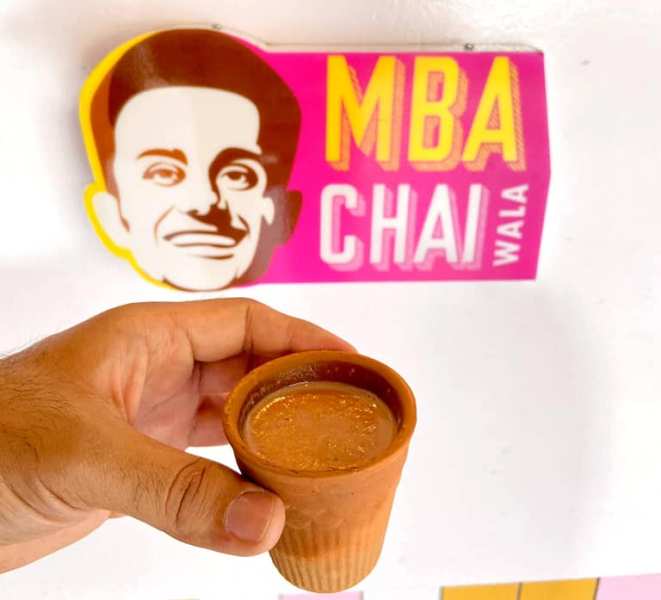 The MBA Chai Wala is how people commonly refer to Prafull Billore. He is the owner of the MBA Chai Wala franchise, which he built on his ambitions and chai to become a three-crore business. Praful, a native of Madhya Pradesh who holds a B.Com. degree, comes from a middle-class household. Many of us mistakenly believe that MBA stood for Master of Business Administration, but he uses the term "Mr. Billore Ahmedabad Chai Wala" instead. Earlier, Praful worked at McDonald's, beginning as a housekeeper and eventually becoming a cashier. Despite his remarkable accomplishments, he hated the thought of working for another person and desired to forge his own identity following which the MBA Chai Wala business was established. As tea was his go-to beverage during the CAT preparation, and India adores chai, he decided to quit his job at McDonald's and open a tea shop. He first borrowed Rs. 8,000 from his father in the guise of enrolling in a short-term course. He was unable to tell his parents the truth, thinking they would be horrified and indignant over his decision to sell tea. When Praful set up a temporary tea stall; however, things didn't go well on the first day because not even a single customer turned up to his stall. He made the decision to keep trying and came up with a new plan. On the second day, he began conversating in English with his customers, and they started approaching the English-speaking Chai Wala to sample his tea as they became intrigued by him. Praful was paid Rs. 150 for five tea glasses on that particular day, and the tea was given with a toast. He put more time and attention into the chai business as it gradually gained momentum. One day, when Praful's father called him to inquire about his MBA classes. Praful lied and told him that he was following his MBA goal following which he decided to enroll in MBA classes at a nearby community college, and he started spending the majority of his time on his studies. One day, he felt like he was squandering time rather than accomplishing his goals. He often found himself torn between his father's wish to obtain an MBA and his passion to sell tea. Praful could not ignore the call of his goal, and one day, he simply left his MBA class to create the best tea in India, and he started experimenting a lot with different chai mixes and their flavours.
Vision of MBA Chai Wala
The goal is to make India the world's startup capital.
Mission of MBA Chai Wala
To encourage entrepreneurship in India.
Business Model of MBA Chai Wala
The MBA Chai Wala's business plan is fairly straightforward. MBA Chai Wala provides marketing assistance, and the firm is in charge of setting up and running the outlet. This makes it possible for the franchisee to concentrate on managing the company, while MBA Chai Wala handles branding and marketing. To aid its franchisees in getting off to a quick and easy start, MBA Chai Wala also provides training and support. Entrepreneurs may gain a lot from the MBA Chai Wala, including the following:
a distinct company strategy that is successful and interesting
a chance to run your own chai shop and offer clients premium Indian tea
rising interest in Indian food
inexpensive business operations
supplying reasonable high-quality tea, snacks, and coffee
a profitable business strategy
cost-effective infrastructure
Returns in MBA Chai Wala Business Model
Entrepreneurs might get a significant return on their investment from an MBA Chai Wala outlet. The business offers great potential for returns for a minimal start-up cost. The chai industry is expanding quickly, and an MBA Chai Wala can have a great deal of success with the correct marketing and management skills.
Cost of an MBA Chai Wala franchise
Duration of Agreement: 3 Years
Equipment and other costs: Rs. 1-2 lakh
Total Investment: Rs. 10-12 lakh
The cost of leasing the space, and the expense of designing the cafe make up the majority of the investment in a kiosk.
Cafe Models
There are mainly three types of cafe models:
Dine-in (300-400 sq. ft.)
Kiosk Model (150 sq. ft.)
Although all three models work effectively for budding entrepreneurs, for individuals who are unable to create a large format store, the kiosk format is a very effective business strategy. This is the greatest choice for aspiring business owners who want to launch their venture with the least amount of capital. For newcomers, it provides a lucrative opportunity.
What made MBA Chai Wala's Tea popular?
Praful built his tea business with the help of a number of marketing techniques. Indians love tea, and when someone sells tea in a distinctive way while gently speaking in English, it attracts tea lovers even more. The toast, earthen tea cups, and tissue that is provided with the tea are the icing on the cake. Praful placed his tea shop at political gatherings, weddings, and other occasions, where it can gain higher brand recognition and draw in more consumers. Social media marketing is another modern marketing tactic that played a crucial role in making his tea business popular. Praful keeps an active social media presence to connect with consumers. Selling free tea to singles on Valentine's Day was one marketing strategy that helped him sell more tea. This marketing strategy got lots of clients after it went viral. To engage and draw consumers, he also arranges book drives and open mic nights at his store. These tactics do wonders in making his tea business a popular brand in the country.
Challenges
As the chai business gained popularity, people from all walks of life began to take notice of it; however, the fact that Praful's chai company was hurting other small business owners and street vendors created problems for his business to grow. He received threats to close the chai shop from neighbourhood thugs and local law enforcement, and he had to halt his chai concept for a while.
Facts
Franchise system MBA Chai Wala now operates on a franchise business model. It currently has a location in a significant Indian city, and many more are on the way.
MBA Chai Wala Academy is a place where anyone may receive instruction in a variety of areas. The academy provides online certification courses like MOOC (Massive Open Online Course).
Events with Chai Stalls – MBA Chai Wala also accepts requests to put up a booth at an occasion. An event could be anything from a wedding to a conclave.