1. Introduction
Social life and daily routine in India is almost incomplete without Tea(Chai). Being its bed tea, tea breaks in the office, tea during outing time, functions or events followed by high tea, etc.; favorite drinking beverage of most Indians is Tea. Street tea vendors or Chai walas are also available on different street corners near the office. This is the famous get together area for office staff and other people to have casual discussions or gossips. Home-made tea is always good in both quality and taste. But outside the home, finding a good quality, Hygienic and customized tea according to taste is quite difficult. By viewing a great demand for tea, there is a huge potential of tea business in India.
This opportunity and tea potential in the Indian market are tapped by two tea lovers who are IIT graduates and launched their tea brand i.e. 'CHAAYOS' in India. By keeping in view different tea tastes of different places, Chaayos incorporated varieties of tea into their brand. With its growing success, the brand is aimed to be one of the finest chains of Indian Chai Café. The main theme behind the tea business idea was to have a proper place outside the home where once can sit and look for a hygienic and fresh cup of tea based on the individual liking i.e. 'Meri Wali Chai'.
The credit of success of Chaayos goes to its strategic and result-oriented Business model that transformed a Chai business concept into a successful tea brand. A business model of any business reflects its products or services, target market, promotion strategies, competitors, pricing, revenue generation, future expansion strategies, etc. The base of the competitive business strategy of the brand lies in its history of launching the Chaayos brand.
2. A brief history of Chaayos
One of the two entrepreneurs of Chaayos, Nitin Saluja was always fond of tea or chai though earlier he had no plans to launch own tea outlets. Being IIT- Bombay graduate and technical bend mind, he was up-to looking for technical projects once completing his studies. In his final year of studies i.e. in 2006, rather than looking for a full-time handsome salaried job, he took the way of entrepreneurship along with his few friends. He started his first venture i.e. Think Labs, a robotics education company that is valued in millions today. Nitin further stepped out from Think Labs and joined Opera Solutions LLC, a U.S. based consulting company on an employment basis for 5 years before starting his entrepreneurship journey again.
Starting point:
The idea of staring tea cafe clicked Nitin while not able to find a fresh and strong cup of tea after having dinner in the U.S. in 2008. Those days he was residing in Houston in the U.S. with his spouse.
After 2 years i.e. in 2010, to turn his idea into the action of launching tea cafe by keeping in view tea business potential in his home country India, Nitin quitted his well-settled job in the U.S. to come back in India. He finally shared his idea of starting a tea venture with Raghav Verma who was his former colleague in Opera Company and a close friend too. Raghav was also an IIT Delhi graduate and a tea lover too. Idea was to serve fresh and hygiene tea in outlets outside the home according to the taste of individuals. Having earlier experience of running start-up ventures, Raghav also liked the idea and stepped into the project immediately.
The next two years were fully occupied with market research activities on the tea market in India. During this research period, they examined lots of Indian tea facts and its demand in the country. It was found that per cup of coffee there is a consumption of 30 cups of tea. There are lots of coffee outlets but specific tea outlets are not available despite a huge customer base in the country. Both entrepreneurs divided their work areas. Nitin looked after product development, supply chain, process set-up activities while Raghav was responsible for marketing and business development things. Their extensive market research and further efforts finally shaped their dream into reality and they launched the very first tea outlet of 500 sqft. in Nov'2012 with an investment of Rs. 12 lacs under the brand 'Chaayos'  in Cybercity, Gurugram. It was aimed at serving fresh and superior quality customized tea to customers. The first day of the outlet was a great success as a total of 700 cups of tea were sold.
Growth journey:
After launching the first cafe, Chaayos moved further at a fast rate. The brand has been expanding its chain of outlets rapidly and marking 100 percent growth every year since its inception. Its growth can be viewed in its growing numbers of outlets yearly i.e. total of 15 cafes of Chaayos in 2015 in Delhi/NCR that increased to 33 cafes and expanded to Mumbai. At present Chaayos have 53 tea outlets in 6 different cities i.e. Delhi, Gurugram, Noida, Chandigarh, Ghaziabad, and Mumbai.
3. Business Model of Chaayos
A Business model is a defined plan of any business that shows a clear path of how that business earns profits. The Business model reflects the strategy of a business for its success. A business plan or model is required in a fresh business set up or in the expansion plan of an already established business.
As stated above a Business model of any business comprises of following main factors: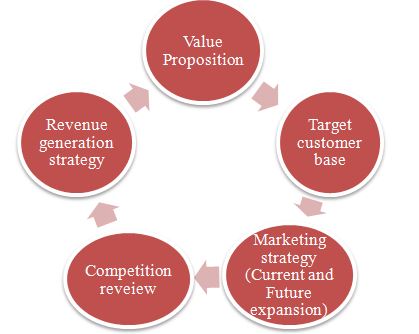 The success of Chaayos is due to its Business model on the above components, which are explained below in detail:
 1. The Value proposition of Chaayos
The Value proposition of a business model consists of the products or services any business offers, value to its customers and also unique features that give a competitive advantage in the market
The value proposition of Chaayos reflects in its exclusive product of 'Meri wali Chai' or 'My choice tea' which is a combo of quality, taste, freshness and different varieties. Chaayos offers a diverse range of tea flavors i.e. 25 tea varieties along with more than a thousand ways for customizing the same. Few of them include Kadak (extra strong) desi chai, Sulemani tea (lemon black tea), Irani tea (more quality of milk and less of water). Also, customers have the option to select add on flavors from Adrak, Saunf, Elaichi, Masala, Tulsi, Mint, Kashmiri Kehwa, and many more. So Chaayos has customized tea solutions according to the individual's taste.
Besides tea, Chaayos also offers snacks and tea blends in packaged form.
2. Target Customer base
The target customer base of Chaayos is both Gen-Z and Gen-Y as tea is liked by both generation customers. The brand has customers from upper-middle-class society and higher-class society.
3. Marketing or Promotion Strategy
a) Current marketing strategy: The business model of Chaayos consists of strong marketing or promotion strategies that cover its USP (Unique selling proposition) as well. The Brand is using different effective marketing tools i.e. digital or social media, mobile apps, branding, etc.
 USP of Chaayos
Very innovative and different flavored hygienic, fresh, customized tea is part of the USP of Chaayos. Also, the brand has other aspects of USP as well including:
-A Premium atmosphere of outlets
The atmosphere inside Chaayos cafes is a great stress reliever and relaxing. With proper and right kind of background music, relaxing furniture design, etc., the brand gives a perfect environment to relax the mind and also getting work done.
-Higher output in less time
Chaayos works on a strategy to value and satisfy every customer of outlet that worked as USP for the brand in producing higher outputs. Different snacks offered by the brand like Maggie Sandwich, Wada with pav, etc. have also contributed to making loyal and repeat customers of Chaayos. The brand has gained success in a short span due to its strategy of incorporating creativity, constant innovations and experimenting with tea that was beyond expectations.
-Advanced feedback mechanism
Chaayos has implemented a well-defined process control system in which regular customer feedback, timely and prompt actions on negative feedback, etc. are part of the feedback mechanism. Chaayos staff is well educated and trained. Also, processes are customer-centric.
-Diversified Menu
Chaayos has a diversified range on its menu. Initially starting from serving different flavored tea, the brand further expanded to serve different snacks and dishes for both Indian and International customers. They are also using Kulhads to serve tea that is an eco-friendly system.
-Promotion strategy and tools
Chaayos' marketing or promotion strategy includes both online and offline promotion tools. The brand is well using online marketing tools like social media for digital marketing purposes and e-mail marketing. Its offline branding strategy revolves around customers near to outlets or walk-ins. The loyalty program of Chaayos is for most loyal customers and this campaign is for all outlets.
b) Online marketing strategy- Digital media platform:
Chaayos is using a digital media platform for its marketing or promotional activities i.e. for creating brand awareness and increasing customer base with a focus on improving customer service. This is their main strength too i.e. to engage their audience over digital media as they handle queries of customers effectively and promptly. Few of social media sites that the brand is using for promotional activities are:
Facebook-based marketing: The facebook page of Chaayos which was launched in 2012, has become an ultimate platform for its promotional activities with 32,000 plus fans and followers. Through this platform, Chaayos allows its fans to get in touch with the brand by sharing different ideas, suggestions, stories, etc. in an open discussion forum. Through this digital media platform, the brand also advertises its events and other promotional activities.
Instagram as a promotional tool: Chaayos uses Instagram's photo-sharing tool to connect with its customers and fans. With 22k plus Instagram followers, the brand is using this digital media platform for different campaigns. It regularly posts photos of different famous guests or celebrities who visit their outlets and also designs and display e-cards for festival purposes.
Twitter-based marketing strategy: Chaayos has a fan base over twitter also. The brand regularly responds to queries of customers on this platform. It also offers e-coupon to its customers for a new tea verity and also followers or customers can make own customized tea with Chaayos tea pack and can share their experiences on twitter. The brand has begun a campaign on twitter i.e. Experiments with chai which increases its customer base by 25% in Chayoos outlets.
You-tube based marketing: Chaayos is using You-tube effectively for marketing activities. The brand entrepreneurs share their ideas and success story regularly by different clips of a few minutes on the platform to engage people.
Apart from above, Chaayos is also doing marketing and promotional campaigns with gyms and local markets.
Expansion plans: With the collaboration of Chief Advisor Ajay Koul, Chaayos is aimed at 300 outlets from the current 53 outlets in 8 different cities in the coming 5 years. Through its expansion plan, Chaayos is aiming at increasing its revenue by Rs. 100 crores in the coming 2 years. The brand is also planning to expand in the international market in the future.
4. Competitor Review
Major competitors of Chaayos include Chai Point, Infinitea and Chaipatty. The brand's competitive edge over its competitors lies in its premium atmosphere of outlets, quick service, and higher outputs in a shorter period, highly customized product, and a diversified broad menu range for both National and International tastes.
5. Revenue Generation
Chaayos most of the revenue i.e. 80% comes from its outlets. After launching, each outlet of the brand starts making profits within 3-4 months.  There was a rise of 30% last year in the brand's sales growth which comprises monthly sales of tea and snacks i.e. around 4-4.5 lacs cups of tea and snacks i.e. approx. 2 lacs units. Chaayos enjoyed Rs. 52 crore revenue last year i.e. FY2018.
The brand also generates revenue from serving tea on demand that has a share of 20% in overall revenue generation. They also sell approx. 300 boxes of packaged tea blends and each of 100 grams. Per box cost is Rs. 200.
4. Summary
Despite having multiple options, tea is the all-time favorite of the majority of people in India. The success behind Chaayos lies in its innovative strategy in both products and marketing.