Introduction
Parle is an Indian brand, which has made deep inroads in confectionery, biscuits, and food products business. Since its inception in 1929, it has become an epitome of quality, nutrition, and innovation. It is specifically known for Parle-G biscuits, which almost every Indian loves to savour along with tea. This article will discuss the growth trajectory of the brand in conjunction with different strategies used by it to become the market leader.
Foundation of Parle

The Parle factory was set up by Mohanlal Chauhan and his sons with just 12 employees. He wanted to support the Swadeshi movement and revive the Indian heritage, which led him to kick-start a new business. He established the first plant of biscuit production in his neighbourhood, at a place called Vile Parle, in Mumbai. Interestingly, from this name, the brand got its legendary title – Parle. Before embarking on this journey, Mohanlal had opened a tailoring shop, which also flourished; however, his sons encouraged him to explore the space of confectionary. During this time, Mohanlal's son, Narrotam went to Germany to gain expertise in modern confectionery techniques. After his return, owing to the shortage of engineers, the family itself started working on the plant set up by it. Ever since then, the Parle brand has been growing in size and grandeur. The original Parle company balkanized into 3 separate companies- Parle Agro, Parle Products, and Parle Bisleri. Among them, Parle Products holds the majority of shares. The 3 companies continue to use the family trademark name "Parle". Apart from being famous among Indian masses, Parle Products have a wide presence in the global space that includes the US, UK, Canada, Australia, New Zealand, and the Middle East. The brand has manufacturing units in seven countries, besides India.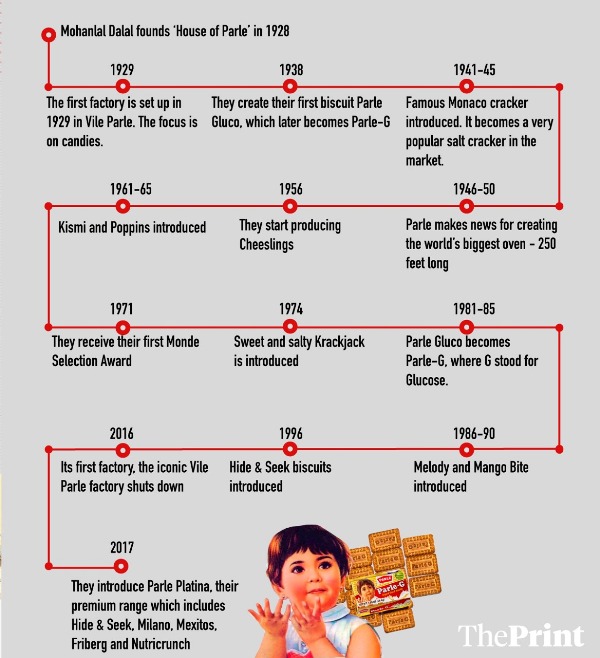 Business Model of Parle
What business tactics this popular Indian brand in the food and confectionaries has adopted to become a giant in this sector can be discussed through this business model.
1. Customer Segmentation
Segmentation refers to the strategy of making diverse and customer-specific products that cater to people of distinct social, cultural, and economic section. Parle employs psychographic and demographic strategies to streamline its manufacturing strategy.
1.1 Social psychographic segmentation.
Different classes of people have different purchasing capacity, and Parle has internalised this concept in its brand formation. Parle manufactures those products that win the approval of almost all the classes of society. For instance, it makes Milano biscuits for premium customers and Parle-G for masses.
1.2 Demographic Segmentation
Demographic Segmentation is a strategy through which a company gauges how far it needs to distribute its products. Parle, unequivocally, develops on this theme, and thus, it keeps Parle-G for distribution to remote areas and marginalised areas; and products like Melody and Appy for a relatively affluent section.
2. Pricing Strategy
The brand emphasises on the formula of mass production for mass consumption, which makes the entire brand consumer-friendly. Let's delve into the pricing strategy used for upscaling the consumption of Parle-G biscuits.
Pricing Strategy of Parle-G
It focuses on market penetration by keeping the prices low for this biscuit. Parle-G biscuits are available in diffrent range of packets such as Rs. 1, Rs. 2, Rs. 5 to Rs. 25 packets, thus this price range is suitable for every household. With such a flexible price system, it is able to make its presence almost everywhere. To become competitive in the market, it focuses on high volumes of production, and thus, it is able to keep the price so economical that even if other brands make their entry into the biscuit market, they hardly remain competitive with Parle. Parle brand also works on efficient economics of sale. It, more often than not, employs a single distributor to distribute different products of the brand, which helps in cost-cutting and gives the brand a competitive advantage.
Competitive Strategy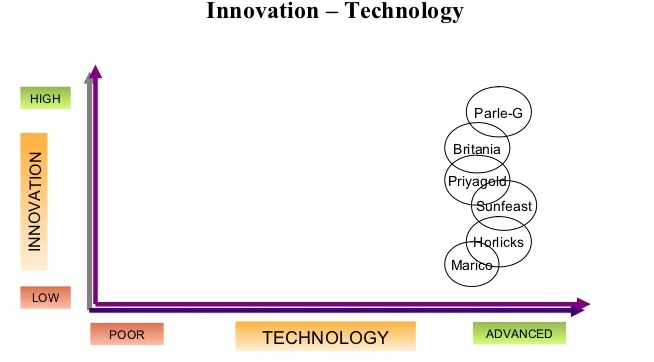 Parle has an upper hand in many measures. After doing strategic mapping, one would find that Parle is above its competitors in every aspect. It faces stiff competition from Britannia's TIGER biscuit, and its other competitors are Nestle, Sunfeast, Horlicks, and Priyagold. In terms of price and distribution, the graph goes in favour of Parle. Moreover, Parle-G also registers a greater growth with respect to nutritional content, innovation and packaging. Moreover, Parle efficiently competes with players such as Britannia, ITC, and UNIBIC in the $7.22-billion biscuit market in India that is expected to scale up to $12 billion by 2024.
3. Distribution Strategy 
Parle products have a wide presence across India. Owing to a strong distribution network, Parle has stretched its reach to almost 6 million retailers all over India. In addition, Parle has over 23 manufacturing units that cater to over 1500 wholesalers. Other than that, it has set its factories outside India too. In 2018, it also added a new manufacturing plant in Mexico. Parle gets an edge by placing factories at strategic locations & establishing manufacturing units in rural areas. Restaurants, hotels, and even small dhabas prefer keeping Parle-G as the biscuit to be served along with tea or coffee. Because of such strategies, it has been able to sustain a continuous supply and demand chain.
4. Promotion and Advertising Strategy 
Parle brand ensures to make its presence felt through paper, television commercials, and press media. Parle invokes emotions among all its consumers by using taglines like 'Naam to suna hi hoga,'  'bharat ka apna biscuit,' 'Melody itni chocolatey kyu hai.' Along with this, Parle also emphasises on striking a chord with children. In the year 1997, Parle-G sponsored the teleserial of the Indian superhero, Shaktimaan that went on to become a huge success.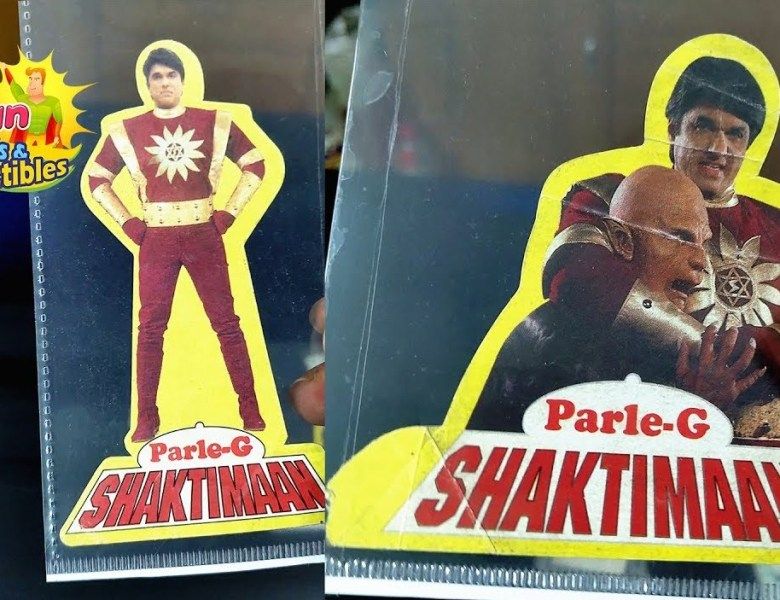 Moreover, all the products have exquisite and distinct packaging that attracts the target group. Apart from Parle-G, all other products of the company are also promoted extensively with innovative marketing campaigns. Parle-G has also been named the brand with the largest footprint in India, as per a report by Kantar Worldpanel. The 'Brand Footprint 2018' study stated that Parle topped the list of the 50 most chosen consumer brands in the country.
5. Premium Branding Strategy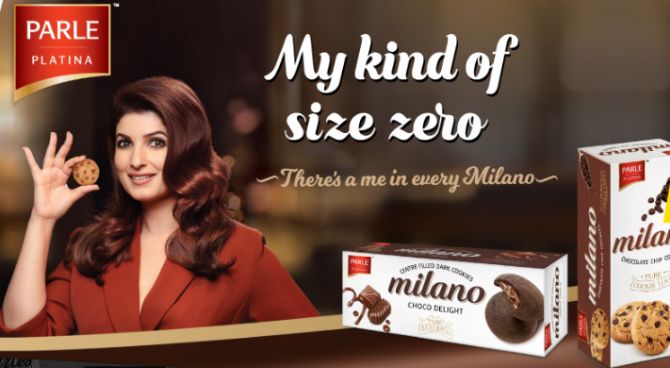 In 2000, Parle realised that it should enter the premium market also as the taste of consumers was changing and people were becoming more health-conscious. Parle understood that a premium brand was the need of the hour to facilitate the exclusive requirements of its customers who are driven by different tastes, fitness and health. Hide&Seek, a biscuit product of the Parle group targets premium buyers and has a substantial market share. For the Platina range, to entice its customers, Parle has often used the brand value of various Bollywood celebrities such as Twinkle Khanna was roped in to promote its Milano brand of cookies, in 2020. The premium brand of Parle has appealed to urban professionals. The company spends around seven per cent of its turnover on branding expenditure. Its turnover in 2018 was around Rs 10,000 crore, which was aimed to grow to Rs. 20,000 crore in the next five years. It is because it employs perfect correspondence between marketing and branding strategy.
6. Parle Products Strategy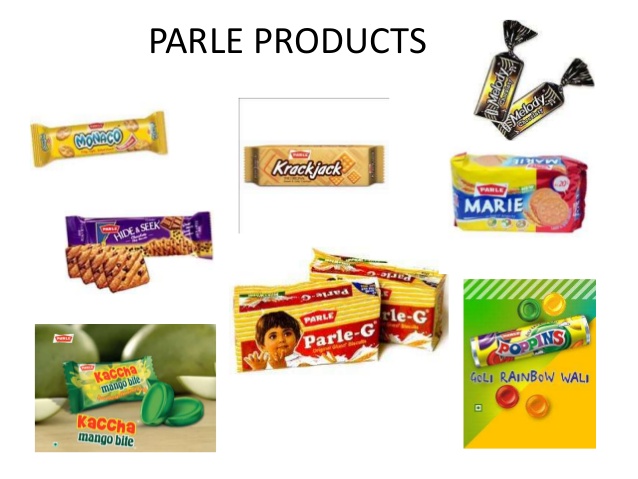 Though Parle brand is world-renowned for the production Parle-G, it has a wide reach in many other segments. It offers many other products like KrackJack, Monaco, Kreams, Golden Arcs, Parle Marie, Milk Shakti, Parle Hide & Seek, Bourbon, Top, Happy Happy, 20-20, simply good, Namkeen Parle Magix, cheese lings, etc. In the confectionery, it offers products like Melody, Mango Bite, Eclairs; whereas in the Snacks segment it provides Nachos, Cake, Rusk, and wafers. Hence, all the products of Parle are such that they can be consumed at any moment and by anyone.
COVID-19 and Parle
During the nationwide lockdown amid the COVID-19 pandemic, Parle registered an enormous growth because of increased in-home consumption of the brand products. Mayank Shah, senior category head, Parle Products, while talking about Parle's unprecedented growth during the lockdown period due to the COVID-19 pandemic, said,
The company gained a market share of around 5 per cent in the highly competitive biscuit segment, with an unprecedented 80-90 per cent of growth coming from the Parle-G sales."
Summary
Recapitulating, Parle has undoubtedly become one of the most popular brands in India. Parle continues to increase its market share as it predominantly engages in customer-targeting and customer-satisfaction. Even after facing challenges because of the imposition of GST and demonetisation, which incurred a significant loss to the company, it has always strived to bounce back and remain relevant in this highly competitive segment in India. It continues to conquer the rural and urban market in India on account of unique and innovative strategies.