GTL Infrastructure Ltd. is a part of Global Group and is considered a pioneer in shared telecom in India. The company offers a ready-to-use passive infrastructure to wireless networks. GTL Infra was incorporated in February 2004 under the Companies Act, 1956 as GTL Engineering and Managed Network Services Limited. In 2005, the name of the company was changed to GTL Infrastructure Ltd. The company is registered with the Department of Telecommunications as an Infrastructure Provider in Category I. The company builds, owns, operates, and maintains passive network infrastructure on a shared basis to cater to the increasingly growing needs of telecom in India.
Business Model
The company has over 3000 networks located across the country. GTL Infra is the largest independent tower company in India and its towers serve all the major cellular operators in India. The business model of the company is based on building, owning, maintaining, and operating the telecom infrastructure at all sites. In other words, the company owns all towers that host multiple service providers in India. This further enables the company to convert its capital expenditure to fixed and predictable operational expenditure. In other words, all expenditure of the company is guided towards the core activities.
The company can generate a steady revenue with the help of long-term contracts with cellular operators. Most contracts are of 5, 10, or 15 years tenure during which the service providers have to pat GTL infra a specific amount. The telecom operators are also allowed to renew the contracts after expiry. This keeps GTL Infra going and improving its services year after year.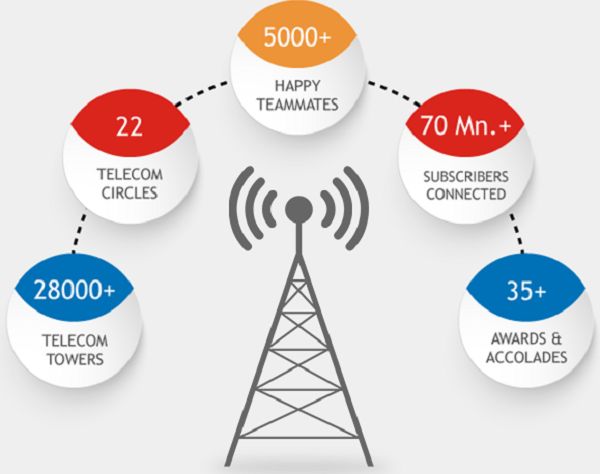 GTL Infra is working towards the mission of Digital India with its business model. The company aims to keep everyone connected with the help of network towers. Additionally, the company is also responsible for the development of rural telecom infrastructure.
With the help of its business model, the company has been able to establish a network of almost 28,000 towers across India and is also listed on BSE and NSE. The company listed revenue of almost 2286 crores in the financial year 2016-17. The company with its operations and services is bound to register higher growth in the coming years, now that the demand for network services is on the increase.