Overview
The Venkateshwara Hatcheries (VH) Group, which is an Indian conglomerate, consists of companies that serve the poultry industry in Asia. One such company of this group is Venky's (India) Limited which is indulged in different diversified activities related to producing S.P.F eggs chicken, manufacturing of products related to animal health, poultry breeding & farming, genetic research, and diagnosis of poultry diseases, etc. S.P.F eggs are specific Pathogen Free Eggs that are utilized in the manufacturing of Animal, Poultry, and Human vaccines.
So, poultry and products related to poultry are the main business segment of Venky's. Pune is the city where the company's manufacturing facility related to animal health products is situated. The company also does solvent oil extraction. The company has collaborated technically with USA-based SOAFAS INC. The installed capacity of Venky's SPF Eggs Division is 3 lacs SPF eggs per annum. Venky's is Asia's largest poultry group which is fully integrated too.
A Brief Background and Growth Journey of Venky's
The VH group was founded by Late Padmashree Dr. B.V. Rao in 1971, who was the chairman of the group. Dr. Rao is known as the father of the Purity industry in India. Under his supervision, Venkateshwara Hatcheries Pvt. Ltd. was incorporated in Pune.
Later in 1976, Venky's (India) Ltd. was established as a private ltd. company for the purpose of manufacturing day-old layer and broiler chicks meant for North India's dense poultry markets. The company was earlier known as Western Hatcheries Ltd.
-Initial Journey and further Growth
In December 1998, Venky's turned into a public limited company. In 1985, the company entered into the SPF division and in the SPF Chicken embryos category, this company is India's only commercial producer.
YoY growth of the company is shown in the below table: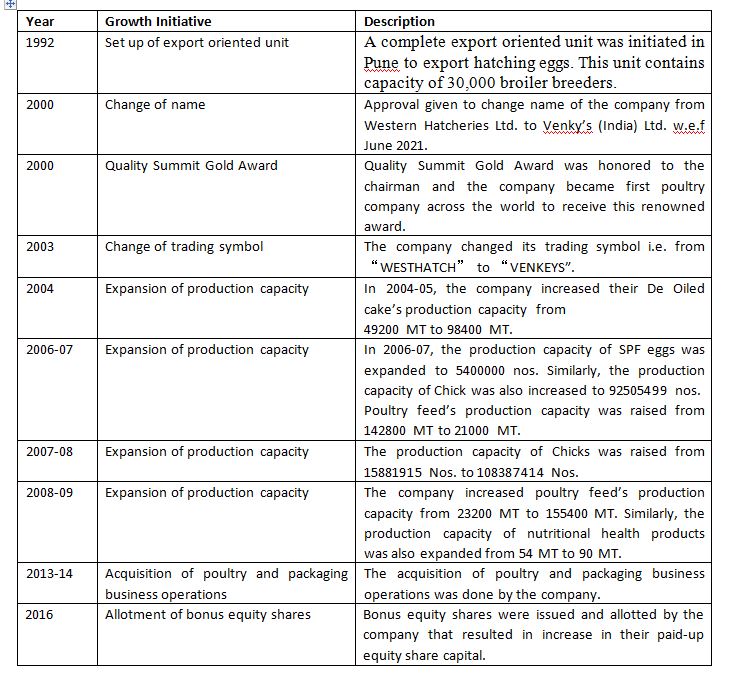 Business Model of Venky's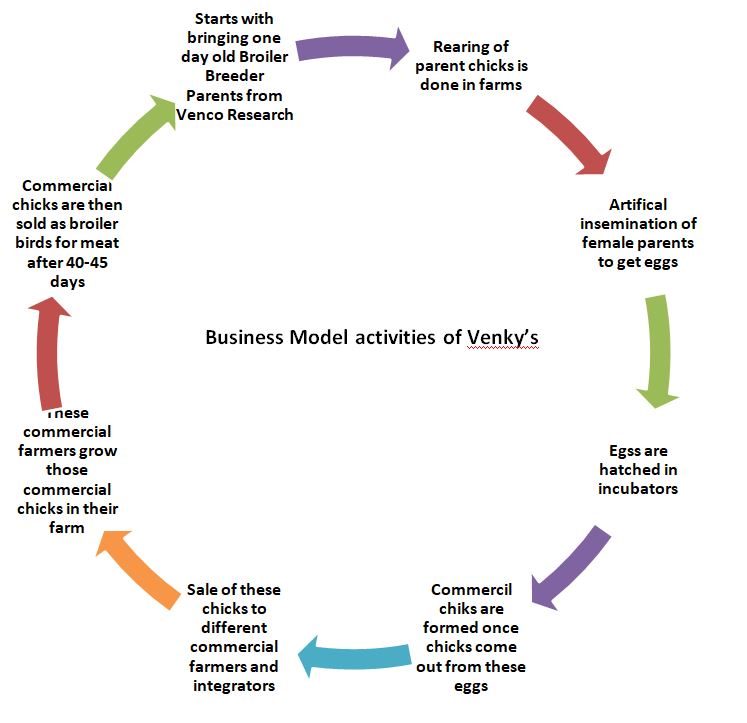 Business Model Canvas of Venky's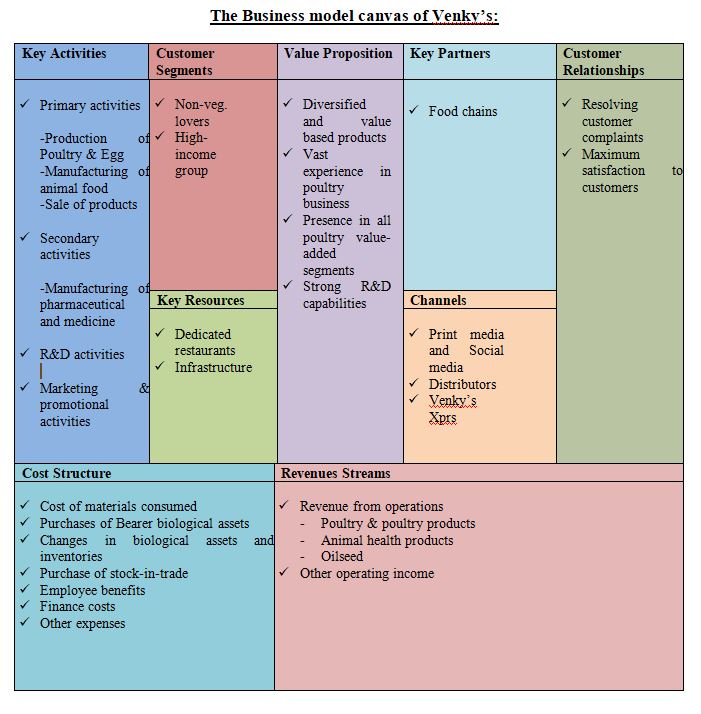 Key Activities
The activities of Venky's can be divided mainly into two categories i.e. primary activities and secondary activities.
Primary Activities
Primary Activities include the following:
Production of Poultry and Egg
Manufacturing of Animal Food
Venky's primary function includes 3 integrated business segments i.e. poultry and poultry products, solvent extraction, and animal health products.
The main business activities of Venky's are the manufacturing and sale of poultry products.  As a part of key business activities, the brand is mainly engaged in poultry breeding and production. Also, its primary activities include supplying day-old commercial chicks to poultry farmers, and poultry feed to farms.
In the poultry sector, the company has diversified activities such as producing SPF eggs, chicken and eggs processing broiler and layer breeding, animal health products, soya bean extract, poultry feed, and equipment, etc.
Sale of Products
Venky's key activities also include selling nutritional heal and processed chicken products.
It does selling of grownup commercial broiler, day-old commercial chicks, De-Oiled Cake for Poultry Feed, Refined oil, etc.
The sale of Venky's rears chicken is in form of live birds and these are sold in the form of chicken meat in retail meat shops. Also, fast food chains buy few birds as per the format given by them. Chicken feed is also produced by the company for sale.
Secondary Activities
These activities include the manufacturing of pharmaceuticals and medicine. Medicines for chicken are manufactured by Venky's as ancillary activities and for sale and its internal consumption. The manufacturing and selling of medicines and other health products for birds are done by the company through its Animal health products business segment.
R&D Activities
Venky's gives importance to research & development (R&D) activities and these activities are mainly related to different areas such as the development of wider application SPF eggs and application related to different techniques of breeder management for improving productivity and enhancing feed efficiency.
Marketing & Promotional Activities
Venky's has adopted various advertising and promotional strategies to market its products. Venkys Express, the restaurant segment of the company, markets the products in different media such as print media, TV advertisements, and magazines related to food, etc. This segment also advertises through different events of food meet such as college events stall, food exhibition. They also sponsor sports events like IKL, IPL as part of their promotional activities.
Customer Segment 
All customers who are non-veg lovers are targeted by the brand. It also targets high-income group customers.
Value Proposition
The value proposition offered by Venky's is as under:
Diversified and Value-based Products
Venky's has a diversified range of products related to poultry and customers can get a great value of money from these products.
Vast Experience in the Poultry Business
The company is associated with VH Group which is India's largest integrated poultry group. The cob series of the company has made it the dominant breed in the poultry market segment. Also, the company offers animal health products and processed chicken.
Presence in all Poultry Value-added Segments
Venky's has a strong presence in value-added segments such as animal health products, processed chicken, SPF egg, etc. that are its strong positioning aspects. Also, the company has a leadership status in the domestic animal health market.
Strong R&D Capabilities
The company has well-developed research centres such as Venkateshwara Research, Venco Research that results in high product quality of its products and lower production costs.
Key Resources
Dedicated Restaurants
The packaged food chain of Venky's is considered the biggest chain in the FMCG industry.  The dedicated restaurant "Venkys Xprs" is its key resource and includes a dedicated chicken food chain that serves different cuisines and different formats are used for this.
Infrastructure
The infrastructure of Venky's is one of the key resources of the company and its key advantage too. The brand has a strong infrastructure for production and also, it includes India's one of the best systems for monitoring diseases.
Customer Relationships
Resolving Complaints of Customers
Venky's facilitates its customers by resolving their complaints or any other queries promptly and for this, the company has provided customer care numbers where customers can easily call and talk to the customer care team. Also, customers can approach the company via email or directly approaching the nearby office of Venky's.
Maximum Satisfaction to Customers
Venky's motto is "Quality through technology", so the company always offers maximum satisfaction to its customers by providing products of superior quality. To achieve this, they focus more on R&D activities in the process of their products and also, deploy the best technology.
Key Partners
Food Chains
The partners of Venky's include different food chain brands such as KFC, McDonald's, Domino's, and Pizza Hut.
Channels
Distributors
Venky's brings its products to customers through different distributors including wholesalers and different food chain brands.
Venky's Xprs
Venky's Xprs, a retail food chain venture of Venky's India, is the key channel of the company and it is a fast-food restaurant that specializes in chicken.
Social media and other public media
Venky's market and advertise its products through different online and offline mediums. The brand uses print media, food magazines, TV advertisements, etc. Also, the company has a presence on different social media platforms such as Facebook, LinkedIn, Twitter, Instagram, etc.
Cost Structure
As per the above diagram, below is the total spending of the brand on different cost elements for FY 2019-20:
(Source: Venky's annual report FY19-20)
Revenue Stream
The revenue of Venky's for FY2019-20 is as follows: