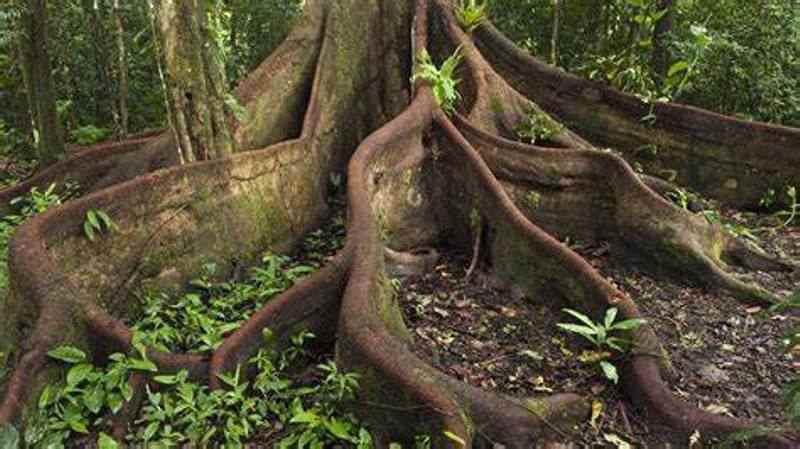 Buttress roots, flange-like extensions, are aerial extensions of lateral surface roots and form only in certain species. These roots help in providing extra support to the plant by stabilizing the tree, especially in shallow saturated soils; thereby, resisting toppling. These roots develop at the base of the stem for maintaining structural integrity. Buttress roots are a common adaptation of many nutrient-poor tropical forests soils, but in some trees, like Xylocarpus granatum and Heritiera, these roots continue to form plank roots. Plank roots can be defined as roots that are vertically extended with a sinuous plank-like form extending above the soil. Trees with buttress roots cover a wider area, as the vertically elongated basal part of the stem spreads in different directions. They can grow up to 30 feet tall and can spread 30 metres horizontally above the soil and vertically below the soil. When the roots spread horizontally, they are able to cover a wider area for collecting nutrients as they stay near the upper soil layer because all the main nutrients are found there. Buttress roots are mostly found in Terminalia, Salmalia, Ficus, Bombax, etc.
Examples
1. Arjuna Tree (Terminalia arjuna)
Terminalia arjuna, commonly known as the Arjuna tree, is a deciduous buttress tree which belongs to the Combretaceae family. It usually has a large buttressed trunk with a spreading crown and drooping branches. The striking buttress roots of this tree provide stability to the plant in poor soil conditions along with riverbanks where these trees are often found. The Arjuna tree is usually found in the Indian sub-continent near the river banks, and can also be found in other countries such as Malaysia, Kenya, and, Indonesia. Based on observations of various physicians, it is found that the bark of this tree can be used for various medicinal purposes like anginal pain, hypertension, congestive heart failure, and dyslipidemia.
| | |
| --- | --- |
| Kingdom | Plantae |
| Order | Myrtales |
| Family | Combretaceae |
| Genus | Terminalia |
| Species | T. arjuna |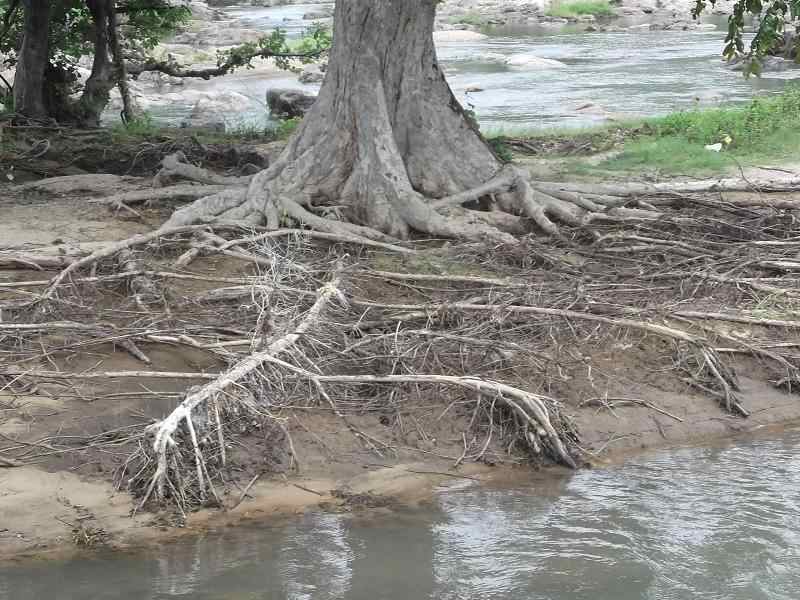 2. Cotton Tree (Bombax ceiba)
Bombax ceiba, commonly known as the cotton tree, is a large deciduous tree that belongs to the Malvaceae family.  These trees are large, fast-growing tropical trees which can grow up to a height ranging between 20-25 metres and can spread 8-15 metre wide, but in wet tropical regions they can reach up to a height of 60 metres. Cotton trees have erect stems which develop buttress roots to provide support to the plant. The Semal tree (Bombax ceiba) is considered one of the most massive Bombax ceiba all over the world and is located in the Shivalik Bhabar range.  Medicinal uses of this plant include-
Decoction of the bark is given orally to combat fever
Diabetics should take a decoction of the heartwood
Bark juice is given to reduce stomachache
A product is prepared from Bombax along with other plants to treat pimples and skin eruptions
| | |
| --- | --- |
| Kingdom | Plantae |
| Order | Malvales |
| Family | Malvaceae |
| Genus | Bombax |
| Species | B. ceiba |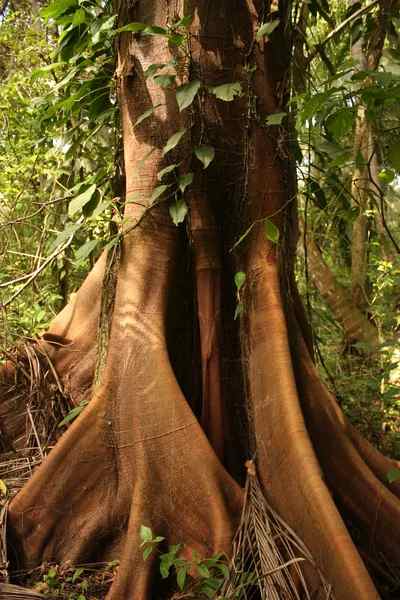 3. Moreton Bay Fig Tree (Ficus  Macrophylla)
Ficus macrophylla is a large, monoecious, evergreen banyan tree that belongs to the Moraceae family and is largely known for its imposing buttress roots. Its common name is derived from the Moreton Bay Fig tree in Queensland, Australia. Until the roots of ficus macrophylla establish contact with the ground, its seedling lives as an epiphyte. When it enlarges and strangles its host, it eventually becomes a freestanding tree by itself and mainly blooms in Spring, Summer, and Autumn. The buttress roots help in stabilizing the tree and also collect nutrients from the soil to help the plant in thrive in poor-nutrient tropical areas.
| | |
| --- | --- |
| Kingdom | Plantae |
| Order | Rosales |
| Family | Moraceae |
| Genus | Ficus |
| Species | Ficus macrophylla |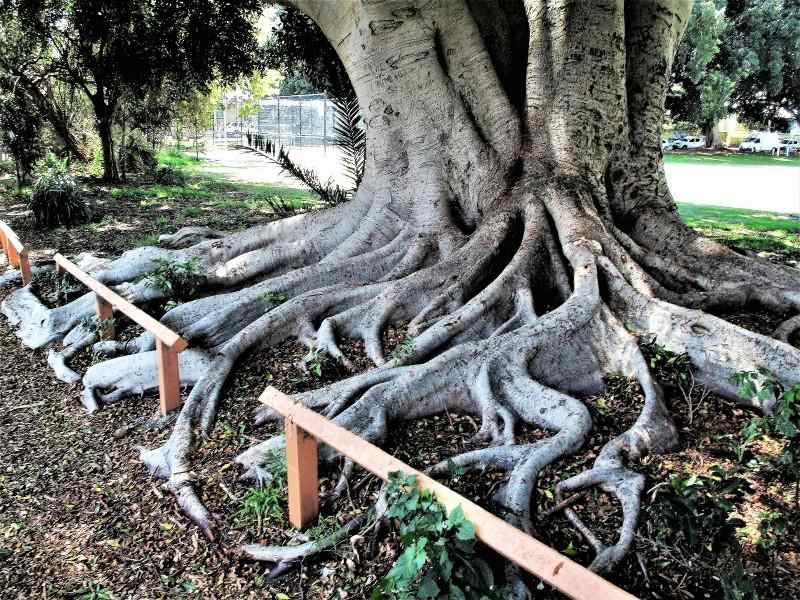 4. Ceiba pentandra
Ceiba pentandra is commonly known as the Kapok tree which is mainly found in tropical areas of Africa. It is a large deciduous tree which is best known for the fiber produced by its fruit. The trunk of this plant can be up to 3 metres in diameter above the extended buttress roots. Each part of this  plant is  known for its valuable uses, such as-
Cattle, sheep, and goats enjoy Kapok leaves as fodder.
Tamil Nadu ethnoveterinary medicine uses Kapok leaves to treat reproductive problems in cows by pounding them with fermented boiled rice.
Oil from Kapok seeds is used to make soaps and fertilizers.
The seed is edible either raw or cooked.
Ruminants and pigs are fed Kapok seed meal (press cake), which is made from seed oil.
| | |
| --- | --- |
| Kingdom | Plantae |
| Order | Malvales |
| Family | Malvaceae |
| Genus | Ceiba |
| Species | C. pentandra |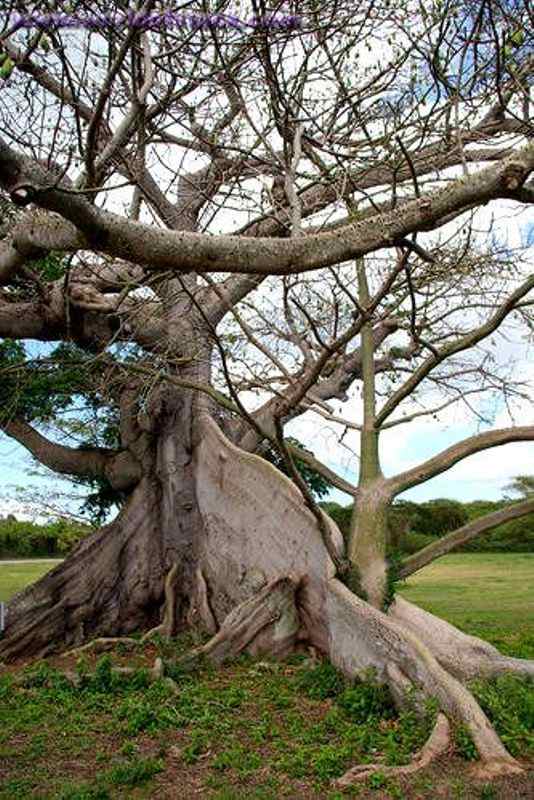 5. Jackfruit (Artocarpus heterophyllus)
Jackfruit, also known as  Artocarpus heterophyllus, is a medium-sized tree that can be grown in all seasons. Tropical low-wetlands are favorable for their cultivation and are widely cultivated throughout the tropical regions of the world. It has a relatively short trunk with a trunk diameter of 30-80 cm. Jackfruit sometimes forms buttress roots under unfavorable conditions. The bark of the jackfruit tree is reddish-brown in color and smooth in texture. Jackfruit is highly rich in vitamin C which helps to protect the skin from sun damage, and also the presence of potassium in jackfruit helps to lower blood pressure.
| | |
| --- | --- |
| Kingdom | Plantae |
| Order | Rosales |
| Family | Moraceae |
| Genus | Artocarpus |
| Species | A. heterophyllus |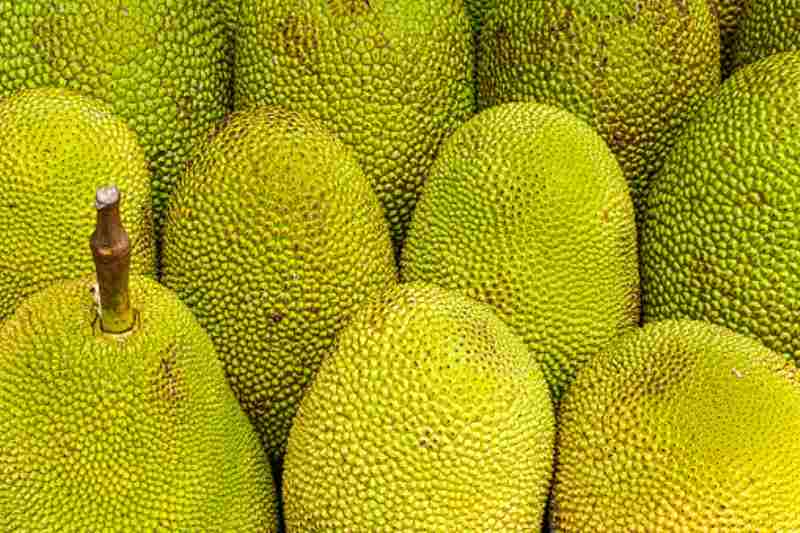 6. Xylocarpus granatum
Xylocarpus granatum is commonly known as a puzzlenut tree and is mainly found in Asia, Africa, Australasia, and the Pacific islands. It is a medium-sized evergreen tree that is one of the native mangrove species. This plant has a buttressed trunk and can reach up to a maximum height of 12 metres. The buttress roots of these plants are flange-like extensions that continue to form sinuous plank buttress roots. The buttress roots are spread horizontally to collect nutrients from the soil. Xylocarpus granatum is widely used to treat various disorders like diarrhea, cholera, dysentery, fever, malaria, and viral infections.
| | |
| --- | --- |
| Kingdom | Plantae |
| Order | Sapindales |
| Family | Meliaceae |
| Genus | Xylocarpus |
| Species | X. granatum |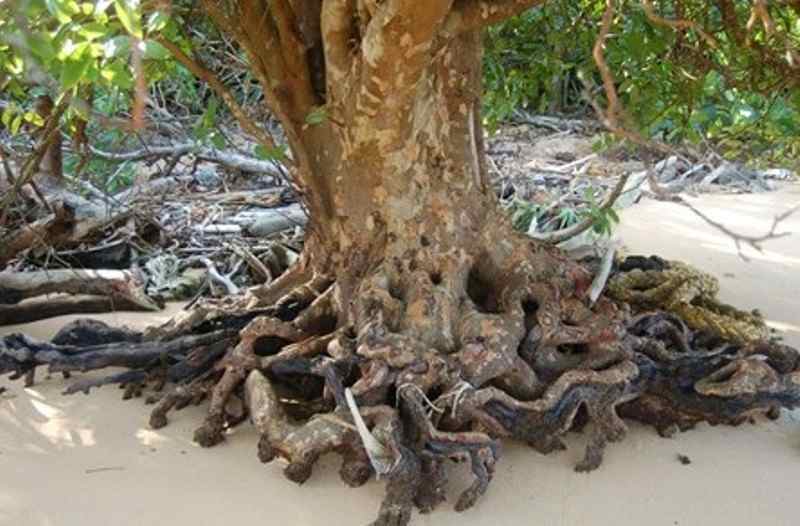 7. Xylocarpus moluccensis
Nyireh Batu is the common name for Xylocarpus moluccensis, and it is mainly found in the brackish-water coastal swamps of tropical and subtropical areas. These plants can grow up to 30 metres (100 feet) tall with a trunk diameter of up to 70 centimeters (28 inches). The leaves of this plant are compound and oppositely arranged with each leaflet being oval to egg-shaped, and having tapering tips. The roots of this plant are horizontal buttresses which are periodically compressed into narrow upward flanges that cluster around the trunk base to function as pneumatophores. The buttress roots of this plant help to provide support and maintain the integrity of the plant in the soil. Xylocarpus moluccensis is an important medicinal plant that has been traditionally used for many purposes such as the treatment of fever, dysentery, diarrhea, swelling, and abdominal disorders.
| | |
| --- | --- |
| Kingdom | Plantae |
| Order | Sapindales |
| Family | Meliaceae |
| Genus | Xylocarpus |
| Species | X. moluccensis |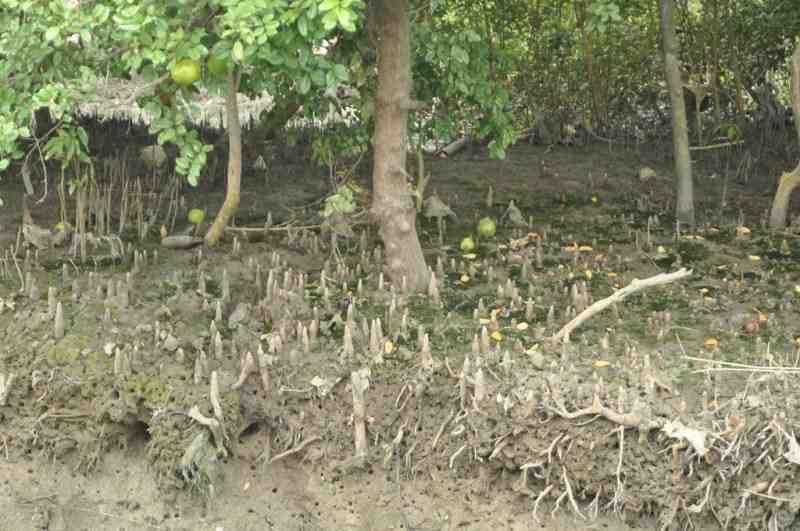 8. Heritiera fomes
Heritiera fomes, commonly known as the Sundari tree, is a medium-sized evergreen tree that is mainly found in the freshwater zones of the Sundarban forest located in the southern part of Bangladesh with an average height of 15-25metres. The name Sunderban is derived from the dominance of the mangrove species, Heritiera fomes, locally known as the Sundari (beautiful) tree because of its elegance. It is one of the species of mangrove plant and the only Hertiera genus species producing pneumatophores. These negatively geotropic pneumatophores come out of the mud surface to access atmospheric oxygen. These pneumatophore roots are covered with small pores, through which oxygen can be absorbed and carbon dioxide can be released. The trunk of heritiera fomes develops buttress roots (flange-like extensions) which are triangular, thin but strong, and are the largest of all flange pneumatophores. The leaves, stems, and roots of this plant are of utmost medicinal importance as they are used by rural peoples for the treatment of gastrointestinal disorders, skin diseases, and hepatic disorders. The bark of this plant is used in the treatment of diabetes, goiter, and skin diseases.
| | |
| --- | --- |
| Kingdom | Plantae |
| Order | Malvales |
| Family | Malvaceae |
| Genus | Heritiera |
| Species | H. fomes |