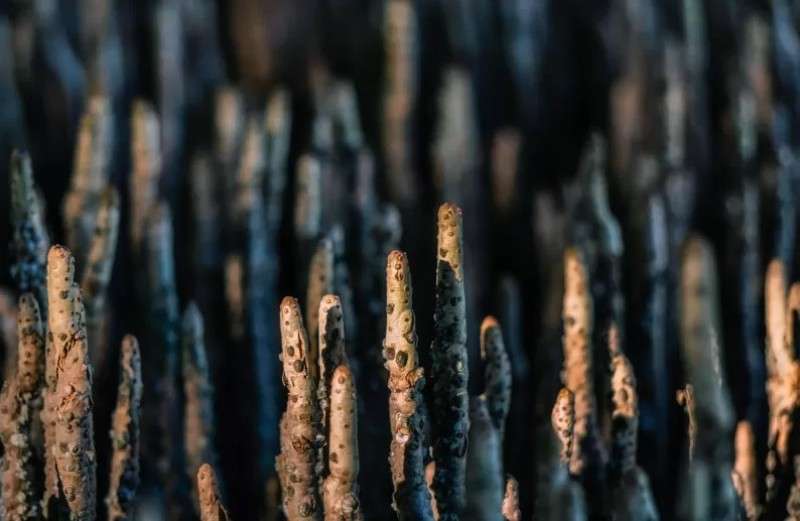 Pneumatophores, also known as respiratory roots, are modified tap roots which facilitate the exchange of gases in plants, found in saline, marshy, and water-logged soil areas. The soil in these marshy areas suffers scarcity of oxygen for gaseous change between soil and water which influences the tap roots to undergo modifications. Lateral branches of tap roots develop positively phototropic vertical branches which bulge out of the soil and form a corky outer layer for protection. This corky outer layer/pneumatophore possesses small pores/lenticels that are used by plants to carry out the gaseous exchange, which involves the absorption of oxygen and the release of carbon dioxide. These lenticels on the pneumatophore root are connected with aerenchyma, present in the membranous structure of the plant, which not only stores the oxygen but is also a pathway for gaseous exchange. Aerenchyma helps to transport the air to other parts of the plant, especially to the underground roots below the pneumatophores that are tidally inundated. The roots of pneumatophores are erect and grow in a vertically upward direction for the respiration process and are mainly found in halophytes such as mangrove species. Rhizophora, mangroves, bald cypress, etc. are some of the common examples of plants having pneumatophores.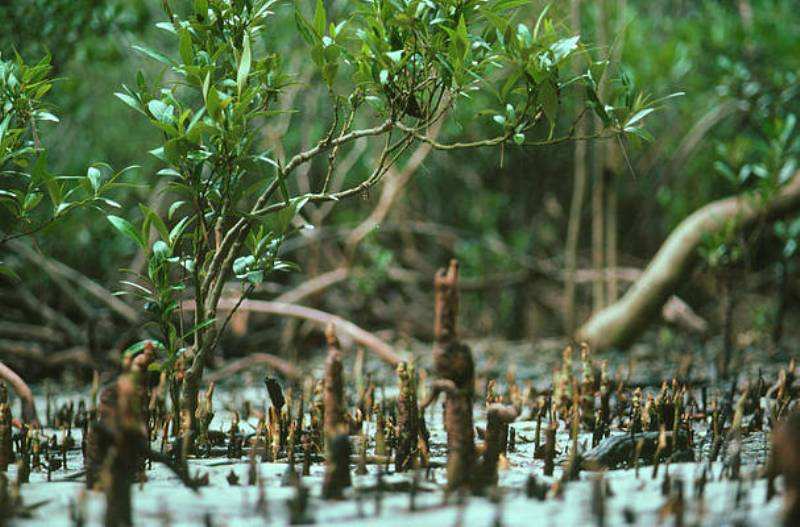 EXAMPLES
1. Black mangrove
Avicennia germinans, commonly known as black mangrove, is a shrub which can reach up to an average height of 15-20 metres and is mostly found in tropical and subtropical regions of America. These plants are tough as they survive in harsh conditions like muddy areas, saline water, and hot temperatures. Unlike other mangrove species, it does not grow on prop roots instead it possesses long horizontal roots with finger-like projections known as pneumatophores which help the plant to breathe even when submerged in saline water. These erect, pencil-shaped pneumatophores originate from underground which provides oxygen to underwater root systems.
| | |
| --- | --- |
| Kingdom | Plantae |
| Order | Lamiales |
| Family | Acanthaceae |
| Genus | Avicennia |
| Species | Germinans |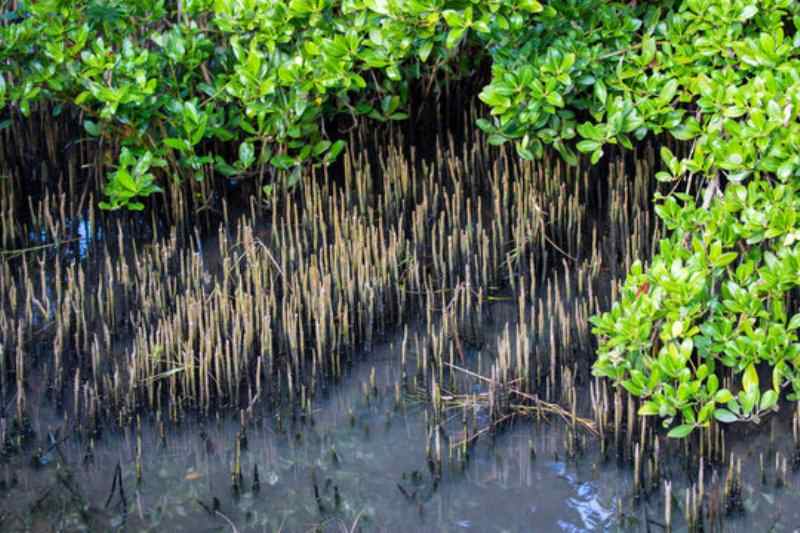 2. Sonneratia species
Sonneratia species do not contain tap roots instead they are moored by radiating cable roots that are 25-30 cm deep underground. Strong and woody pneumatophores/breathing roots protrude above the surface of these radial roots which helps to facilitate the gaseous exchange. The pneumatophores of Sonneratia species can reach up to a height of 10 feet (3 metres), otherwise, most pneumatophores range only between 8 and 20 inches (20 and 50 cm). Pneumatophores of these species are used for making corks, fishing floats, and shoe heels. Some examples of sonneratia species containing pneumatophores are as follows.
Sonneratia alba
Sonneratia alba is a mangrove that belongs to the Lythraceae family. The word 'alba' is derived from the Latin word meaning "white". Sonneratia alba is locally known as white chippi and produces beautiful white flowers with a slight pink color at their base.
| | |
| --- | --- |
| Kingdom | Plantae |
| Order | Myrtales |
| Family | Lythraceae |
| Genus | Sonneratia |
| Species | S. alba |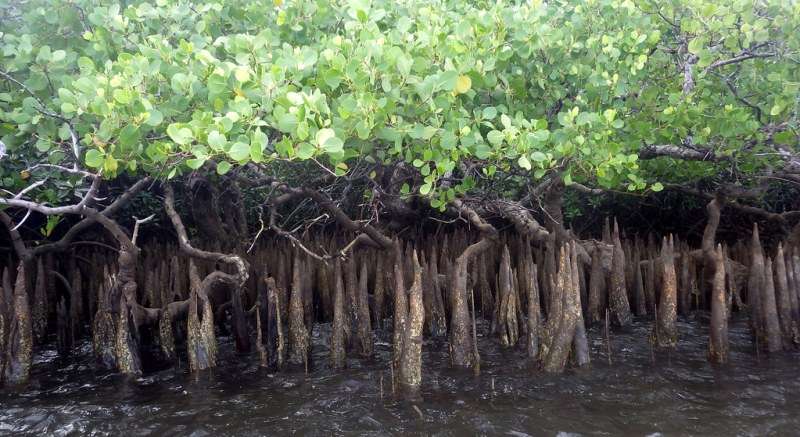 Sonneratia caseoloris
Sonneratia caseoloris, commonly called mangrove apple, is one of the native mangrove plant that can naturally grow in both saltwater and freshwater. This plant mainly contains four types of roots including cable root, pneumatophore, feeding root, and anchor root. The cortex layer of the pneumatophore root contains two types of parenchyma, the round parenchyma and the aerenchyma. The aerenchyma present in the pneumatophores of this plant helps in gaseous exchange for respiration.
| | |
| --- | --- |
| Kingdom | Plantae |
| Order | Myrtales |
| Family | Lythraceae |
| Genus | Sonneratia |
| Species | S. caseoloris |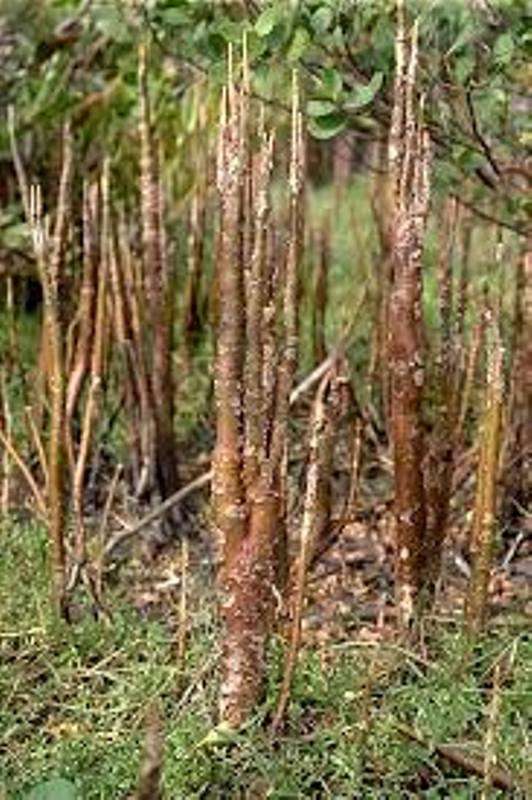 3. Heritiera fomes
Heritiera fomes, commonly known as the Sundari tree, is a medium-sized evergreen tree that is mainly found in the Sundarban forest located in the southern part of Bangladesh with an average height of 15-25metres. The name Sunderban is derived from the dominance of the mangrove species, Heritiera fomes, locally known as the Sundari (beautiful) tree because of its elegance. It is one of the species of mangrove plant and the only Hertiera genus species producing pneumatophores. These negatively geotropic pneumatophores come out of the mud surface to access atmospheric oxygen. These pneumatophore roots are covered with small pores, through which oxygen can be absorbed and carbon dioxide can be released. The trunk of heritiera fomes develops buttress roots (flange-like extensions) which are triangular, thin but strong, and are the largest of all flange pneumatophores. The leaves, stems, and roots of this plant are of utmost medicinal importance as they are used by rural peoples for the treatment of gastrointestinal disorders, skin diseases, and hepatic disorders. The bark of this plant is used in the treatment of diabetes, goiter, and skin diseases.
| | |
| --- | --- |
| Kingdom | Plantae |
| Order | Malvales |
| Family | Malvaceae |
| Genus | Heritiera |
| Species | H. fomes |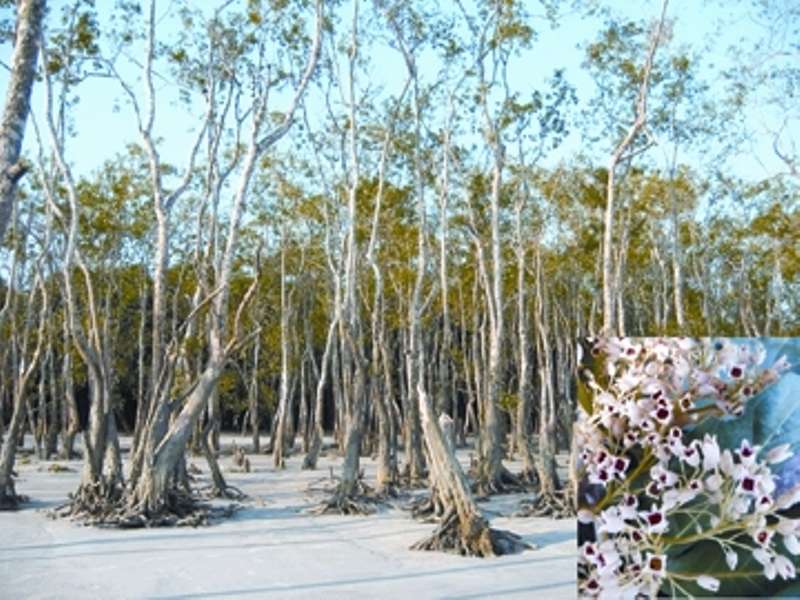 4. Bald cypress
Taxodium distichum, also known as Bald cypress, is a slow-growing tree that can reach up to an average height of 35–120 feet and has a trunk diameter of 3–6 feet; therefore, commonly referred to as a giant. In this plant, pneumatophores grow from horizontal roots just below the surface and bulge upward from the ground or water. Since this plant mainly occurs in swampy areas it is thought that the main function of pneumatophores is to transport air to drowned roots underground, which might also help in plant anchoring. These plants are mainly valued for the rot-resistant heartwood of mature trees, so they have been widely used to make fence posts, doors, flooring, caskets, cabinetry, boats, etc.
| | |
| --- | --- |
| Kingdom | Plantae |
| Order | Cupressales |
| Family | Cupressaceae |
| Genus | Taxodium |
| Species | T. distichum |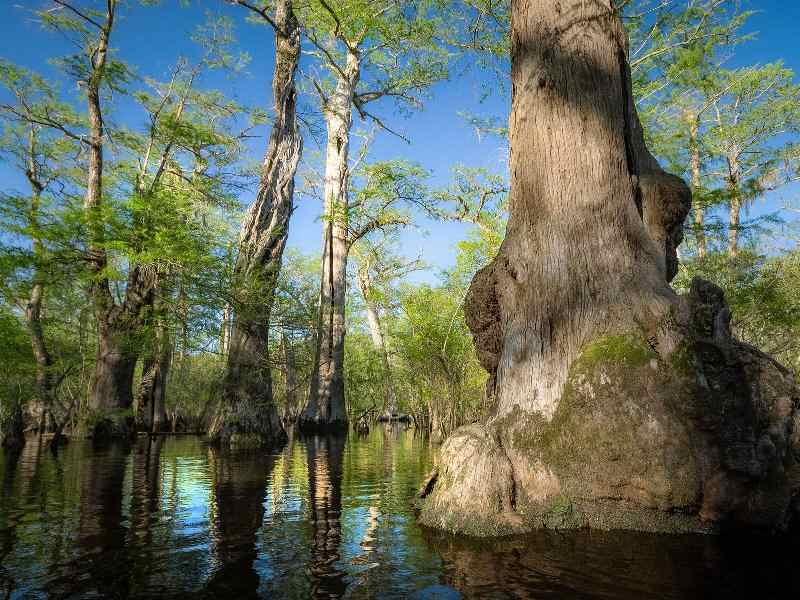 5. Bruguiera cylindrica
Bruguiera cylindrica, commonly known as Pakau Putih, is mainly found in mangrove swamps in tropical Asia. It is a medium-sized tree that contains underground air-filled cable roots producing numerous knee-like loops serving as pneumatophores. It has various medicinal uses such as lower blood pressure, bleeding, hemorrhage, and ulcers, and other uses of Pakau Putih include
The dense timber of this plant is used in construction
Wood is used as firewood and can be converted into charcoal
Used for the keel of canoes in the Maldive Islands
| | |
| --- | --- |
| Kingdom | Plantae |
| Order | Malpighiales |
| Family | Rhizophoraceae |
| Genus | Bruguiera |
| Species | B. cylindrical |
6. Bruguiera sexangula
Bruguiera sexangula, also known as upriver orange mangrove, is a shrub or a tree whose height can range between 15-30 metres. It mainly contains short buttresses at the trunk base and knee-like pneumatophores above the surface. Parts of this plant are of utmost importance and some of its uses are explicated as follows.
The fruit is used to treat shingles
The roots and leaves are used to treat burns
Timber is used as firewood and charcoal
Timber is used for fishing stakes, poles, and house construction
Bark can be used as Tannin, flavoring, and as an adhesive
| | |
| --- | --- |
| Kingdom | Plantae |
| Order | Malpighiales |
| Family | Rhizophoraceae |
| Genus | Bruguiera |
| Species | B. sexangula |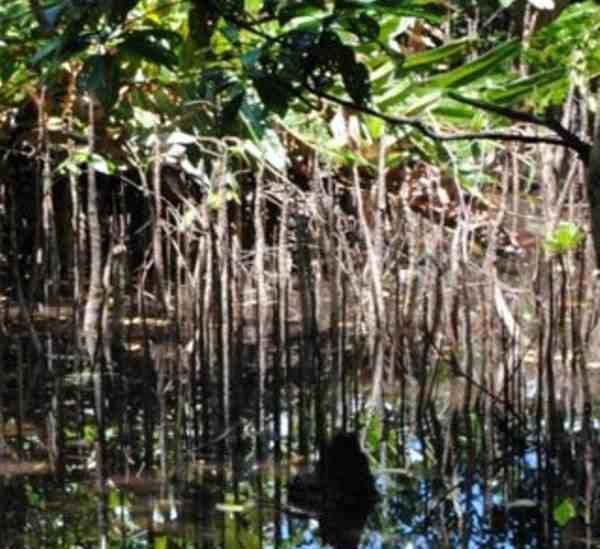 7. Xylocarpus moluccensis
Nyireh Batu is the common name for Xylocarpus moluccensis, and it is mainly found in the brackish-water coastal swamps of tropical and subtropical areas. These plants can grow up to 30 metres (100 feet) tall with a trunk diameter of up to 70 centimeters (28 inches). The leaves of this plant are compound and oppositely arranged with each leaflet being oval to egg-shaped, and having tapering tips. The roots of this plant are horizontal buttresses which are periodically compressed into narrow upward flanges that cluster around the trunk base to function as pneumatophores. Xylocarpus moluccensis is an important medicinal plant that has been traditionally used for many purposes such as the treatment of fever, dysentery, diarrhea, swelling, and abdominal disorders.
| | |
| --- | --- |
| Kingdom | Plantae |
| Order | Sapindales |
| Family | Meliaceae |
| Genus | Xylocarpus |
| Species | X. moluccensis |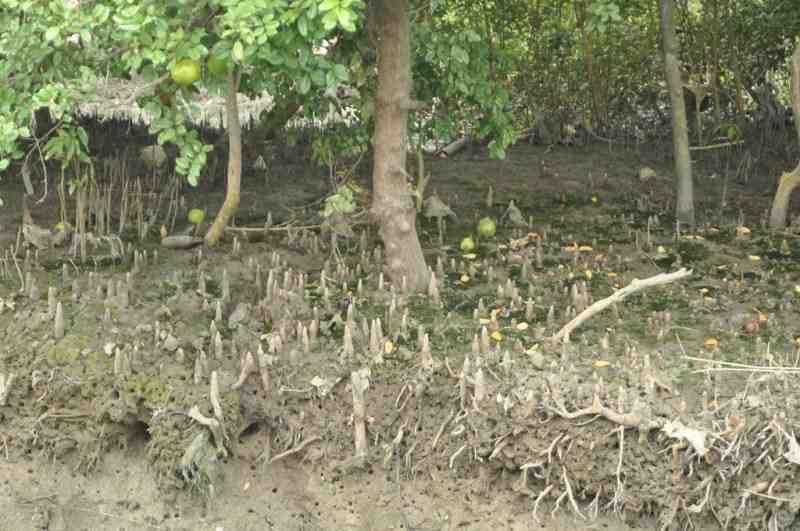 8. Rhizophora mucronata
Rhizophora mucronata is commonly known as red mangrove or loop-root mangrove and is mainly found on coasts and river banks in East Africa and the Indo-pacific region. It is a small to medium-sized evergreen tree which can reach up to a height of 20-25 metres on the river banks. Pneumatophores protrude out from underground roots to survive in these tidal zones. The pneumatophores present in this plant help to facilitate the gaseous exchange. The bark, root, leaves, fruit, and flowers of this plant have been used traditionally as medicine in South Asian countries including India for treating diabetes, diarrhea, hepatitis, inflammation, wounds, ulcers, etc.
| | |
| --- | --- |
| Kingdom | Plantae |
| Order | Malpighiales |
| Family | Rhizophoraceae |
| Genus | Rhizophora |
| Species | R. mucronata |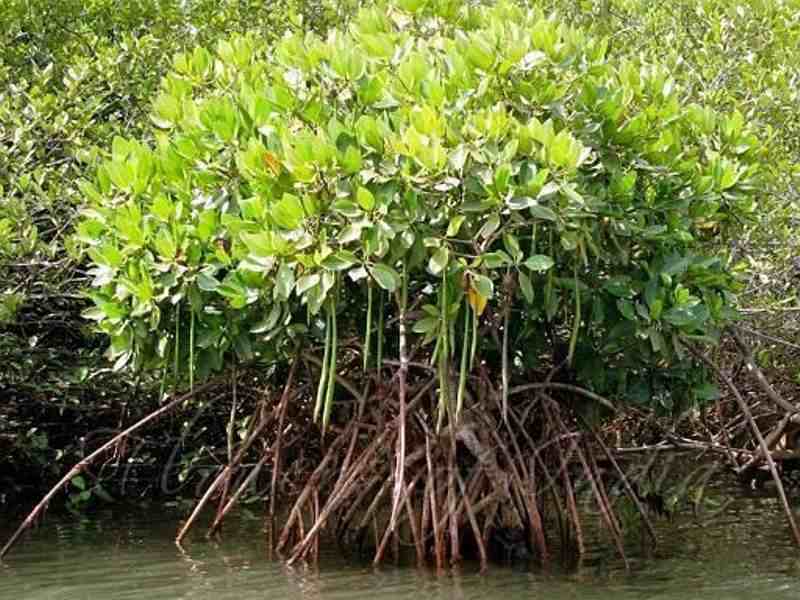 9. Avicennia marina
Avicennia marina, also known as white mangrove, grows as a shrub or tree which can reach up to a height ranging between  3 to 10 metres but can grow up to 14 metres in tropical regions. They are mainly found throughout the tropical and subtropical intertidal wetlands. To adapt to adverse tidal waves and hypoxia environments, the roots of these plants evolve to secure themselves on the muddy soil by growing downward anchor roots and erect upward roots, called pneumatophores, which are slender and flexible. Pneumatophores of Avicennia marina contain abundant aerenchyma tissues and a thin cap structure at the tip. Traditionally, the aerial parts of this plant have been used for the treatment of rheumatism, smallpox, abscess, and ulcers. It is also used as Persian folk medicine for the treatment of some other infectious diseases.
| | |
| --- | --- |
| Kingdom | Plantae |
| Order | Lamiales |
| Family | Acanthaceae |
| Genus | Avicennia |
| Species | marina |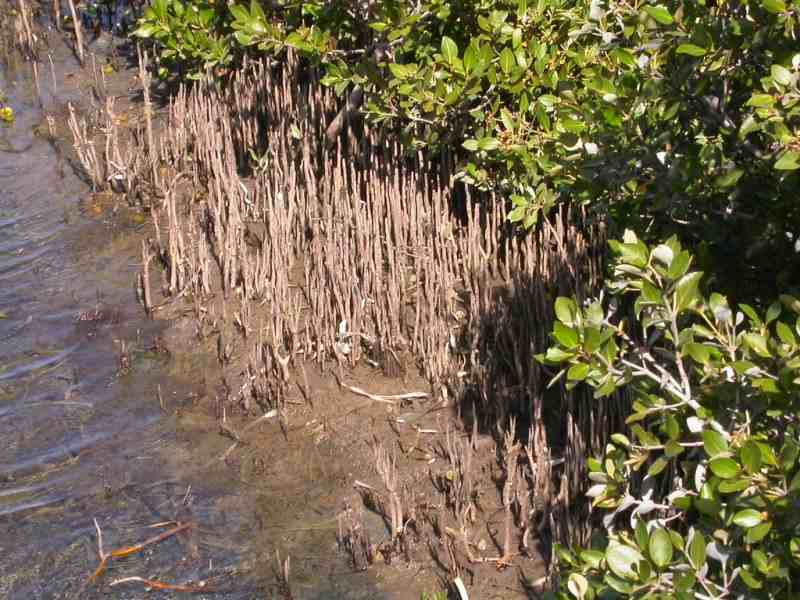 10. Nyssa aquatica
Nyssa aquatica, commonly known as Cotton (tupelo) gum, is a large and long-lived deciduous tree that is mainly found in coastal swamps of the Southeastern United States. Pneumatophores protrude out from the water surface and facilitate the aeration necessary for root respiration in such hydrophytic trees. It usually has a swollen base, large hanging fruits, and brittle twigs. The swollen base of this plant is the source of a preferred wood for wood carvers. This plant can also produce commercial timber which can be used for manufacturing furniture and crates.
| | |
| --- | --- |
| Kingdom | Plantae |
| Order | Cornales |
| Family | Nyssaceae |
| Genus | Nyssa |
| Species | N. aquatica |