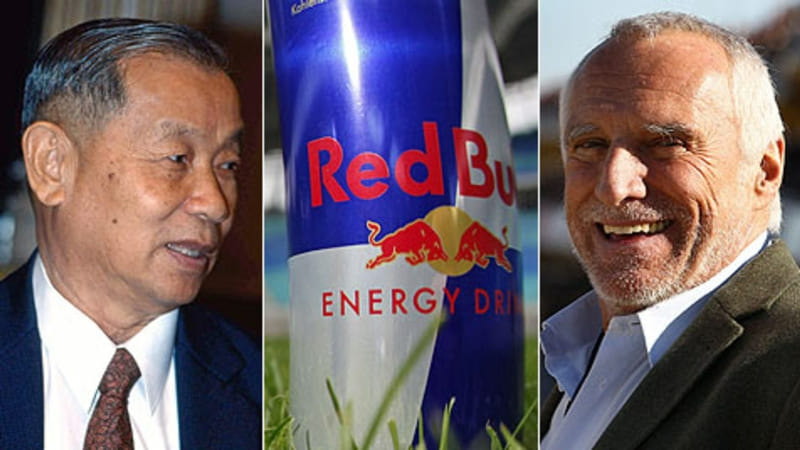 Red Bull is owned by Red Bull GmbH, an Austrian private conglomerate company founded by Austrian entrepreneur Dietrich Mateschitz and Thai businessman Chaleo Yoovidhya in 1984. After Dietrich Mateschitz's death in October 2022, his son, Mark Mateschitz, inherited his father's 49% stake in Red Bull GmbH. Red Bull emerged in the mid-1980s when Dietrich Mateschitz drew inspiration from functional beverages in East Asia. Introducing an innovative marketing approach, Mateschitz not only created a new product but also established Red Bull Energy Drink. On 1 April 1987, Austria witnessed the debut of this pioneering beverage, heralding the birth of a distinctive category in the market called 'Energy Drinks.' [1]Red Bull – official website Red Bull has become a renowned and globally popular energy drink that revitalizes and energizes individuals with its unique blend of ingredients, including caffeine, taurine, and B vitamins. With its distinctive flavor and invigorating properties, Red Bull has become synonymous with vitality and a go-to choice for those seeking an instant boost of energy and enhanced performance.
Know the owners of Red Bull
Dietrich Mateschitz
We don't bring the product to the consumer, we bring consumers to the product." – Dietrich Mateschitz
Dietrich "Didi" Mateschitz [2]South China Morning Post, an Austrian entrepreneur, is the co-founder of Red Bull GmbH and a prominent figure in the beverage industry. He owned 49% stakes in Red Bull GmbH, and in April 2022, Mateschitz's net worth was estimated at US$27.4 billion. [3]Forbes Born on 20 May 1944, in Styria, Austria, he displayed a strong enthusiasm and passion for extreme sports. While still holding the formal position of director at Red Bull, Mateschitz gradually reduced his involvement in the day-to-day operations of the company. Instead, he chose to spend more of his time in a serene alpine valley located in Styria. Over the course of a decade, Mateschitz embarked on an extensive acquisition spree within the Austrian Alps, purchasing castles and villas from churches or aristocratic families who could no longer afford their maintenance expenses. Among his holdings are a 1908 Art Nouveau guest house that was no longer required by a steelmaker, a secluded country house situated on the shores of Wolfgangsee, and a historic tavern constructed in 1603. Mateschitz invested significant amounts to restore these structures, meticulously repairing frescoes and stucco ceilings to their former glory. [4]The Sydney Morning Herald While talking about these places, he once said,
I want to enjoy these places myself, but I also want to take care of them."
Family
Dietrich "Didi" Mateschitz belonged to a family of Slovene or Croatian ancestry. According to some sources, there are indications that his ancestry can be traced to the Zadar region, where he purportedly had family members with the common surname Matešić. However, Mateschitz himself identified as a "Styrian cosmopolitan," emphasizing his connection to the Styria region. [5]Dnevnik
Parents
His mother, Auguste Mateschitz, was from Styria, while his father was from Maribor (now in Slovenia). Both his parents were school teachers. [6]The Telgraph
Wife & Children
He kept his personal life private, and not much information is readily available about his family; however, it is known that he never married and had a son named Mark Mateschitz from his partner Anita Gerhardter who runs the Red Bull Wings for Life Foundation. Mateschitz was, reportedly, in a relationship with Anita Gerhardter for two years, and later had a long-term partner named Marion Feichtner. [7]The Sydney Morning Herald Known as a recluse, Mateschitz once stated,
I don't believe in 50 friends. I believe in a smaller number. Nor do I care about society events. It's the most senseless use of time. When I do go out, from time to time, it's just to convince myself again that I'm not missing a lot."
Some employees even referred to him as "the Yeti" in recognition of his preference for secrecy and air of mystery. [8]The Sydney Morning Herald
Education and Early Career
It took Dietrich Mateschitz a decade to obtain his degree from the Vienna University of Economics and Business, as he took breaks from his studies to pursue work as a ski instructor and mountain guide. [9]The Sydney Morning Herald Dietrich Mateschitz possessed a pilot's license and derived pleasure from flying aircraft such as the Falcon 900 and the Piper Super Cub. With a personal hangar, he amassed a collection of vintage planes, among them the final Douglas DC-6B ever manufactured, which had previously been in the possession of Yugoslav Marshal Josip Broz Tito. [10]The Flying Bulls Following his graduation, Mateschitz entered the field of marketing, initially working at Unilever Plc. Subsequently, he advanced his career at Blendax, a German consumer-goods manufacturer known for products such as blend-a-med toothpaste. Eventually, Blendax was acquired by Procter & Gamble & Co., further enhancing Mateschitz's professional trajectory, so Mateschitz had a background in marketing before venturing into the creation of Red Bull. Inspired by functional drinks from Asia, he revolutionized the market by introducing Red Bull Energy Drink in 1987, establishing a completely new category. Today, Mateschitz's innovative vision and business acumen have made Red Bull one of the world's most recognizable and successful brands in the energy drink industry.
Red Bull – Energy Drink
It's not just another flavoured sugar water differentiated by colour or taste or flavour. It's an efficiency product." – Dietrich Mateschitz
The origins of Red Bull can be traced back to Mateschitz's journeys to Asia while working as a brand manager. It was during these trips that he discovered the popularity of tonics among university students and drivers throughout the region. On one particular trip, Mateschitz was astonished to learn that an energy drink producer ranked as the highest corporate taxpayer in Japan, highlighting the immense growth potential of this product category, which had limited presence elsewhere. In 1984, Mateschitz partnered with Yoovidhya, who had already been selling a non-carbonated version of the drink in Asia under the name Krating Daeng, with the vision of introducing it to a global market. It took an additional three years to commence the sale of Red Bull in Austria, which involved refining the company's slogan which has since become an integral part of its marketing campaign –
Red Bull Gives You Wings."

Initially, only the typical regular Blue and Red label Red Bull was launched in the market; however, the company later introduced many variants, which are equally popular among consumers.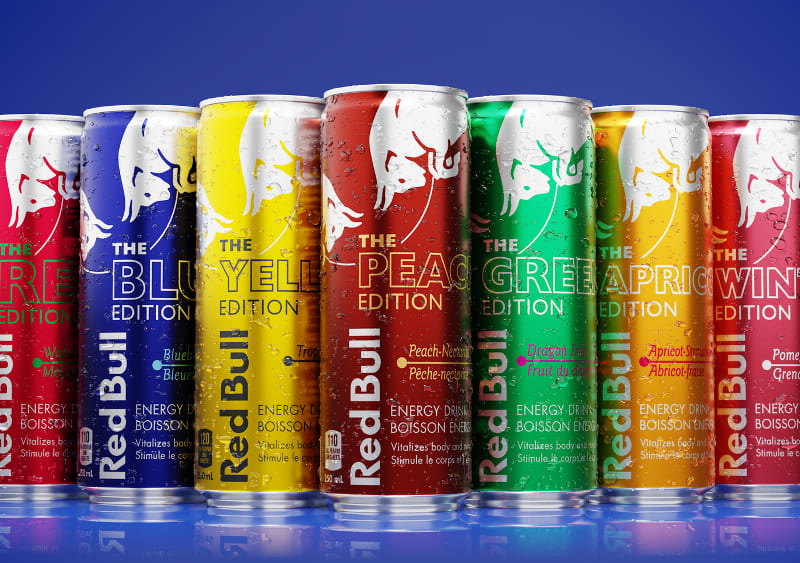 Interestingly, Red Bull does not manufacture the energy drink itself; instead, it outsources the production process to an Austrian juice maker named Rauch Fruchtsaefte GmbH & Co. Red Bull primarily operates as a sales center, with a strong emphasis on marketing. In fact, the company's annual expenditure on marketing amounts to 20 percent of its revenue, surpassing the production costs of the drink itself. This budget covers various initiatives such as producing extreme-sport stunts and videos through Red Bull Media House. Prominent athletes, ranging from motor racers to cyclists and skiers, don silver-blue helmets, serving as brand ambassadors for the energy drink. Red Bull has also ventured into other media endeavors, including the ownership of Austrian broadcaster Servus TV. [11]The Sydney Morning Herald
Extreme Sports
Red Bull has emerged as an all-encompassing sponsor of sports on a global scale, revolutionizing marketing strategies through team ownership and the promotion of daredevil events such as acrobatic flying and skydiving. During his leadership, Red Bull garnered widespread acclaim for its innovative and robust marketing initiatives in the realm of extreme sports. A notable milestone in Red Bull's history, showcasing its intensive marketing strategies, was the highly successful high-altitude skydiving expedition known as Red Bull Stratos. Collaborating with Felix Baumgartner, this groundbreaking event took place in October 2012 and is regarded as a pivotal moment in the company's history. The Red Bull Stratos mission captured global attention and exemplified Red Bull's commitment to pushing the boundaries of extreme sports and its marketing prowess. [12]CNN
Red Bull – Car Racing
Previously, Red Bull held a majority ownership stake of over 60 percent in the Sauber Formula One motor racing team and served as its primary sponsor. However, Red Bull decided to sever ties with Sauber by the end of 2001. This decision came about when the team chose to sign Kimi Räikkönen as one of their drivers for the 2001 season instead of Red Bull's protege, Enrique Bernoldi. In November 2004, Mateschitz made a significant move by acquiring the struggling Jaguar Racing Formula One team from Ford, subsequently rebranding it as the fully-fledged Red Bull Racing team for the following season in 2005. Red Bull Racing team went on to win six Formula 1 drivers' titles. Sebastian Vettel's win at the 2009 Chinese Grand Prix was the first for Red Bull Racing. [13]The Guardian Between 2006 and 2011, Mateschitz possessed ownership of Team Red Bull, which actively participated in the NASCAR Sprint Cup Series and the K&N Pro Series East.
Other Sports
In April 2005, Mateschitz acquired SV Austria Salzburg, an Austrian football club, and in March 2006, he purchased the American soccer team MetroStars. Both clubs underwent a name change and were renamed after his renowned beverage, resulting in Red Bull Salzburg and the New York Red Bulls, respectively. [14]World Soccer In 2007, Red Bull established Red Bull Brasil, a football team based in Campinas, São Paulo, and in 2019, the company acquired Clube Atlético Bragantino, also located in the state of São Paulo. Another venture was the creation of Red Bull Ghana, a football academy in Sogakope, which was subsequently sold to Dutch club Feyenoord in 2014. In May 2009, Mateschitz founded the German football club RB Leipzig by acquiring the license from SSV Markranstädt. Initially debuting in the Oberliga, the fourth tier of the German football league system, RB Leipzig achieved significant success, ascending to the top-tier Bundesliga in 2016, reaching the UEFA Champions League semi-finals in 2020, and winning the DFB-Pokal in 2022. Mateschitz also owned ice hockey clubs, EC Red Bull Salzburg and EHC Red Bull München, which were acquired and rebranded in 2000 and 2012, respectively.
Red Bull – Media House
He owned Seitenblicke, Austria's top society magazine. In 2007, Mateschitz established Media House in Austria, offering an array of digital entertainment content and a vast library of captivating visuals that could be utilized by interested broadcasters. [15]France 24 Mateschitz held ownership of ServusTV, a television channel situated in Salzburg. The channel faced criticism for purportedly downplaying the gravity of the COVID-19 pandemic. [16]France 24 Regarded as having a right-wing stance, ServusTV was one of just three media organizations granted a press pass to the "Defenders of Europe" conference in October 2016, which involved right-wing and far-right activists. In May 2016, Mateschitz initially announced his intention to close down the channel in response to employee requests to establish a works council. However, he reversed his decision when no such council was formed. [17]Der Standard
Death
On 22 October 2022, at the age of 78, Mateschitz died at his residence in St. Wolfgang im Salzkammergut after a long battle with pancreatic cancer. [18]The Sydney Morning Herald
Chaleo Yoovidhya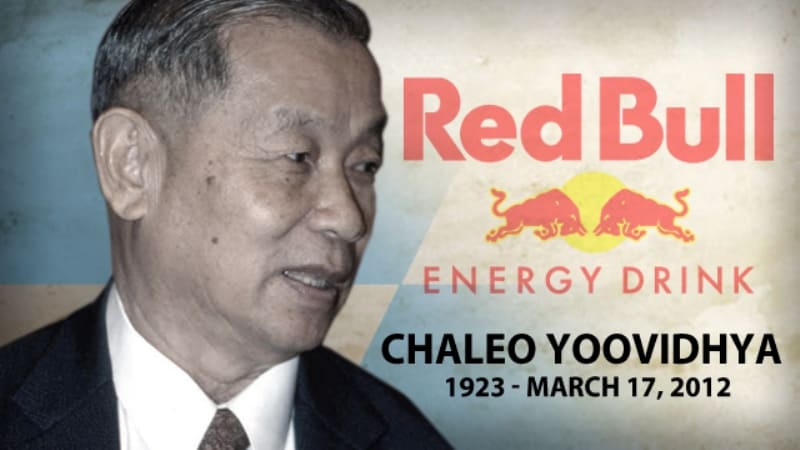 Chaleo Yoovidhya (1923-2012) was a Thai entrepreneur and the co-founder of the global energy drink brand Red Bull. Born in Thailand, Chaleo initially worked in the pharmaceutical industry before venturing into his own business. In 1984, he teamed up with Austrian businessman Dietrich Mateschitz to create the iconic Red Bull energy drink. Chaleo played a significant role in developing the formula and packaging for the product, which soon gained immense popularity worldwide. Thanks to his entrepreneurial vision and marketing strategies, Red Bull became a leading brand in the energy drink market. Chaleo's contributions to the company's success were recognized globally, and he remained involved in its operations until his passing in 2012. His legacy as a pioneering businessman continues to shape the beverage industry to this day.
Family
Multiple news sources have provided varying information about Chaleo's birth details. According to these sources, Chaleo's birth is believed to have occurred somewhere between 1922 and 1932 in central Thailand. [19]The New York Times Different reports have presented conflicting birthdates. The Nation, a Thai newspaper, stated that he was 90 years old, while various other media outlets in Thailand claimed he was 88. Forbes magazine once stated his age as 80. Local media in Thailand, as reported by BBC News, mentioned that Chaleo was born in 1932 in the northern province of Phichit, to Chinese immigrant parents of modest means. [20]BBC However, The Australian and Time reported his age as 89. [21]Time The Telegraph and The Independent stated that Chaleo was born in 1923 into a poor Thai Chinese family engaged in duck farming and fruit trading in Phichit, with his father being an immigrant from Hainan. [22]The Telegraph
Wife and Children
Chaleo married twice and had 11 children, including his sons Chalerm and Saravudh.
Education and Early Career
After receiving minimal formal education, Chaleo began his career by assisting his parents before relocating to Bangkok. Initially employed as a sales representative for antibiotics, he eventually left his job to establish his own modest pharmaceutical company, TC Pharmaceuticals, during the early 1960s. [23]The Telegraph
Conception of Red Bull
Following a purported stroke of inspiration, Chaleo developed an invigorating beverage that was initially introduced in 1976. The brand's logo features two formidable red bulls engaged in a charging motion. It is worth noting that these bulls are not ordinary cattle but rather wild gaur, a bovine species native to Southeast Asia known as "krathing" in Thai. In 1984, Dietrich Mateschitz, an Austrian salesman representing a German company, discovered that the drink alleviated his jet lag. Impressed by its effects, Mateschitz joined forces with Chaleo in a partnership. In 1987, they introduced an export version named "Red Bull," with Chaleo providing the original formula, which was adapted for Western preferences under Mateschitz's guidance, while Mateschitz focused on marketing strategies. Both individuals contributed $500,000 for a 49% ownership stake in the Red Bull energy drink franchise, with Chaleo's son, Chalerm, retaining the remaining two percent. [24]The Telegraph
Other Ventures
Besides Red Bull, Chaleo retained ownership of TC Pharmaceuticals, a company in Thailand that produced various energy drinks. Additionally, he held a partial ownership stake in Piyavate Hospital, a private medical facility in Thailand. Furthermore, he was involved as a co-owner in the exclusive authorized importer of Ferrari sports cars into Thailand.
Death
On 17 March 2012, Chaleo died of natural causes in a hospital in Bangkok at the age of 89. Prior to his funeral, Chaleo's bathing rites, a customary Thai Buddhist practice performed before cremation, were conducted. Notably, these rites were sponsored by the royal family of Thailand, which bestowed a significant honor upon him, considering that he did not originate from a noble lineage. [25]Time
Mark Mateschitz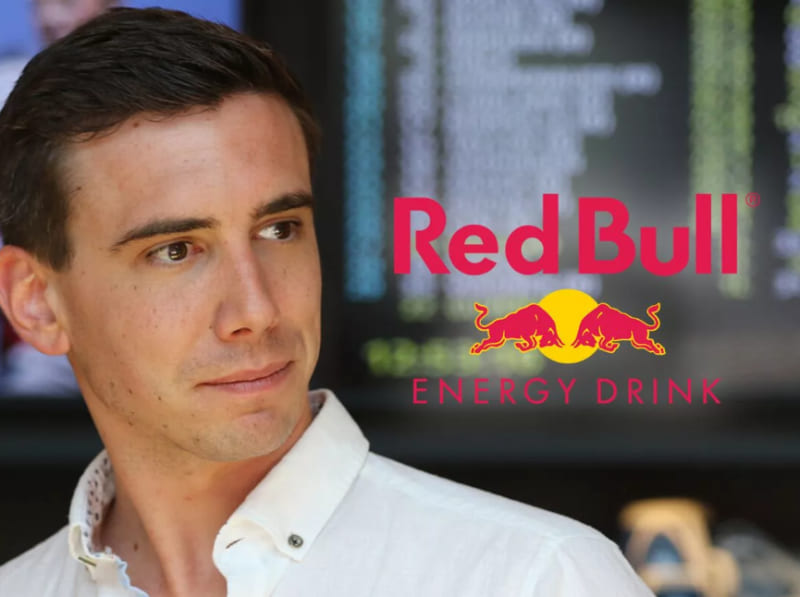 Mark Dietrich Mateschitz, an Austrian billionaire, holds a 49% ownership stake in Red Bull GmbH, the renowned energy drink company co-founded by his father, Dietrich Mateschitz. He was born in May 1992.
Family
Mark is the only child of Dietrich Mateschitz and Anita Gerhardter. In his earlier years, he maintained a low profile and primarily used his mother's surname, with only his middle name, Dietrich, indicating a connection to his father.
Education and Early Career
He attended high school in Salzburg and later pursued studies in business administration at Salzburg University of Applied Sciences. In 2018, he established Thalheimer Heilwasser GmbH, his own beverage company specializing in the production of beer and lemonade. The company utilizes water sourced from one of Austria's oldest springs.
Red Bull – Energy Drink
Upon the passing of his father in October 2022, he inherited his father's 49% ownership share in Red Bull GmbH. In response, he promptly resigned from his position as an employee of the company to focus on his responsibilities as a shareholder. Mark said,
But I do not believe one should be both an employee and a shareholder of the same company. I will concentrate on my role as a shareholder, and I will interpret this and express myself in a way that makes sense to me." [26]South China Morning Post
Red Bull – Car Racing
From an early age, Mateschitz frequently accompanied his father to Formula One races. After assuming ownership stakes in Red Bull Racing and Scuderia AlphaTauri, he emulated his father's path by actively investing in sports sponsorships. [27]South China Morning Post