To understand entrepreneurship and its traits, one must first understand the term 'entrepreneur.'
Who Is Entrepreneur: Entrepreneur is the person who gives reality to his visionary aspects. He can be any person who works on his own terms and assumes risk to perceive profit in near future.
What is Entrepreneurship: Entrepreneurship is the process of executing the concepts and ideas of an entrepreneur in the market through proper planning,
There are some skills possessed by entrepreneurs to make their venture successful, which are cited below-
Entrepreneurs are innovative, because of which they think out of the box by continuous learning, questioning, and brainstorming their ideas.
Hard work is the most common trait found in entrepreneurs. They work day in and day out to give a platform to their concept. They do not get distracted from their target whatever is the circumstance.
Positivity is that trait in entrepreneurs which doesn't let them disheartened from the initial setbacks of their venture. A true entrepreneur does not see money as the motivation, instead takes success as a motivation and money as the reward.
Entrepreneurs are practical enough to judge market demands, that they can even modify their product to customer satisfaction. Market requirement is their main focus to achieve success.
Entrepreneurs are always good at resource management be it personnel or monetary. They know how to motivate their team to extract maximum productivity out of them by properly communicating their vision and goals to them.
Entrepreneurs are always enthusiastic about their ideas or plans in a way that they can convince others to listen or look at their plan.
Self-confidence is the most important aspect of entrepreneurs' life, which comes through the expertise and proper research in their work.
Entrepreneurs possess risk taking capacity without which they cannot step forward in the market, and the risk taking capacity comes from the confidence and know-how of the mechanism which they are going to execute.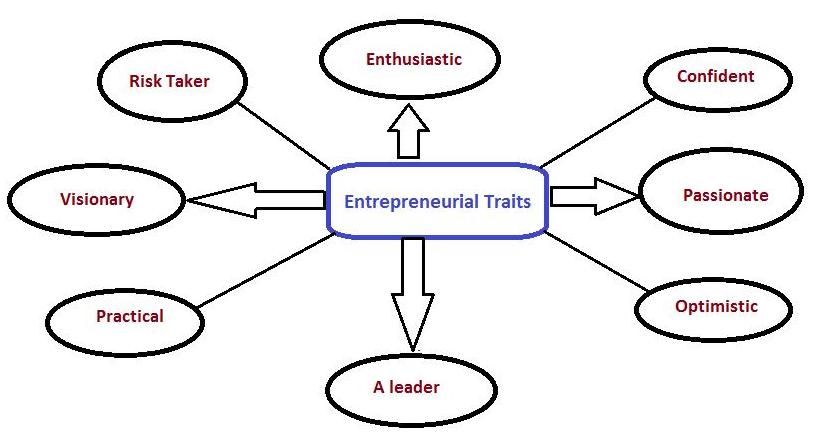 Image Title: Entrepreneurial Traits
All of these skills can be learned as well as honed by the prospective entrepreneurs in the following ways-
Never say die spirit is truly the first and foremost skill to be learnt. This can be achieved by being an optimist and by always looking forward, even after failures.
SWOT analysis of one's own personality makes people aware about the shortcomings in their behavioral pattern towards entrepreneurship, so that they can improve on their weaknesses and threats.
Interpersonal skills set is a must have for an entrepreneur to be successful and these can be learned and developed from external sources and can be improved with self-consciousness also. Some interpersonal skills which are necessary for a successful entrepreneurship are listening, communication, personal relations, delegation, motivation, and ethics.
Tremendous research and brainstorming ideas makes one abrupt of nook and corner of the concept and gives self-confidence to the entrepreneur.
To be a successful entrepreneur, one must have the capability to take initiatives and possess problem solving attitude which comes through self-motivation and requisite enthusiasm.
Above said traits are not the only traits to be a successful entrepreneur, these can be extended if a person is lacking in some general or practical day to day behavior. So, one should always examine himself/herself to know his/her strengths or weaknesses. And then only, one can get a sense of how well this or that career will fit with his/her personality.