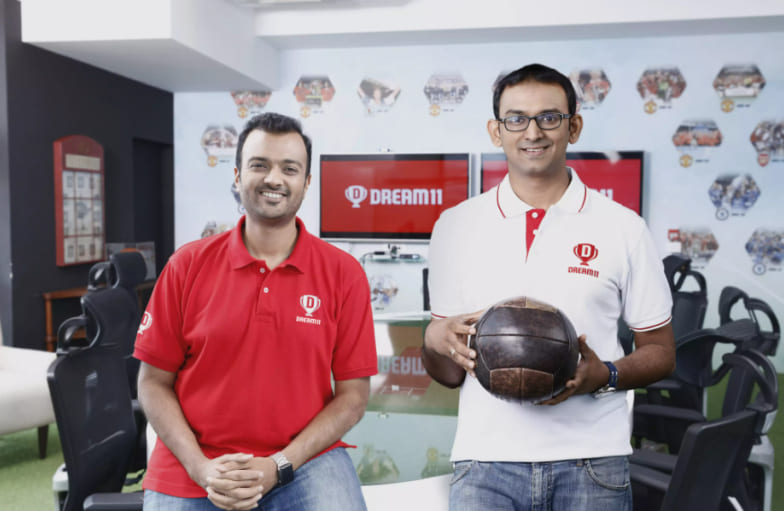 Dream11 is owned by Harsh Jain (son of Indian businessman Anand Jain) and Bhavit Sheth. Dream11 is a renowned online fantasy sports platform allowing users to engage in virtual sports contests by creating their own teams of real-life players. Founded in 2008, Dream11 has gained immense popularity in fantasy gaming, offering a diverse range of sports such as cricket, football, basketball, and more. With a user-friendly interface and a wide array of contests, Dream11 allows sports enthusiasts to showcase their strategic skills, compete against fellow players, and potentially earn rewards based on the performance of their chosen players.
Know the owners of Dream11
Harsh Jain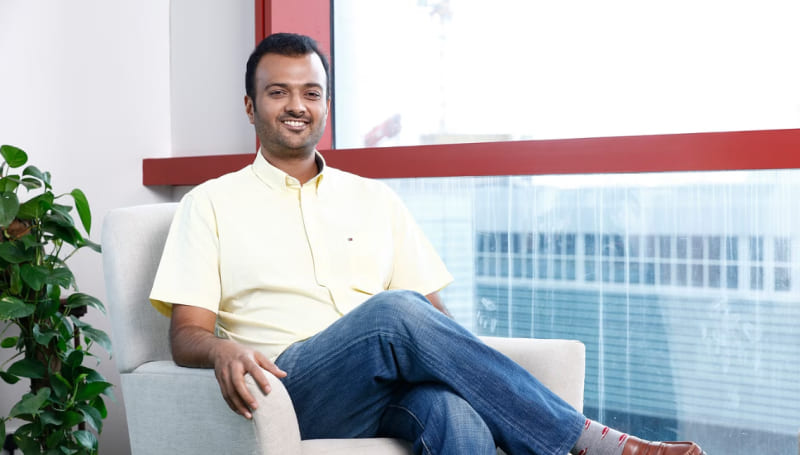 Born in 1986 in Mumbai, Harsh Jain is the co-founder and CEO of Dream11, a leading online fantasy sports platform. Harsh Jain displayed a natural aptitude for sports from an early age, excelling in various athletic endeavors. Throughout his school and college years, he actively participated in football, showcasing his skills and passion for the sport. With his visionary leadership, Harsh has propelled Dream11 to become a household name in the industry, revolutionizing the way sports enthusiasts engage with their favorite games. Throughout his career, Harsh Jain has received numerous accolades for his contributions to the sports and gaming industry. Under his leadership, Dream11 has earned several prestigious awards and recognition, solidifying its position as a market leader. Harsh Jain has harbored a deep affection for dogs since his early years. Even as a child, he would feed stray animals in the vicinity of his building, demonstrating his compassion towards them. During his teenage years, he brought a stray kitten home with the hope of convincing his parents to adopt it. Unfortunately, his parents did not permit him to keep the stray cat in their house. However, Harsh's love for animals remains unwavering, and he currently owns four pet dogs. His furry companions consist of two beagles and two Alsatians, enriching his life with their presence and companionship. During Harsh Jain's time studying at the University of Pennsylvania, his parents bestowed upon him a beagle named Simba as a special gift. Simba held the distinction of being Harsh's first-ever pet. Regrettably, when Simba reached the age of five, he encountered severe health issues, leading to his untimely demise.
Family
Parents & Siblings
Harsh Jain is the son of Anand Kumar Jain, a prominent businessman, and Sushma Jain, a talented painter.
Anand Jain, often regarded as the third son of Dhirubhai Ambani, [1]India Today was ranked 19th on Forbes India's list of the country's 40 richest individuals in 2007. [2]Forbes
Harsh Jain has a younger sister named Neha Jain, who is married to Anurag Bagaria. Anurag is the owner of Kemwell Pharma, a pharmaceutical company that specializes in contract manufacturing for multinational drug companies.
Wife & Children
In 2013, Harsh Jain got married to Rachana Shah, a dental professional.
Together, they have been blessed with a son named Krish.
In 2020, Harsh Jain and Rachana established the Raksha Foundation, a non-governmental organization (NGO) in Mumbai. The foundation's primary objectives are to offer free education to children from underprivileged backgrounds and advocate for the welfare of animals. In November 2021, Rachana Jain acquired an opulent duplex in 33 South, located in the Peddar Road area of South Mumbai. The luxurious property was purchased for a notable sum of Rs. 72 crores. [3]The Economic Times
Education & Early Career
From 2001 to 2003, he studied at Sevenoaks High School in England. Following that, he pursued a Bachelor of Science degree in Electrical Engineering at the University of Pennsylvania, graduating in 2007. Later, he enrolled in the Columbia Business School at Columbia University to pursue a Master of Business Administration (MBA). [4]Harsh Jain – LinkedIn During his undergraduate studies in 2006, Harsh Jain took up a three-month summer internship at Microsoft, where he focused on assessing the viability and potential commercial advantages of the company venturing into the Push-To-Talk (PTT) market. Subsequently, in 2007, he embarked on a new professional journey as a Marketing Manager at Jai Corp. Limited, based in Mumbai.
Dream11
Dream11 is the flagship brand of Dream Sports. In 2008, Harsh Jain capitalized on his passion for sports, gaming, and technology by teaming up with his business partner Bhavit Sheth to establish Dream11, an Indian fantasy sports platform. Simultaneously, in July 2010, Harsh co-founded Red Digital, a Mumbai-based social media agency. Within a short span of two years, the company successfully expanded its client base, catering to renowned Indian and international conglomerates such as Dell, Adidas, PVR, Berger Paints, EduComp, and Reliance Foundation. In 2013, Gozoop, a marketing agency in Mumbai, acquired Red Digital. Additionally, in 2017, Harsh Jain assumed the role of President at the Federation of Indian Fantasy Sports, further solidifying his involvement in the industry. In 2019, Dream11 achieved a significant milestone by becoming the first Indian gaming company to attain unicorn status. Being classified as a unicorn denotes that the privately held startup company's valuation surpassed the remarkable threshold of $1 billion. In August 2020, following Vivo's withdrawal from the sponsorship of the Indian Premier League (IPL), Dream11 successfully secured the title sponsorship rights for the IPL through a three-year bid. The bid amount of Rs. 2.2 billion solidified Dream11 as the new title sponsor for the prestigious cricket tournament. Harsh Jain once talked about what prompted him to start an online fantasy sports platform and said,
I have been an avid fantasy football (EPL) fan since 2001 and when the IPL began in 2008, I went looking to play fantasy cricket online. It was shocking to see that in a country like India, where cricket is watched by 800 million people, fantasy cricket was non-existent. So my co-founder Bhavit and I thought this was a perfect problem for us to solve. After a few years of experimenting with different formats on Dream11, we found a market-fit product with single-match freemium fantasy cricket in 2012. Over the years, Dream11 has grown to become a diverse platform by offering multiple sports to a variety of sports fans in the country and has grown from 3 lakh users in 2015 to 3.8 crore users in 2018."

In 2021, amid the geopolitical tensions between India and China, Harsh Jain made a statement declaring that his company, Dream11, would refrain from seeking investment from Chinese investors in the future. It was later revealed that Tencent Holdings Ltd., a prominent Chinese multinational, held approximately 10% of the shares in Dream Sports, the parent company of Dream11, as of March 2021. [5]The Economic Times
Other Brands
Apart from Dream11, Dream Sports has launched many other brands including FanCode (India's premier digital multi-sports destination), Dream Capital (Corporate Venture Capital and M&A arm of Dream Sports), KheloMore (a one-stop destination for sports venues), DreamSetGo (India's first premium bespoke sports travel and experiences platform), DreamX (a sports accelerator), and Dream Sports Foundation (the philanthropic arm of Dream Sports that provides comprehensive support and assistance to deserving individuals and organisations).
Bhavit Sheth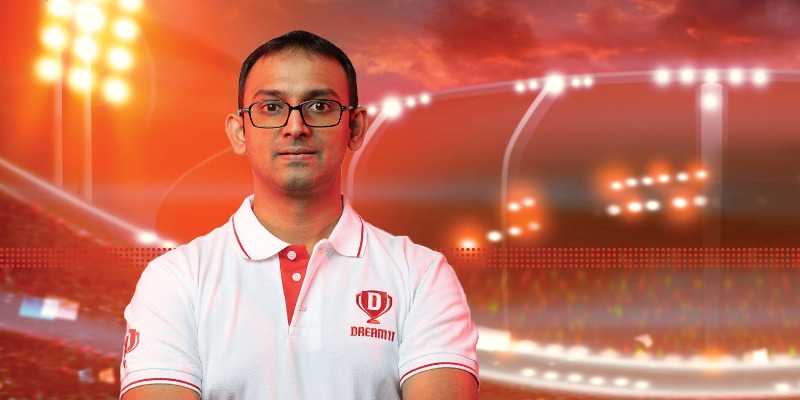 With a passion for sports and gaming, Bhavit played a pivotal role in establishing Dream11 alongside his business partner Harsh Jain in 2008. As the Chief Operating Officer (COO) of Dream11, Bhavit has been instrumental in shaping the company's growth and success. Beyond his professional achievements, Bhavit Sheth is known for his avid interest in sports and his dedication to creating a positive impact. Together with Harsh Jain, he has brought fantasy sports to the forefront in India, providing millions of sports enthusiasts with a unique and engaging platform to showcase their skills and passion.
Education
Bhavit Sheth holds a Bachelor of Engineering degree from D.J. Sanghvi College in Mumbai and an MBA from Bentley University (Boston). He also holds a Diploma in E-commerce strategies from Harvard.
Co-founder – Dream11
Having completed his education in Business Administration, Bhavit's entrepreneurial spirit and strategic mindset have been key drivers in transforming Dream11 into a household name in the fantasy sports industry. His expertise in operations, product development, and user experience has contributed to the platform's evolution, making it a preferred choice among sports enthusiasts. Under Bhavit's leadership, Dream11 has witnessed remarkable milestones, including becoming the first Indian gaming company to attain unicorn status. With a focus on innovation and providing an immersive user experience, Bhavit has played an integral role in expanding Dream11's offerings, diversifying into multiple sports, and continuously enhancing the platform's features. Bhavit Sheth's commitment to promoting fair play, responsible gaming, and building a vibrant fantasy sports community has been evident in Dream11's endeavors. His vision and strategic insights have cemented Dream11's position as a market leader in the fantasy sports arena.
Dream11 – Partnerships
In 2017, Dream Sports ventured into three leagues – cricket, football, and basketball, becoming the Official Fantasy Partner for Caribbean Premier League, Indian Super League, and US professional basketball league National Basketball Association (NBA). In the same year, they became the official Fantasy Football Partner of the Indian Super League. In November 2017, the NBA partnered with Dream11, launching their official NBA fantasy game on their platform. In 2018, Dream11 collaborated with International Cricket Council (ICC), Pro Kabaddi League, International Hockey Federation (FIH), WBBL, and BBL. In the same year, in collaboration with the ICC, Dream11 launched two new games on their platform – kabaddi and hockey. In October 2019,  Dream11 became the title sponsor for the Super Smash domestic Twenty20 competition, organized by New Zealand Cricket (NZC). In January 2021, Dream11 and New Zealand Cricket (NZC) extended this partnership for another six years until 2026. On 18 August 2020, Dream11 won the title sponsorship rights for the 2020 Indian Premier League for Rs. 222 crore, after Vivo pulled out for the season. On 30 June 2023, Dream11 added another feather to its cap by getting the lead jersey sponsorship rights of the Indian National Cricket Team from July 2023 till March 2026 for Rs. 358 crore. [6]The Economic Times
Dream11 – Brand Ambassadors
Commentator Harsha Bhogle had first been announced as the company's brand ambassador during the 2017 IPL. The 2018 Indian Premier League saw Mahendra Singh Dhoni launch the "Dimaag se Dhoni" media campaign for Dream11.
For its multi-channel marketing campaign in 2019, Dream11 signed up seven cricketers and partnered with seven Indian Premier League franchises. Actors Kartik Aaryan and Samantha Ruth Prabhu were announced as Dream11's brand ambassadors in March 2022. For the first time, the company hired celebrities outside of sports as ambassadors.
Among the cricket ambassadors of Dream11 are Rohit Sharma, Rishabh Pant, Shikhar Dhawan, Hardik Pandya, Shreyas Iyer, and Jasprit Bumrah.
Dream11 – Legal Issues
In 2017, a case was filed against Dream11 in an Indian High Court. The court's ruling acknowledged that playing the Dream11 game required superior knowledge, judgment, and attention, emphasizing the significant role of skill in determining game outcomes. However, certain Indian states like Assam, Odisha, Telangana, and Andhra Pradesh prohibit fantasy sports under their respective laws. An appeal challenging this ruling was presented before the Supreme Court of India, which ultimately dismissed the appeal. This judgment provided legal clarity for Dream11 to continue its operations across the country. In October 2021, Dream11 temporarily suspended its operations in Karnataka due to the state's prohibition on online gambling and wagering. However, in February 2022, the Karnataka High Court overturned the ban on online gambling and dismissed the complaint filed against Dream11, allowing the company to resume its operations in the state. Despite being recognized as a "game of skill," experts suggest that the company operates within a regulatory "grey area" in the country. [7]The Hindu