LinkedIn is owned by Microsoft. Reid Hoffman, an American entrepreneur founded LinkedIn in December 2002. LinkedIn is a professional networking platform that connects individuals and organizations worldwide. Launched in 2003, LinkedIn has become the go-to platform for professionals seeking to establish meaningful connections, build their personal brand, and explore career opportunities. With a focus on fostering professional relationships, LinkedIn enables users to create detailed profiles, showcase their skills and accomplishments, and engage with a vast network of professionals from various industries. Whether you are looking for job opportunities, industry insights, or collaboration prospects, LinkedIn provides a powerful platform for networking and professional growth.
Know the owners of LinkedIn
Reid Hoffman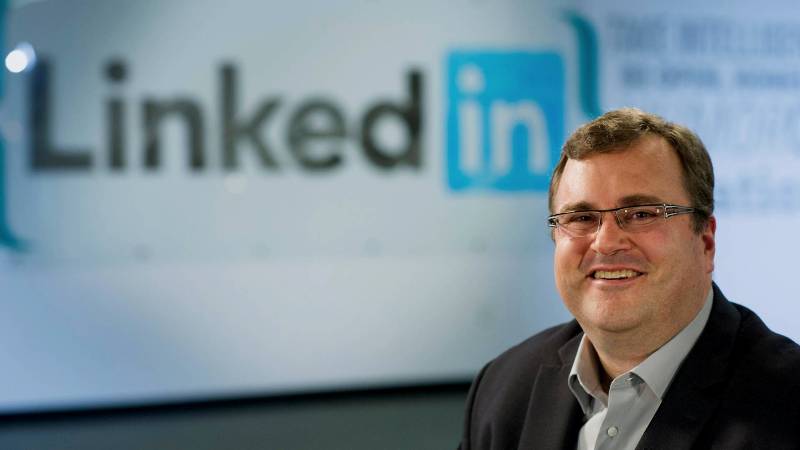 Reid Hoffman is an influential entrepreneur, venture capitalist, and author, widely recognized as one of the co-founders and the executive chairman of LinkedIn. Born on 5 August 1967, in Stanford, California, Hoffman developed a passion for technology and entrepreneurship from an early age. According to Reid, from an early age, he considered himself someone who hangs with the adults, and as a child, he would often encounter questions like "How society should run, what is a meaningful life." During his early years, he was exposed to tear gas during demonstrations as an infant. His father accompanied him to his initial concert, featuring the Grateful Dead. Engaging in discussions about ethics was a regular occurrence, analyzing topics such as the reasons behind Ronald Reagan's decision to bomb Libya and the significance of robust public education in a thriving society. Initially, his career plans leaned towards academia; however, he eventually concluded that his aspiration to make a significant impact on the world would have a greater likelihood of realization in the field of technology. Reid Hoffman's contributions to the technology and business world have earned him widespread recognition. He has been named one of Forbes' "Midas List" of top technology investors and has received accolades such as the David Packard Medal of Achievement and the Global Business Leadership Award. Hoffman continues to inspire and guide aspiring entrepreneurs through his investments, mentorship, and his influential presence in the tech and startup communities. Hoffman identifies as a "mystical atheist," emphasizing his spiritual exploration while not subscribing to traditional religious beliefs. He expresses a profound interest in grappling with philosophical and existential inquiries. Constructing a rich personal environment, he has developed intricate customs and rituals that offer insights into various aspects of life and significant societal matters.
Dungeons & Dragons
Typically, tech moguls often attribute their early fascination with personal computers or the Internet as a pivotal moment in their path to success, and for Hoffman, his transformative experience began with fantasy role-playing board games, specifically Dungeons & Dragons, which he embraced at the age of nine. While attending Martin Luther King, Jr., Middle School in Berkeley, a fellow classmate informed him about Chaosium, a game company located in Emeryville, a nearby city. The company occasionally invited groups of boys to test its products. Hoffman managed to join one of these groups and subsequently returned to Chaosium, offering to rectify errors he had identified in a set of role-playing scripts for Dungeons & Dragons that the company had published. He composed a detailed memo outlining his feedback and presented it to Steve Perrin, a prominent game developer working at Chaosium during that time. Perrin recognized the value of Hoffman's input, stating, "This is good feedback." According to Hoffman, they offered him another scenario pack to review. In addition, he commenced writing reviews for Different Worlds, a gaming magazine that was published by Chaosium, and started earning a modest payment for his contributions.
Family
Parents & Siblings
His father's name is William Parker Hoffman, and his mother's name is Deanna Ruth; both were radical lawyers. Reid is the only child of his parents. His father graduated from Stanford, did public-service law, and went to Woodstock, while his mother studied environmental law at Berkeley. His parents met when his mother entered a beauty contest, and when Reid was born, his father and mother were 23 and 22 respectively. After Reid's birth, his parents separated. His mother later brought him up for a few years in California and, briefly, in Alaska, where she took up a job. According to Hoffman, his mother was going through some hard times following which he moved along with his mother at her parent's place in Sunnyvale. He eventually reunited with his father, who had remarried and settled in Mill Valley. After the dissolution of that marriage, he relocated to Berkeley alongside his father, who had entered into a new partnership. [1]The New Yorker Hoffman says,
To have your parents get divorced at a young age, there's a lot of turbulence."
Wife & Children
In 2004, he got married to Michelle Yee, a clinical speech pathologist who has stopped seeing patients. According to Reid, he started dating Michelle while he was studying in college, and they argued for eight hours the first time when they met. He met Michelle Yee in his freshman year. The couple has no children. [2]Wired According to Hoffman, his wife seldom engages in his business and political dinners, and in an effort to escape the all-encompassing Silicon Valley culture, she seeks solace by attending Buddhist retreats. She harbors a desire to make a difference and assist the marginalized community of the Navajo Nation, recognized as one of the most economically disadvantaged among the prominent Native American tribes. [3]The New Yorker
Other Relatives
Reid Hoffman has notable familial connections, including Theophilus Adam Wylie, his great-great-great-grandfather, who served as a Christian Presbyterian minister and held the position of Indiana University president pro tempore. [4]Legacy.com Additionally, Hoffman's uncle, Eric Hoffman, is recognized as a writer.
Affairs
While studying at Stanford, he developed a close relationship with Peter Thiel, a provocative figure in Silicon Valley renowned for his expertise in launching companies and making controversial public remarks. Both of them secured seats on Stanford University's student senate, with Hoffman representing the left-wing perspective and Thiel advocating from the right-wing stance. [5]The New Yorker
Education and Early Career
While studying at the Putney School, he embraced a diverse range of activities alongside his education, including raising oxen and cultivating maple syrup. Following his high school graduation, he went to Stanford University, where he obtained a Bachelor of Science degree in Symbolic Systems and Cognitive Science in 1990. Recognized for his academic achievements, he received a prestigious Marshall Scholarship to pursue graduate studies abroad. As a result, he attended Wolfson College, Oxford, where he successfully completed a Master of Studies in Philosophy in 1993. In an interview, Reid revealed that his unusual educational background has proven quite helpful throughout his career. [6]Business Insider
In 1994, Hoffman became a part of Apple Computer, where he contributed to the development of eWorld, an early endeavor aimed at establishing an online service. The acquisition of eWorld took place in 1996 when AOL took over. Following his tenure at Apple, Hoffman gained experience at Fujitsu before embarking on his entrepreneurial journey by co-founding his initial venture, SocialNet.com, in 1997. This platform focused primarily on online dating and connecting individuals with shared interests, catering to specific communities such as golfers seeking partners in their local area.
PayPal – First major venture
Hoffman's career has been marked by remarkable achievements in the tech industry. In addition to co-founding LinkedIn, he played a pivotal role in the early development of other successful companies such as PayPal, where he served as a founding board member and executive vice president. He left SocialNet in January 2000 to join PayPal as its full-time COO. [7]CNBC
LinkedIn
Following eBay's acquisition of PayPal, Hoffman shifted his focus towards investing in social networks. In 2003, together with Pincus, he acquired the Six Degrees patent, a method for building social networks, for $700,000. During the same year, Hoffman established a new social network, incorporating lessons from his previous venture, SocialNet.
Unlike SocialNet, this platform encouraged users to utilize their real names and concentrate on their professional endeavors. Hoffman named it LinkedIn. During the initial two years, Hoffman prioritized expansion, resulting in LinkedIn operating without generating any revenue. In 2006, LinkedIn made a significant decision to make profiles partially public, ensuring that when someone's name is searched on Google, their LinkedIn profile appears prominently among the top search results.
In the spring of 2011, LinkedIn achieved a milestone of surpassing a hundred million users and subsequently went public. This momentous event marked the official ascent of Hoffman to billionaire status; he owned twelve percent of the company and holds fifty-eight percent of the voting shares.
On 13 June 2016, Microsoft made a proposal to acquire LinkedIn for a cash amount of $26.2 billion. Subsequently, on 14 March 2017, Hoffman joined the Microsoft board as a member.
Venture Capitalist
As a venture capitalist, he has invested in numerous startups, including Facebook, Airbnb, and Zynga, through his venture capital firm, Greylock Partners.
Other Ventures
Hoffman played a vital role as a founding investor in OpenAI, an artificial intelligence research company. In March 2022, it was announced that Hoffman, together with his long-time friend and former colleague from Greylock, Mustafa Suleyman (co-founder of DeepMind), was embarking on a new venture called Inflection AI. CNBC reported that Inflection AI, based in Silicon Valley, aims to develop AI software products that enhance human-computer communication. However, on 3 March 2023, Hoffman stepped down from his board position at OpenAI to avoid potential conflicts of interest between his role at OpenAI, his investments in AI technology companies through Greylock Partners, and his position as the founder of Inflection AI. [8]Reuters
Author
An insightful thinker and thought leader, Hoffman has also authored and co-authored several books, including the bestseller "The Start-Up of You" and "Blitzscaling." He is known for his strategic vision, entrepreneurial mindset, and dedication to helping others succeed in the rapidly evolving digital landscape.
Eric Ly
Eric Ly is a notable entrepreneur and technology executive known for co-founding LinkedIn, the world's largest professional networking platform. As one of the original team members, Ly played a crucial role in the early development and growth of LinkedIn. With a background in computer science and a deep understanding of social networking dynamics, Ly contributed to shaping the platform into a thriving global community for professionals. Beyond his work at LinkedIn, Eric Ly continues to make significant contributions to the tech industry through his entrepreneurial ventures and innovative projects.
Family
Born on 15 January 1969 in Saigon, Vietnam, Ly emigrated to the United States in 1975 amid the Vietnam War, where he lived in San Francisco, California, for a few years, and after his parents found jobs in Silicon Valley, he moved to Sunnyvale, California, along with them.
Education
Ly enrolled at Homestead High School, where he channeled his passion for computers into journalism, specifically working on the campus newspaper called The Epitaph. With support from Apple Inc., he revolutionized the newspaper's production methods by introducing desktop publishing technology on Macintosh computers. This made Homestead one of the pioneering schools in the country to adopt this approach. Subsequently, Ly pursued his higher education at Stanford University, where he not only excelled academically but also volunteered as a science writer for the Stanford Daily. Inspired by Professor Terry Winograd's belief that computers serve as communication tools, Ly graduated with distinction in 1991, earning a Bachelor of Science degree in Symbolic Systems. During this time, he interacted with notable individuals such as Scott Forstall, Reid Hoffman, and Marissa Mayer. Ly furthered his education by obtaining a Master of Science degree in Media Arts and Sciences from the MIT Media Lab in 1993, focusing his research on integrating speech-user interfaces and artificial intelligence agents in a thesis titled "Chatter: A Conversational Telephone Agent." While he initially pursued a PhD in Computer Science at Stanford, he eventually dropped out of the program. [9]Eric Ly – LinkedIn
Early Career
Ly initiated his professional journey by taking on technical roles at renowned companies including NeXT (later acquired by Apple Inc.), IBM, Sun Microsystems (subsequently acquired by Oracle), and General Magic. In 1995, he ventured into entrepreneurship by co-founding Netmosphere, a software company that facilitated project management collaboration using Internet technologies, notably Java. The company received investment from Menlo Ventures and was eventually acquired by Critical Path, Inc. In 2000, Ly embarked on another entrepreneurial endeavor, establishing Tresidder Networks, a mobile software company that attracted investment from Industry Ventures.
LinkedIn
In 2002, Ly collaborated with Reid Hoffman, a fellow Stanford schoolmate, and a group of co-founders including Jean-Luc Vaillant, Allen Blue, and Konstantin Guericke to establish LinkedIn. As the founding Chief Technology Officer (CTO) of LinkedIn, Ly played a pivotal role in shaping the platform's core product features, contributing to its profitability and rapid user base expansion.