Overview
A consulting industry consists of consulting firms that provide different types of services to their client organizations and strategy consulting is one of the services offered by these consulting firms. Strategy consulting is also termed as strategic advisory or strategy consulting or boardroom consulting and considered as one of the highly regarded services in the consulting industry. These types of consulting firms have expertise in providing advice to their clients regarding strategies for their business growth, operations to be carried, investments based upon maximum ROI (Return on investment), etc. The main focus of these firms is private sector clients with an emphasis on corporate growth and development of functional or organizational strategies. Moreover, they also serve institutions and organizations in the public sector with economic policy.
In other words, Strategy consulting services are those third-party services that generally business organization representatives such as board members, executives, or management consider to take an expert and outside perspective on the business challenges they face. The key people of strategy consulting are strategy consultants who are expected to take care of superior or high-level issues related to business strategies through their vast industry knowledge and experience. By taking a holistic view of particular issues of companies, they provide their opinion and recommendations to them on approaching those issues.
Strategy consulting firms provide support in the development and implementation of business strategies to their client organizations. The strategy consultants give their assistance in the long-term vision of their clients. Their aim is to look for a futuristic approach and to find out ways to enhance the competitiveness and profitability of the company. They develop strategies to achieve long-term objectives and also, ensure the implementation of these strategies in a cost-effective way in order to generate maximum profits.
Through the services of strategic consulting, small businesses can have the most effective growth strategy. Also, they can identify business opportunities that are most attractive and can make a comparison between market requirements and the current capacity of their business. Strategic consulting firms provide their recommendations on the most suitable strategies like the development of new products or services, to tap new markets or expand geographically. The unbiased advice on major decisions is provided by strategy consultants to their clients as they use their vast industry knowledge and experience to provide the best outcomes. So, we can say that strategy consulting is a type of management consulting that usually provides advising services to the top-level (strategy-related) of organizations.
For instance, a manufacturing pharmaceutical company wants to save costs by closing one of its manufacturing units which are not generating revenue or profits. For this, they want to take services of a strategic consulting firm to know if this is beneficial for them, money they will be able to save by doing so, the cost involved in the same, and how to restructure the supply chain in order to fulfill production loss.
Strategy Consulting Services
There are mainly eight types of strategic consulting services available that are explained below: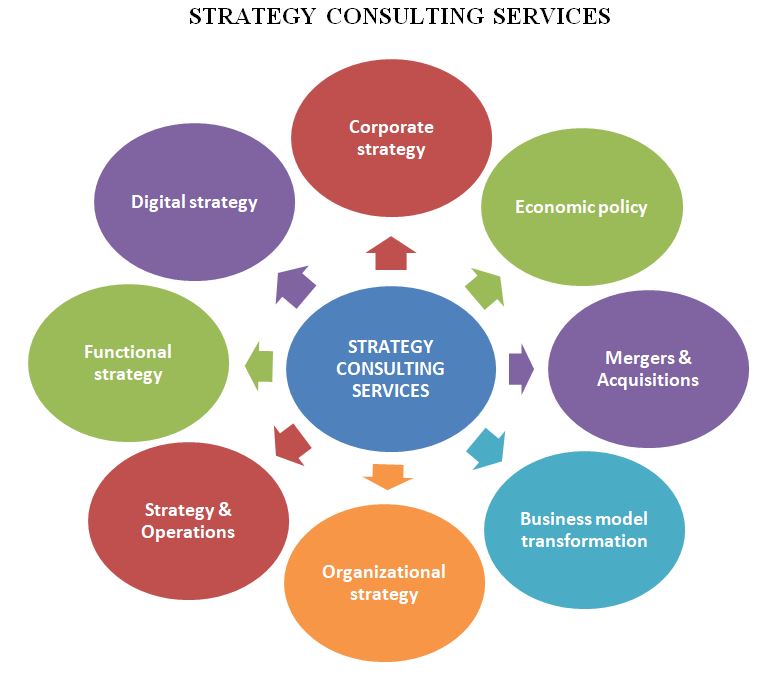 1. Corporate Strategy
Corporate strategy or strategy management is related to the formulation of business unit strategies that are enterprise-wide. Basically, it is the top-level strategic plan of the company that indicates the overall goals of it and also, directions and the process of achieving these goals within activities of strategic management. Corporate strategy is considered as a clearly defined long-term corporate vision and focus on the overall management of resources, returns, and risk across the company.
The role of strategy consulting in corporate strategy is to assist the organization in determining its overall value by strategic goal setting and motivating employees to achieve these goals. The basic plan is prepared by strategic consultants for defining what needs to be achieved and in what time period.
Strategy consultants support in designing the statements of vision and mission of an organization, developing strategic plans, and making the framework of the implementation process that gives an outline of resources and activities needed for the implementation of plans.  Few general examples of projects that involve strategic advisory include assisting in process of business planning, analysis of strategic options, and growth agenda development like strategies for market entry in order to enter new markets or new product entry.
Strategy consulting helps firms in corporate strategy development by providing them a holistic view of how their different businesses fit together and their impact on each other, structure of parent company to optimum utilization of processes, governance, and human capital. Moreover, strategy consultants help leaders of a firm in the main activities of corporate strategy development i.e.:
Resource allocation: This focuses on mainly capital and people resources of a firm. In order to gain maximum value of the whole firm, strategy consultants assist leaders in determining the maximum and optimize the allocation of resources to its different business units.
Organizational design: Strategy consulting firms help clients by ensuring the required corporate structure and systems are in place in order to generate the maximum value. While doing so, consulting firms consider the reporting structure of every employee and business units.
Managing portfolio: Under this service, strategic consultants assist in the correlations of business units and deciding on what businesses should be considered and shouldn't be considered.
Strategic tradeoffs: This is considered as a challenging part of corporate strategy that includes maintaining the tradeoffs between return and risk in the company. Strategy consulting helps in providing a holistic view of the complete business in a combined way and ensures that generating a return and managing risk are being carried as desired.
 2. Economic Policy
The service area of the economic policy of strategic consulting includes different services related to an economic advisory that facilitate international and government institutions in making policies.  Most offerings cover the below services:
Fiscal policy: This includes dealing with actions or decisions of government related to budgets, taxation policy, spending, etc.
Monetary policy: This deals with the decisions of central banking for interest rates and money supply. Also, interventions of government in different sectors like national ownership, labor market, housing, etc.
Apart from the above, few more services offered by strategic consulting firms in the economic policy section include analysis of financial valuation if a dispute arises, impact assessments, antitrust cases related to economic studies, etc.
3. Merger & Acquisition (M&A)
Strategy consultants also provide services in merger & acquisition i.e. both pre-deal phase and post-merger activities. In the pre-merger phase, strategy consulting is useful for commercial and strategic activities, wherein, the initial phase of post-merger integration is also handled by strategic consulting firms.  These firms support clients in other aspects of Merger & Acquisition too such as providing support in establishing joint ventures, IPOs (Initial public offerings), to understand the economic factors of M&A, etc.
4. Business Model Transformation
This service of strategy consulting focuses on the designing and development part of future strategies. Business model transformation or reinventing business model of a firm emphasizes on improvement of productivity, profitability, cost-cutting by process optimization. The three main aspects of business model transformation are reducing complexity, enhancing transparency, and execution improvement.
Strategy consulting firms assist organizations in meeting the above aspects of business model transformation. To reduce complexity, their main focus is on the centralization of activities, providing support to the sales force, and sharing services. To achieve transparency the strategy consultants work on data management and development of a corporate-wide view. Their role is extended further in cost management, enhancements of customer service, and predictive improvement which are a few elements of execution improvement. By fulfilling these three aspects, strategy consulting firms assure the success of business transformation and which ultimately results in the growth of sales, cost reduction, more effective decisions in the organization.
5. Organizational Strategy
Organizational strategy clubs all actions of an organization for the purpose of achieving long-term objectives of the business. This includes formulating, implementing, monitoring, and controlling actions that are required to attain specific goals. In other words, an organizational strategy is considered as a strategic plan to specify a company's resource allocation i.e. inventory, money, and workforce for supporting different business activities such as production, inventory, marketing, infrastructure, etc. Strategy consulting firms support their clients in developing organizational strategy by assisting them in defining the correct organizational choices that direct success in their business. Strategy consultants provide both organizational design and organizational effectiveness services to clients in order to develop an effective organizational strategy.
Organizational design: Consulting firms help clients in different scenarios i.e. partial redesign, corporate governance, and complete organizational transformation.
Organizational effectiveness: For the success of strategic change in a business, it is required to measure its effect throughout the organization. For this, strategy consultants assist in designing leadership, decision-making, capabilities, talent management, etc.
So, strategy consulting helps clients in designing corporate governance and organizational structures, reviewing the competitiveness of their organization, making human capital strategies, etc.
6. Strategy & Operations
Strategy consulting services also include strategic and operations management of a business. These services are gaining popularity due to the increased importance of different elements of strategy execution such as operations, process management, and technology.
Today, businesses face challenges related to developing business capabilities for meeting the emerging needs within the industry. To understand the futuristic approach of customer requirements and competition, the need for business process re-invention arises for risk management, cost control, and revenue enhancement.
For this, strategy consulting firms offer their advice related to developing systems for planning, managing cost as per the client's requirement. These firms provide a unique approach to assist clients in changing or re-inventing their operations and business strategy. For this, strategy consultants map documents and recommend operating procedures and new strategies. They also assist in providing training to employees on how to use new processes and develop consistency in training and documentation that is internal to the organization.
7. Functional Strategy
Strategy consulting firms offer their services in the area of functional strategies that are generally an area of overall corporate strategy and being developed for different functions of an organizational structure such as sales, production, marketing, etc.
By offering such services to clients, strategy consultants facilitate them to focus on the activities of their business that are related to main functions. Strategy consulting firms provide various functional strategy development services to clients like HR strategy, production strategy, finance strategy, marketing strategy, R & D strategy, supply chain strategy, etc.
8. Digital Strategy
In today's technology-oriented world, computer or IT technology has transformed the competitive scenario over all industries. Different emerging and latest technology solutions such as mobile solutions, analytics, Internet of Things (IoT), Big data, social media, digitalization, etc. have changed the way businesses function today.
A digital strategy is considered as an action plan that is developed to attain specific business goals by implementing digital initiatives. The main focus of the digital strategy is to use technology for improving business performance that can be through new product development or redesigning current processes. The strategy explains the way through which a company explores new competitive advantages and methods or strategies to attain these changes.
Strategy consulting firms that offer their expertise in digital strategy services support clients in the following ways:
By developing a digital strategy to maintain and enhance competitive advantage and the capability for supporting digital changes.
Identifying new digital-based technologies for boosting the business.
By providing training to client organizations to gain the maximum advantage of digital opportunities and defending from digital threats to the organization.
Designing an online or corporate IT strategy.
Providing high-level technology-related services such as governance, architecture, application management, etc.
The Role Of A Strategy Consultant
Consultants that provide strategic solutions or services to organizations have their main focus is on the futuristic approach of it at a much broader level. They consider the impact a company can have on its operations or structure or design after doing some strategic changes. The ultimate goal of strategy consultants in doing so is to enhance the revenue of their clients.
 Different organizations hire strategy consultants to assist them in taking strategic decisions for their business which covers strategy development and executing strategic plans up to some extent.  Generally, strategic consultants work with top-level executives in the hierarchy of an organization because most strategic decision making comes under the preview or responsibility of top management people. In this way, strategic consultants support clients in defining their mission, vision, and strategy. They also extend their support with entry into new markets or shifting towards approaches of new business models.
Strategy consultants provide their services to institutions and government organizations by assisting them in setting up economic policy.  They play a crucial role in mergers & acquisitions of a firm by supporting strategic decisions in its process like developing M&A strategy, designing the roadmap of integration, developing the merger business case, etc.
Moreover, the work of strategy consultants also includes taking care of all main functional strategies and providing strategic service across the complete supply or value chain. For instance, clients may expect a strategy consultant to define commercial strategies for sales & marketing functional areas, draft strategies related to pricing, a combo of product market, and customer channel. For HR function, strategy consultants can assist in developing strategies for human capital and talent management. In operations, the services of strategy consultants can be taken to make operating models as per the higher-level objectives of a business.
Reasons And Benefits To Consider Services Of Strategic Consulting
– Reasons
Organizations that are currently operating without any strategic plan, take the services of strategy consulting. There are different reasons that organizations hire strategy consulting services as few firms may look for top talents that are a bit difficult to source in-house. Other organizations might want to know a problem's external view that evokes different responses from employees on an emotional or political viewpoint. There are companies that want to take benefit from the experience of consultants in serving other clients and solving their problems.  Few of them look for strategy recommendations by taking services and credibility of a renowned strategy consulting company.
– Benefits
Strategic planning is considered as a regular and ongoing activity by an organization and often brings below benefits by working with strategy consulting firms:
Aligning or linkage of the team with strategy by getting them on board.
Defining measurable goals and strategic priorities by considering the success factor of an organization.
To look for opportunities or factors in order to differentiate the client from its competitors for developing a value proposition that brings more value.
To review the processes and systems of the client company for future growth prospects.
Conducting an analysis of cost or benefit to examine the best possible ways for growth.
Strategy development for protecting the current market share of the company or gaining new market share.
Assist in finding out the next phase of organizational development and change management.
Skills Required For Strategy Consulting
A strategy consultant generally works for the top executive such as the CEO of an organization to take care of critical issues or problems of it. They are supposed to bring results in a short span of time with significant impact. In doing so, strategic consultants play an important role in the organization's future prospects.
In that way, there is a great set of analytical skills and strong problem-solving skills are required for providing strategic consulting services. Also, few clients prefer the knowledge and expertise of a specific industry. Below are a few essential skills that a strategy consultant requires for offering services of strategy consulting:
People skills: A strong people management skills are required as most of the time consultants are supposed to spend their time with the management in understanding the issues that they are dealing with.
Analytical skills: This includes skills of collecting and analyzing data to find out the problematic areas and then provide solutions along with the required information regarding its implementation ways.
Flexibility: Strategy consultants should be flexible enough to search for changing and new information.
Time management: This is also a very important skill set for strategy consultants as they have to work in tight timelines and ensure that deadlines given to them should meet.
Strategy Consultancy Firms
Premier strategy consulting firms include the big three consultancies i.e. The Boston Consulting Group (BCG), McKinsey & Co., and Bain & Co. Apart from these, other renowned consulting firms are Deloitte Consulting, Oliver Wyman, Roland Berger, E&Y Consulting, KPMG, PwC, etc. The prime focus of pure strategy consulting firms is on operations & strategy, wherein, most of the big generalist strategy consulting firms have well-defined strategy practice. Few such consulting companies include Capgemini, Accenture, etc.
Strategy Consulting Market
The valuation of the strategy consulting market was recorded at the US $55.04 Billion in the year 2019, and by 2027, it is estimated to reach the US $101.75 Billion. The growth rate from 2020 to 2027 is 9.31% CAGR.
*(Source: verifiedmarketresearch.com)
– Factors Driving Growth And The Need For Strategy Consulting
Below are the few factors that act as drivers for boosting the need for strategy consulting in today's global business market:
Increase in strategic planning requirements of companies in a competitive market.
Need for the development of business capabilities to meet and exceed the ever-changing requirements of the system within an organization.
The evolvement of new business models at a fast rate.
The rise in demand for skilled consultations due to an increase in business diversities at the regional level.
Rise in the competence level across business areas.
– Segmentation Analysis Of Global Strategy Consulting Market
The market segment of global strategy consulting is based on different categories i.e. type of services, industry types, region-wise (geographical) segmentation, and key players.