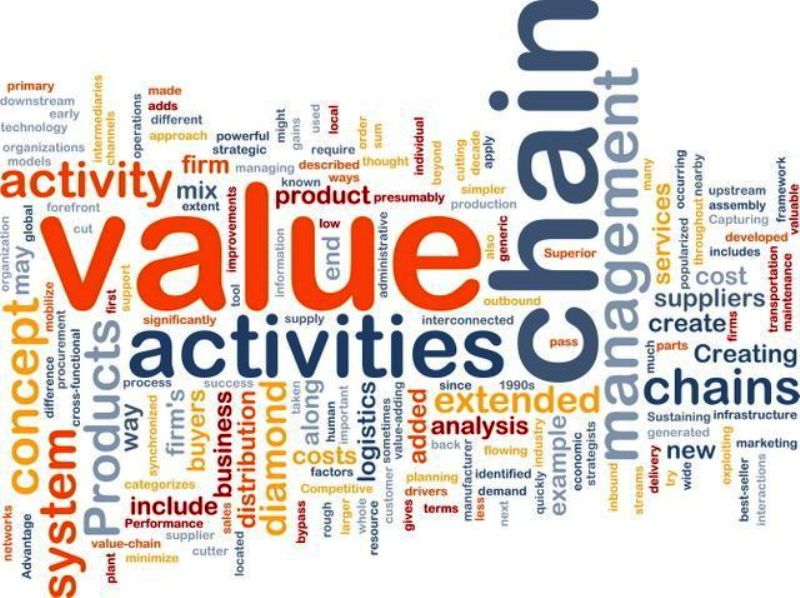 The Value Chain was introduced and described by Michael Porter in the year 1985. Value Chain analysis is a process to analyze business activities to understand how business can add value to its products with the motive to create profit margin and competitive advantage for itself.
Porter's Value Chain Model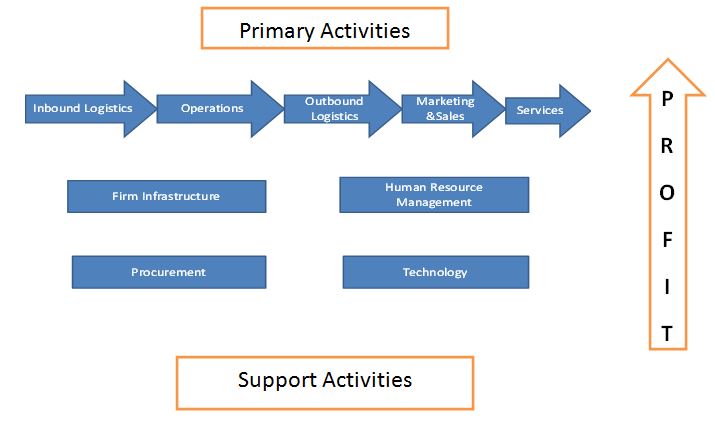 Basic Concepts of Value Chain Analysis
Most organizations engage in many activities in creating a product by converting inputs to outputs. These activities are divided into two groups – Primary and Support activities that all industries must undertake in some form.
Primary Activities
Primary activities are directly concerned with delivering a product or service while considering production, maintenance, sales, and support.
According to Porter (1985), the primary activities are classified into five main areas:
Inbound Logistics
Inbound logistics involved the process of receiving, storing and distributing raw materials for use in the production of goods and services. However, it is difficult for small business manufacturers to manage as much inventory, but it is still advisable for them to optimize inbound logistics processes.
Production
In this process, inputs of product or services convert into semi-finished or finished products.
Outbound Logistics
In this process, manufactured products are ready to deliver to distribution centres, retailers, wholesalers or customers. Delivering of finished goods is known as outbound logistics.
Marketing and Sales
In this process, you offer the product to a targeted customer group and convince them to purchase it with an effective marketing strategy. The main motive is to clearly communicate the benefits and offers to the customer through the promotional mix.
Services
In this activity, organizations create and maintain the value of product and services to the customers, once it's been purchased
Support Activities
Support activities assist the primary activities in helping the organization to achieve long-term goals. The four main areas of support activities are Firm Infrastructure, Human Resource, Technological Development, and Procurement. Let's discuss them in detail:
Firm Infrastructure
Every organization needs to understand that their finances, legal structure, and management structure should work in an efficient manner with the motive to drive the organization forward. Incompetent infrastructures and waste resources may affect the firm's goodwill and even leave it open to penalties and sanctions.
Human Resource Management
Manpower plays an important role in the development and progress of any organization. To make it possible, every company needs to recruit, train and develop people. Furthermore, employees will have to be encouraged and paid the 'market rate' if they are to survive and succeed with the organization and add value. In the industry like hospitality, employees are the assets; as customers are purchasing a service, which is provided by the employees; there isn't any product for the customer to take away with them.
Technology Development
In the era of technology, it is very important to adopt the latest technology with the motive to lead in the industry. Furthermore, technology can be used in different ways including the internet to connect 24/7 with customers, research & development, production to reduce cost and increase value.
Procurement
This department must source raw materials for the product and consider the best price for doing so. The challenge in this process is to find the best quality available (in the market) for their budget.
By undertaking Value Chain Analysis, your organization can benefit from:
Value Chain Analysis enables your organization to identify those profitable value-creating activities and those which are not. By assessing value-creating activities, it also allows your organization to establish the cost drivers of each process. This then allows for cost improvement strategies to be implemented whilst at the same time not lowering customer value. The organization will then be able to identify areas with lower cost of access to raw materials, distribution channels or innovative process technology.
VCA helps an organization to compare its activities with those of its rivals. Through these comparisons, it becomes easy for a company to focus on the customer's perceived value of the products and service. Furthermore, it helps in evaluating differentiation strategies, for example, product features, marketing channels, pricing, and service support for improving customer value. This is how an organization can find innovative ways to perform value-creating activities, which result in improved performance and competitive advantage.
Identification of Core Competencies and Activities
VCA helps an organization to recognize those value-generating activities and their cost drivers. By decreasing the cost of individual value chain activities the organization will be able to create a cost advantage.
Example: Pizza Hut
Let's take an example of Pizza Hut – value chain analysis:
Primary activities
Inbound Logistics: In this process, they buy and regulate every ingredients and material that is used to bake pizza fast and delicious. They exploit on economies of scale while purchasing the material in order to get the best prices on raw products for their restaurants.
Operations: Pizza Hut operates in a vast number of countries globally with a licensing model. Their goal is to target the areas where there is a huge demand for Italian cuisines.
Outbound Logistics: There are two models that Pizza Hut capitalizes on, home delivery service and in-store dining.
Marketing and Sales: They invested a large amount in marketing to drive additional sales and compete with the other fast food chains.
Service: The main aim of Pizza Hut is to offer value to their customers in affordable and quality pizza that everyone can enjoy.
Support Activities
Infrastructure: It includes every other activity that is required to keep the stores in business, such as finance, legal, etc.
Human Resources: To keep the costs low, they hire staff that is typically junior and unskilled.
Technological Development: The idea of hiring unskilled chefs to cook the pizza is their biggest asset.
Procurement: The purchasing and other activities that required in the production of pizza, the raw food, and equipment needed to cook and deliver the pizzas.
Conclusion
Based on these activities, Pizza Hut is leading in the market for producing pizza at the affordable price and can be delivered to your doorstep in less than 30 minutes (in most cities). This convenience is what makes them different from many other competing options for meals.