PESTEL Analysis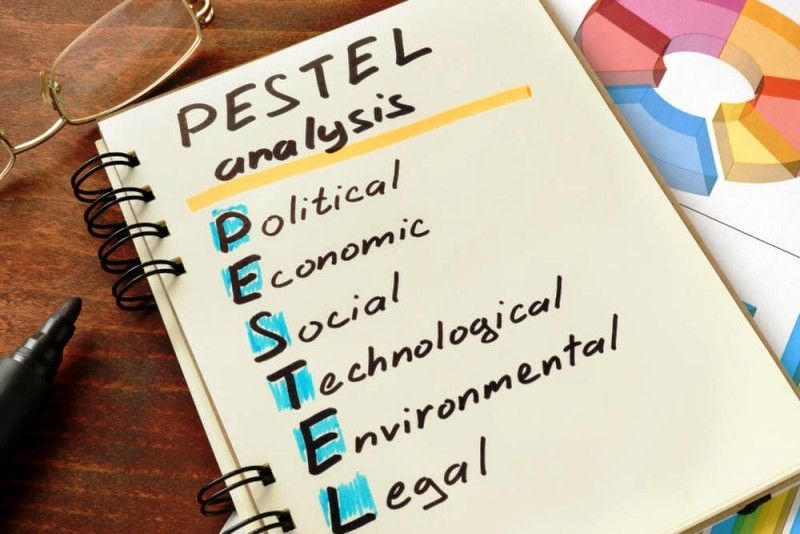 PESTEL analysis used to determine the external factors that affect how your business operates. PESTEL stands for Political, Economic, Social, Technological, Environmental, and Legal- these are the external factors that affect every business activities and performance.
PESTEL Analysis: Factors
Let's understand each of these factors
Political Factors
Government regulations and legal factors are political factors that affect the business environment and trade markets. It includes factors like political stability, tax guidelines, trade regulations, safety regulations, and employment laws.
Let's take an example of Starbucks, in some countries; governments provide a suitable environment for Starbucks to access the market or suppliers. However, in other countries, a rigid bureaucratic behaviour of government may create hurdles for Starbucks to expand its business, especially in developing countries.
Economic Factors
These factors include inflation rates, interest rates, economic growth, exchange rates, unemployment rates, the disposable income of the consumer, etc. They have a direct or indirect impact on a company; as they affect the purchasing power of the consumer and can change demand/supply in the economy. Also, it affects the price of companies' products and services.
Let's take the example of Starbucks, declining unemployment rates and high economic growth of developing countries is an opportunity for Starbucks to gain more revenue from across the world. However, the external factors like rising labour cost in developing countries can be a threat for Starbucks, as it may increase in spending more on the workforce.
Social Factors
The elements of the social environment represent the demographic characteristics, custom, norms, and values of the population, which affect organizational operations. The population trends like age distribution, income distribution, growth rate, career attitudes, safety emphasis, etc., are essential for marketers for targeting the consumers.
Let's take the example of Starbucks, the demand for Starbucks coffee increases due to the growing coffee culture across the world. Further, this growing culture and hygienic products have created the opportunity to fetch health-conscious customers to Starbucks café.
Technological Factors
These factors affect the operations of the technology industry and market favorably or unfavorably. Further, it influences the decision to enter or to introduce new products in certain industries or to outsource certain production activities in other nation. By knowing recent trends of technology, you may decide to prevent your company from spending on the technology that is going to obsolete very soon due to changing trends of technology.
Let's take the example of Starbucks, the mobile apps and other linked technologies have created an opportunity to increase supply through online purchase. However, rising demand for home use coffee machines is a threat to Starbucks.
Environmental Factors
The impact of the environmental factors has come to the forefront in recent years. They are now essential due to the shortage of raw materials, pollution targets, and carbon footprint targets set by governments. The factors that include in this category are – ecological and ecological traits such as climate, weather, environment offsets, and the change in climate, which may affect industries such as farming, tourism, insurance, and agriculture.
Let's take the example of Starbucks, the business sustainability trend improve a business process that ensures minimal environmental impact. Further, growing demand for an environmental-friendly product creates an opportunity to increase the supply chain. Also, Starbucks is doing well in these areas.
Legal Factors
No doubt these factors have some similarity with the political factors; as they include more specific laws like labour laws, discrimination laws, consumer protection laws, copyright and patent laws, safety laws, etc. It shows that companies must know what is legal and illegal to make trade successful without compromising ethics and principles. However, it becomes tricky when the organization's business is global since each nation has its own sets of rules and regulations.
Let's take the example of Starbucks; business has an opportunity to improve its performance by maintaining the public safety regulations and ingredient regulations. It can be seen that Starbucks is doing well in these aspects. However, increasing employment regulation can be a threat for Starbucks, as it can increase spending for human resource.
Importance of PESTEL Analysis 
PESTEL analysis plays a great role in the growth of a business. Whether it is an expansion of a product line or opening a new company in a new location, PESTEL analysis is a key in making strategies and planning. The following points validate its importance:
Whether it is a startup or an established organization, PESTEL analysis can help every business owner in identifying significant changes in the political, economic, social, technological, environmental, and legal factors.
It helps organizations doing strategic planning to expand their businesses.
Any department in the business like accounts, sales, and marketing can be controllable from inside; as you can put more people in sales to generate the revenue. A the end, these results depend on the people working inside. However, external factors like political, economic, social, technological, environmental, and legal are existed and will continue to exist without your input. This is where PESTEL analysis plays a great role.
Advantages of PESTEL Analysis
Let's check out various advantages of PESTEL Analysis:
Cost Effectiveness
Time and effort are the only cost of PESTEL analysis. In addition, certain additional programs are also there which can help in organizing inputs and feedback.
Deeper Understanding
The best thing about the PESTEL analysis is that it makes easy to understand the factors that affect the business environment. When it comes to the development of a new product, it increases strategical thinking and deeper understanding of various factors like consumer laws, new technological trends, etc., which affect the product launch in the market.
Alertness Development
PESTEL analysis helps companies to get prepare for possible threats, which arise time to time because of external factors. An example for a mobile manufacturing company, any change in technology like the innovation in mobile features is a threat if a company does not adapt to the innovation changes in their mobile brand. Hence, they will lose market share to its competitors.
Exploit opportunities
It helps in exploiting opportunities that arise from time to time due to external factors. For say, the Lower interest rate in the real estate industry is an economic factor that creates an opportunity to increase demand for housing; as housing loans get cheap due to a lower interest rate.