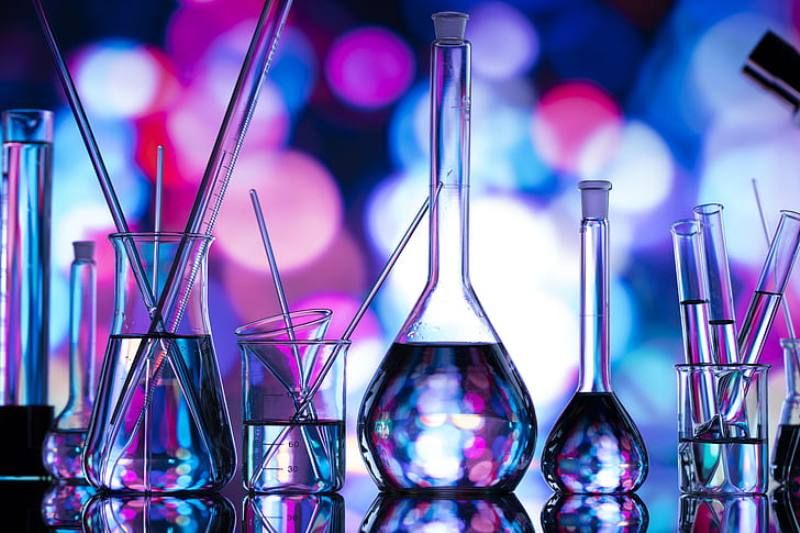 A laboratory is a place that provides controlled and suitable conditions to perform various experiments and research. Laboratories in schools are designed for students to learn and perform various experiments for a thorough understanding of theoretical concepts of science. It helps them enhance their knowledge in various science fields. Schools generally have three separate laboratories for the study of different fields of science like physics, chemistry, and biology. Equipments play a vital role in performing experiments, and each piece of equipment has its own specific role. Some of the common laboratory equipment are explicated as follows-
1. Instruments used in laboratories
Microscope
A microscope, usually a compound microscope, is the most basic equipment which is widely used in biology labs for the optical study of tiny specimens. A microscope operates on the principles of refraction of light and uses artificial or natural light for observing specimens under a microscope. There are generally two lenses objective and oculus, objective lens is the one that is kept close to the specimen and makes a virtual large image of the specimen, while the ocular lens is the one on which the eye is placed and it enlarges the virtual image even further for a thorough study. School microscopes mainly consist of three types of magnification objective lenses, 4X, 10X, and 40X.
Weighing machines
A weighing machine is an instrument used in chemistry laboratories for weighing the precise mass or weight of the sample for achieving optimized results. One must take a piece of butter paper and place it on the weighing balance. After that, press the "tare" on the balance and add your sample to the butter paper. Weigh the amount of sample needed for the experiment. This is the accurate way to operate the weighing balance in laboratories.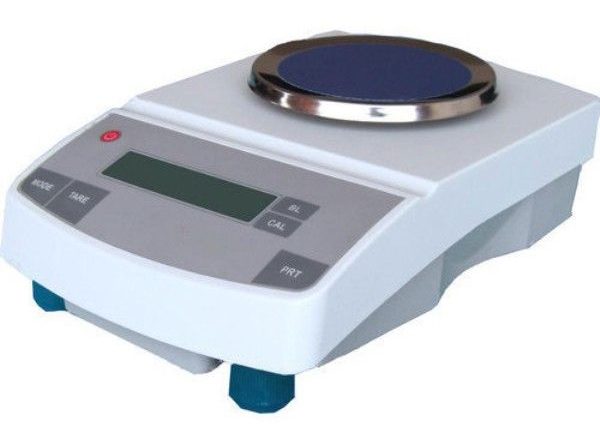 Barometer
A barometer is an instrument used in labs for measuring the exerted atmospheric pressure, also called barometric pressure, in a certain environment. This pressure is measured in a unit called the atmospheres (atm) or bars.
 1 atm = 101,325 Pa (pascal)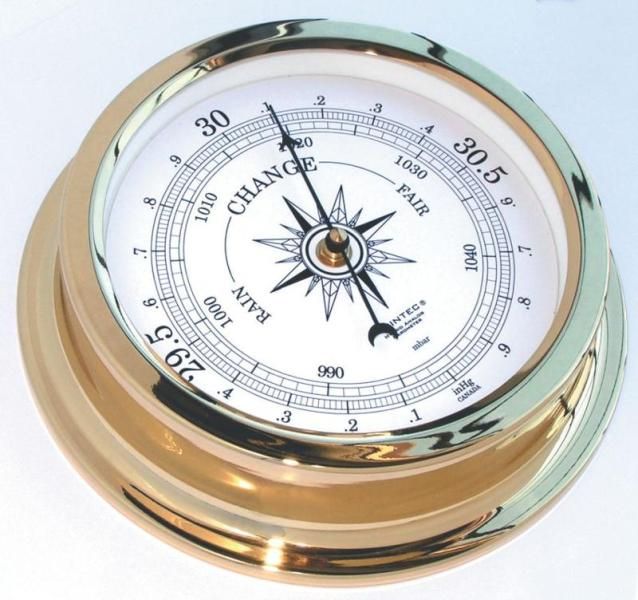 Speedometer
A speedometer is a device that is used the measure the instantaneous speed of an object at a particular time.  Speed is defined as the distance travelled by an object per unit of time, and the device used to measure this speed is known as a speedometer.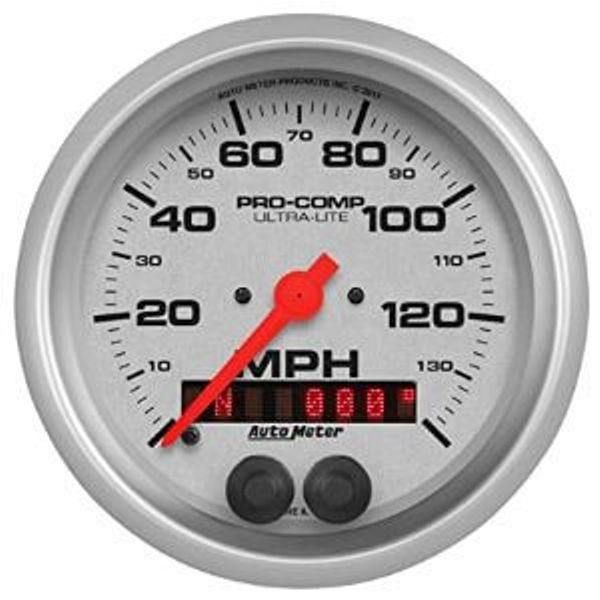 Stopwatch
A laboratory stopwatch is a handy timepiece that is used to measure the time intervals by its activation and deactivation points. It is used to measure the duration of an event in fractions of a second.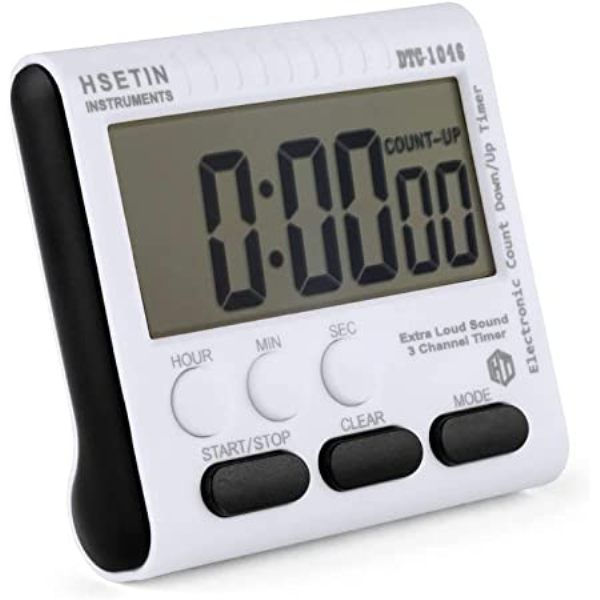 Magnifying glass
Magnifying glasses are the simplest form of basic microscope and are used in most laboratories. It is basically a  convex lens that allows object enlargement and is widely used in laboratories for magnified images or to read small calibrations marked on the equipment.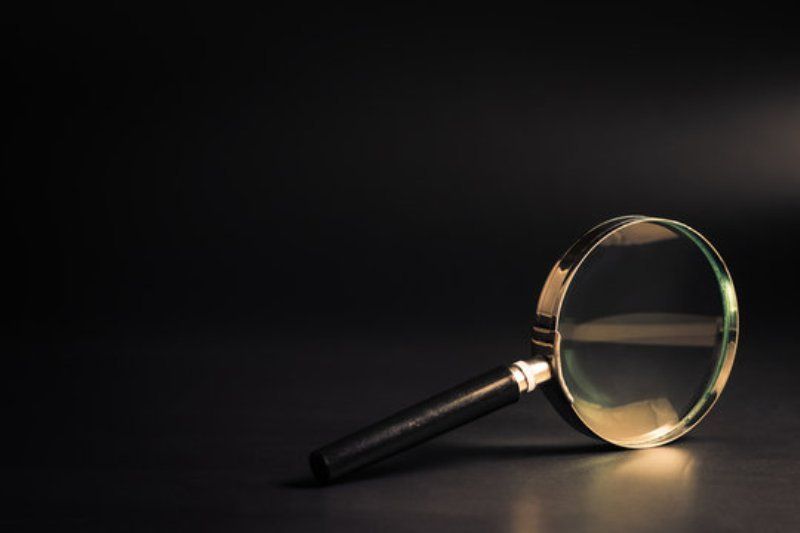 Thermometer
Laboratory thermometers are used for measuring temperatures other than human body temperature which ranges from -10˚C to 110˚C. It can either be used to measure the boiling point or freezing point during science experiments.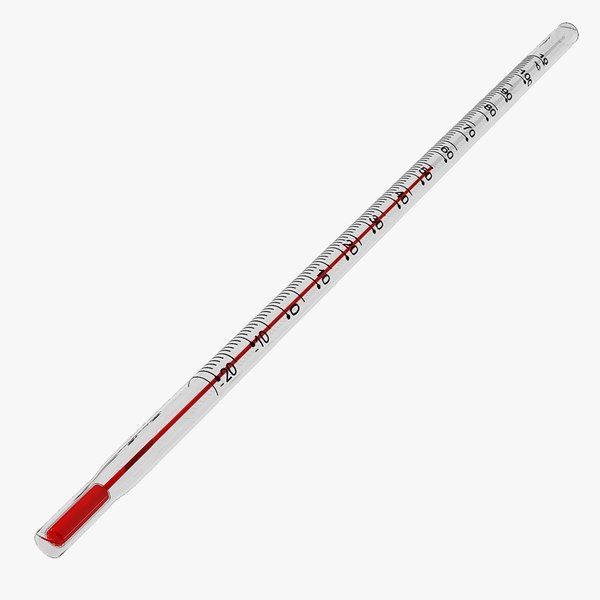 Ammeter
An ammeter is an instrument used in physics laboratories for measuring current in a circuit. The current is measured in Amperes, and it can measure both AC (alternating current) current as well as DC (direct current) current. Ampere is the SI unit of electric current and was named in honor of a French mathematician and physicist, "André-Marie Ampère". 0-1A, 0-5A, and 0-15A ammeters are the most common types found in schools and are used to measure tiny currents induced through electromagnetic induction.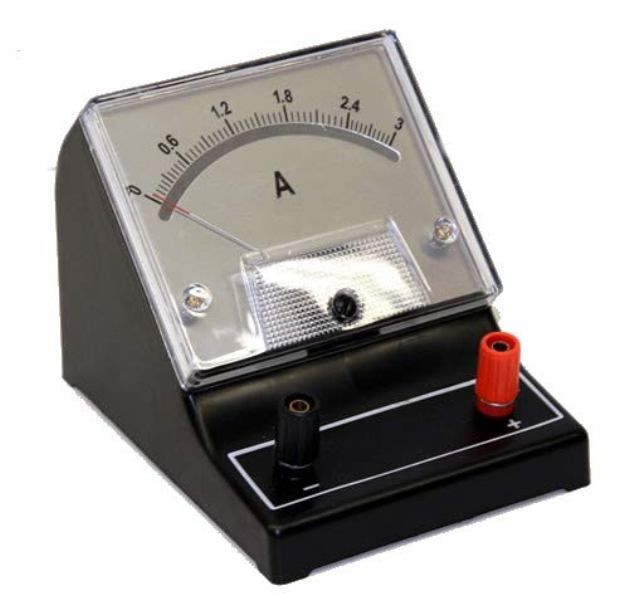 Voltmeter
Both the devices, the ammeter and the voltmeter, are used in electrical devices but the difference is that the ammeter is used for measuring the flow of current, while the voltmeter measures the voltage or EMF (electromotive force) across two points in an electric circuit. A voltmeter is also known as a voltage meter and is used for measuring the potential difference or voltage between two points in an electrical circuit. It measures voltages of either direct current or alternating electric current on a scale usually graduated in volts, millivolts (0.001 volts), or kilovolts (1,000 volts).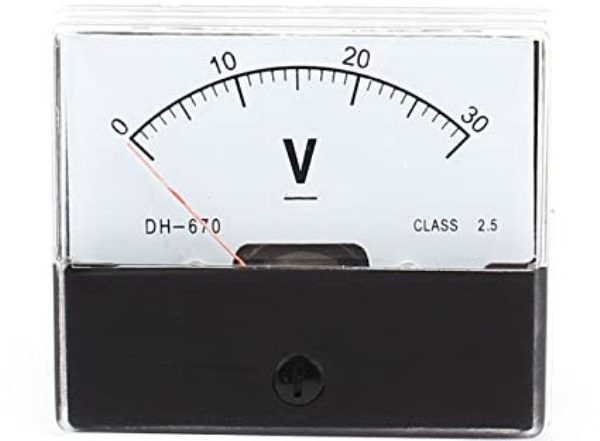 Calorimeter
A calorimeter is a device used for measuring the change in temperature when a mechanical, electrical, or chemical reaction is carried out and can also be used for determining the heat capacity of materials. Thermal changes in a body are measured using a calorimeter. The body at a higher temperature releases heat, while the body at a lower temperature absorbs heat. It is widely used in the fields of thermochemistry in calculating and analyzing enthalpy, stability, heat capacity, etc.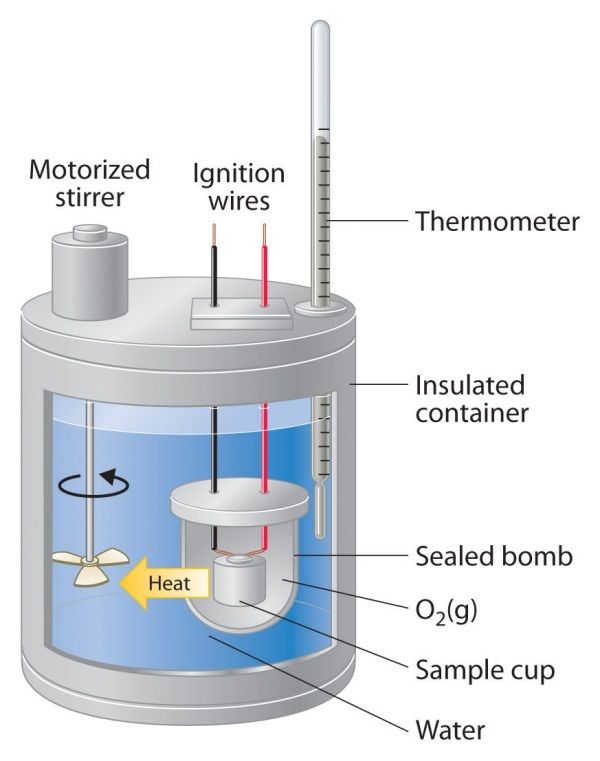 Spring balance
Spring balance, also known as the Newton meter, is a weight-measuring instrument widely used in physics laboratories. It measures weight by measuring the tension in the string. It consists of a spring fixed at one end with the hook from where the body hangs for weight measurement. They are commonly used to determine the force exerted by an object. Spring balance works on the principle of Hooke's law, which states that the force needed to extend a spring is proportional to the distance that the spring is extended from its rest position. The force measured is in Newtons and is essentially the weight of an object. Hooke's law formula is given as follows
F = -kx
where,
k = spring constant
x = change/displacement in length
F = force
Note–
The SI unit offspring constant is N/m.
The negative (minus) sign shows that the force is in opposite direction to the force applied.
2. Glass wares in laboratories
Test tubes
Test tubes, also known as culture tubes, are vital equipment and are used in laboratories to a large extent. Test tubes are used to hold the liquid sample straight upright and are kept in test tube stands, as they have no capability to hold themselves straight because of the curved/spherical bottoms. They are widely used for qualitative experiments and assays.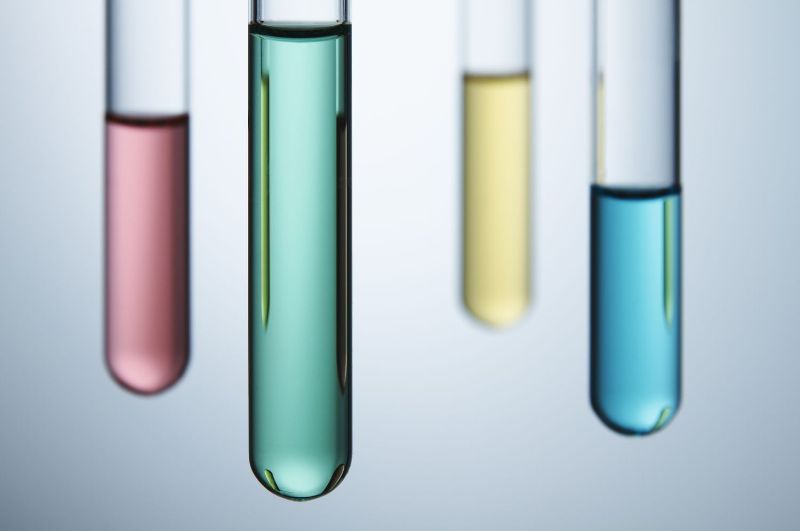 Beakers
Beaker is generally a glass-made cylindrical container with a flat bottom. They are available in a wide range of sizes from one milliliter up to several liters. Lab-grade glass beakers can withstand high temperatures, therefore they are used in laboratories for performing various experiments. Uses of beakers in the laboratory include storing liquid or solid samples, preserving a chemical reaction, and in the microwave to heat samples.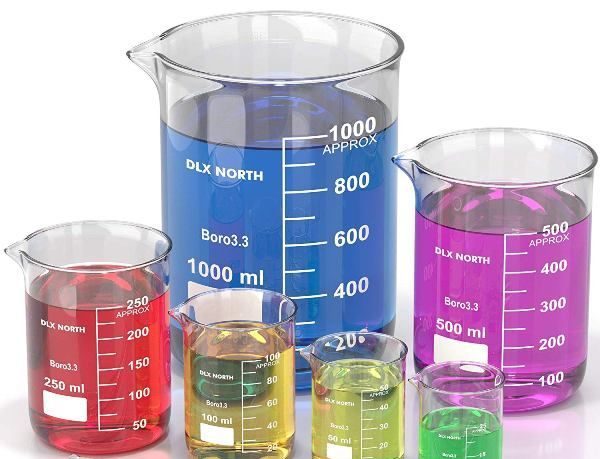 Volumetric flask
A volumetric flask is a graduated/measuring flask that is calibrated to hold an accurate specific volume at a specific temperature. They are used in laboratories for precise dilution and for preparing standard solutions. It is a flat-bottomed bulb with an elongated neck. Volumetric flasks used in school laboratories are generally colorless, but they also come in amber color for the handling of light-sensitive compounds such as silver nitrate or vitamin A.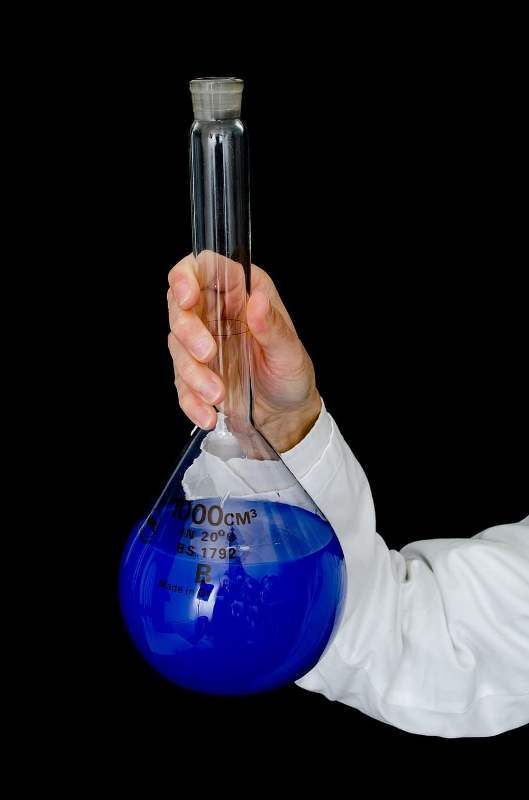 Measuring cylinder
A measuring cylinder is a graduated cylinder designed for laboratories and is often used to measure the volume of a liquid. It is not preferred for volumetric analysis, as they are not as precise as volumetric flasks. Measuring cylinders have a flat bottom with a narrow cylindrical shape and are available in numerous shapes and sizes.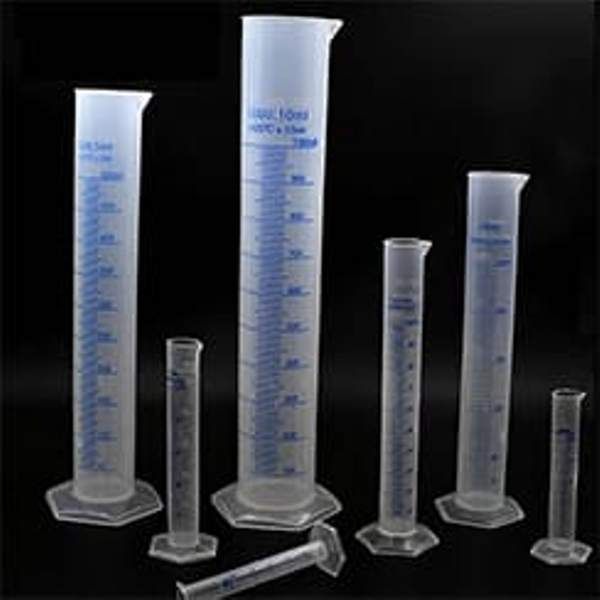 Pipette
Graduated pipettes are usually used in school laboratories for transferring an accurate volume of liquid in the sample. This can be achieved by the mouth pipetting method. In this method, the pipette's open end is placed inside the mouth and the sample is aspirated like a straw up to the mark. This method is dangerous as it may lead to accidental ingestion of hazardous samples and must be used carefully. Pipettes are available in various sizes and are used accordingly, depending on the volume of the sample which is to be pipetted, for example, a 10ml pipette must be used for pipetting a 10ml sample to get precise results.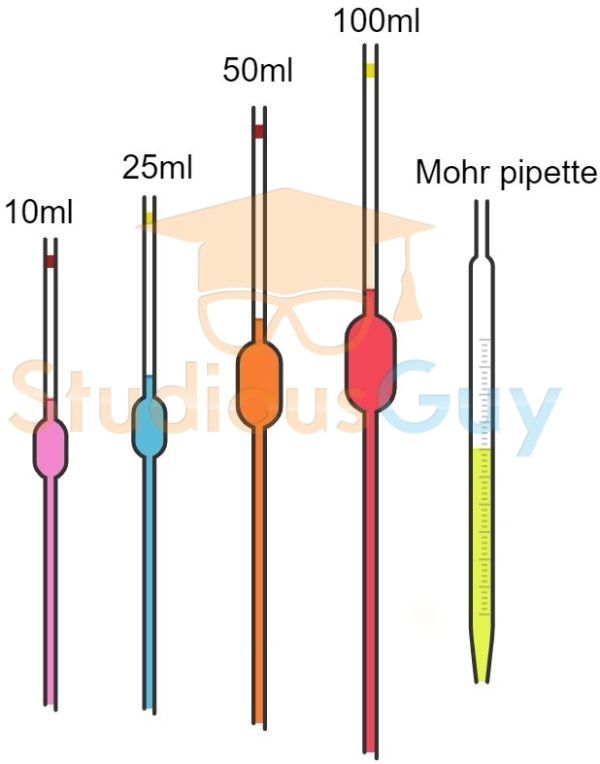 Funnel
A long conical or bulging thistle-shaped glass tube that is mainly used to channel liquids or fine-grained substances into containers with a small opening. A funnel can also be used in the process of filtration by holding filter paper (folded into a cone)inside the conical-shaped area of the funnel. It is basically a tube with a wide opening at the top and a narrow opening at the bottom, mainly used for pouring liquids or powders in containers with small openings.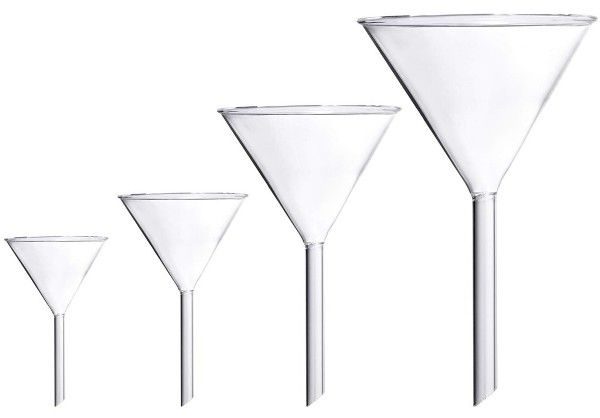 Burette
Burette is widely used for quantitative chemical analysis to measure the volume of a liquid or a gas. It is a graduated glass tube with a stopcock at one end. There are mainly two types of burettes, the volumetric burette and the piston burette. Volumetric burettes are used in school laboratories for titration. Titration, also known as titrimetry, is used to determine the unknown concentration of an identified analyte. Burette plays a vital role in titration as it is used to dispense an accurately measured amount of liquid within a chemical. Stopcock present at the end of burette is used to control the amount which is to be dispensed within a chemical.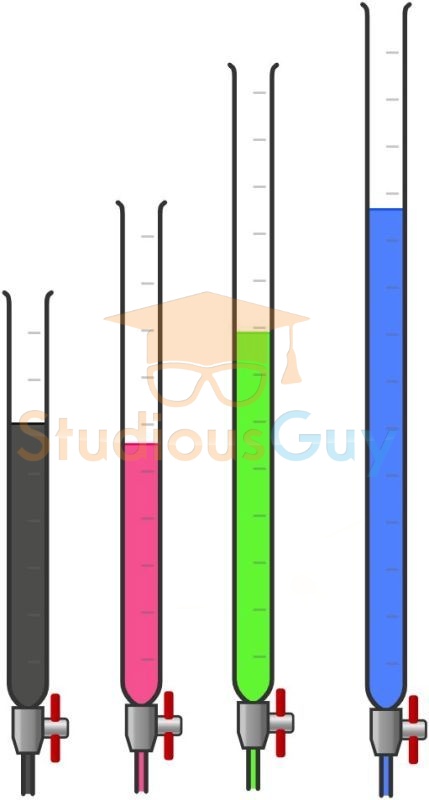 Conical flask
Erlenmeyer flask is another name for conical flask, which is used in laboratories for storing, mixing, heating, and measuring liquids. A conical flask is characterized by a flat bottom, a conical body, and a cylindrical neck. It also plays a prominent role in titration as the substance which is to be analyzed is taken in a conical flask for its analysis.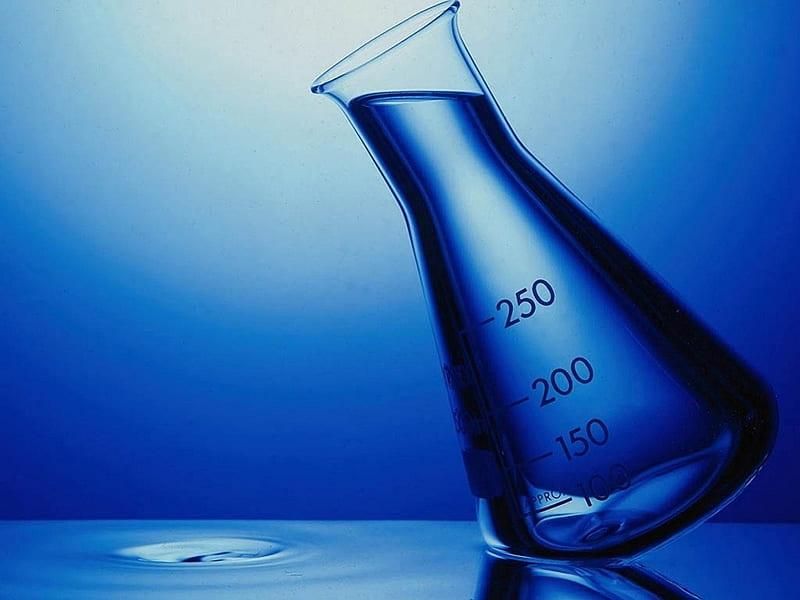 Stirring rod
A stirring rod, also known as a glass rod, is used in laboratories for stirring samples or chemicals. These rods are made up of solid glass with rounded ends. A stirring rod has several uses in a laboratory, for eg breaking an emulsion during the extraction process, inducing crystallization in a recrystallization process, and controlling the rate of flow when chemicals act violently.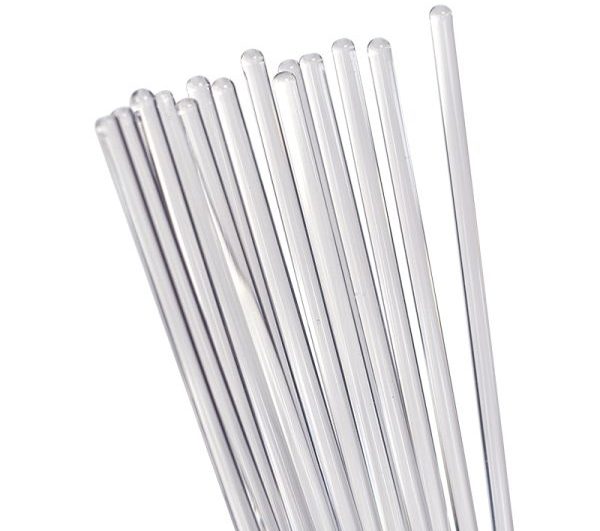 Round bottom flask
Round-bottom flasks, also known as boiling flasks, are chemical vessels with a spherical body and a cylindrical neck. They are specially designed for uniform heat distribution and are mainly used in distillation, chemical reactions, heating liquid samples, and meeting storage demands.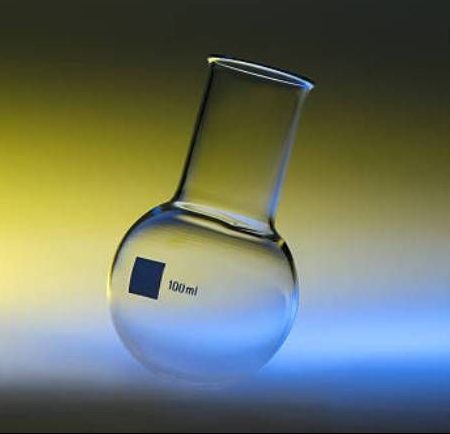 Separating funnels
These are special types of funnels specially designed for separating immiscible mixtures. The principle of separating a funnel involves the separation of two immiscible liquids on the basis of their densities.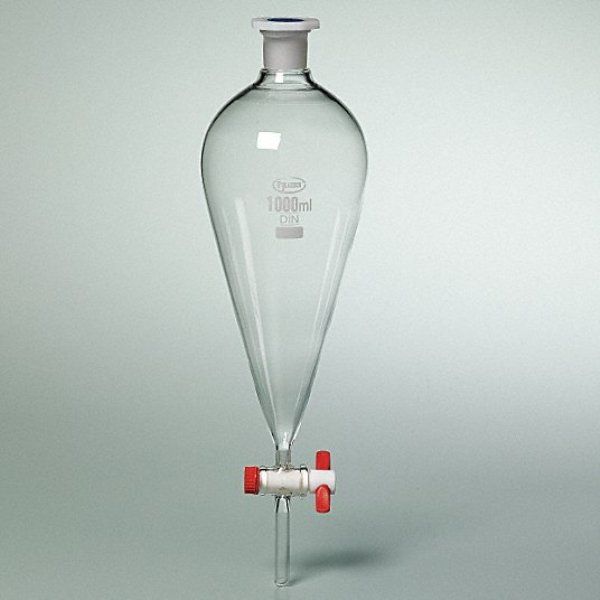 Dropper
A dropper is basically a  pipette with a nozzle at one end and a rubber bulb at another end. A dropper is mainly used to transport small amounts of a measured volume of liquids to chemicals. When the nozzle end is placed in water and the rubber bulb is squeezed, the air in the dropper escapes in the form of bubbles. Once the pressure on the bulb is released, water gets filled in the dropper. Fill the amount of water needed by observing the scales present on the dropper. Once the measurement is done, press the bulb again to stop more flow of water. Take the dropper out of the water and release the pressure in another container in which the measured amount of sample is needed.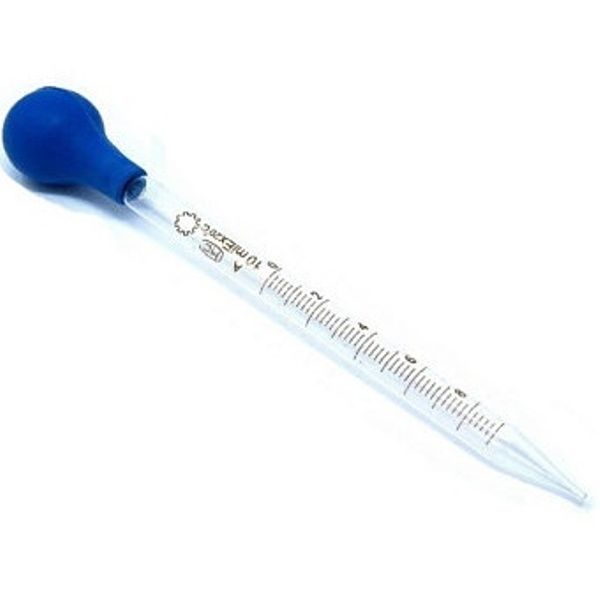 Spatula
Spatulas are pieces of equipment that help with mixing, scraping, and other tasks related to transferring powder materials and samples from one place to another.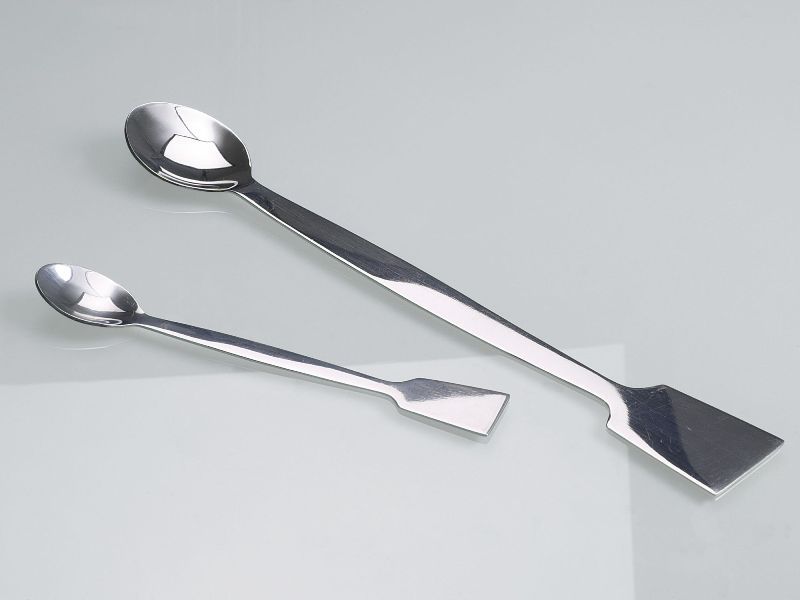 3. Stands used in laboratories
Tripod Stand
This stand is used for a bunsen burner. A Bunsen burner is placed below the tripod stand and a wire gauze is placed above the stand. Then, the sample is placed on wire gauze for heating. This stand has a significant role in this process as the direct contact of the sample and the bunsen burner will eventually lead to the burning of the sample container. The Tripod stand provides a certain gap between the burner and the sample.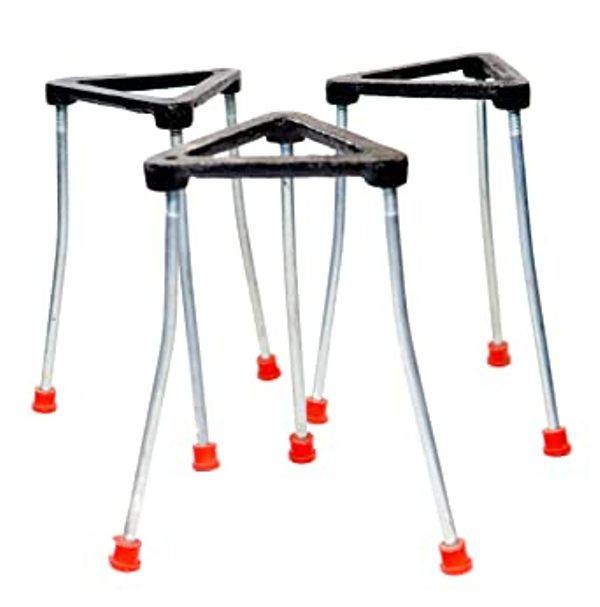 Retort stand
Retort stands are most commonly used in laboratories for holding test tubes, burettes, round bottom flasks, and separating funnels with the help of a clamp. They work as the support system for burettes, separating funnels, and test tubes by holding them straight up in the air.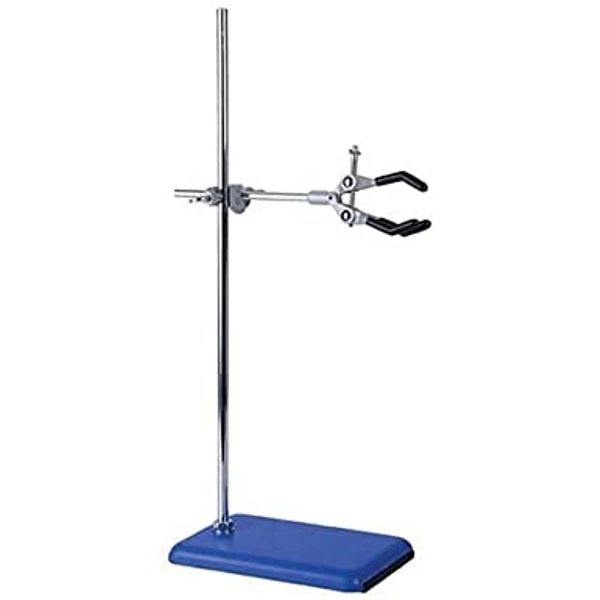 Test tube stand
Test tube stands are used to keep test tubes inside them, as test tubes do not have the capability to stand on their own because of their spherical bottoms. These stands help to keep the samples straight in an upright position by proving support to the tubes.
4. Other basic equipment
Tongs
Crucible tongs are used in chemistry labs for holding hot crucibles, flasks, evaporating dishes, or even small beakers. They are scissor-like tools, but instead of having two blades, these tools are replaced with two pincers or pieces of metal that concave together which allows the easy handling of hot crucibles, flasks, etc.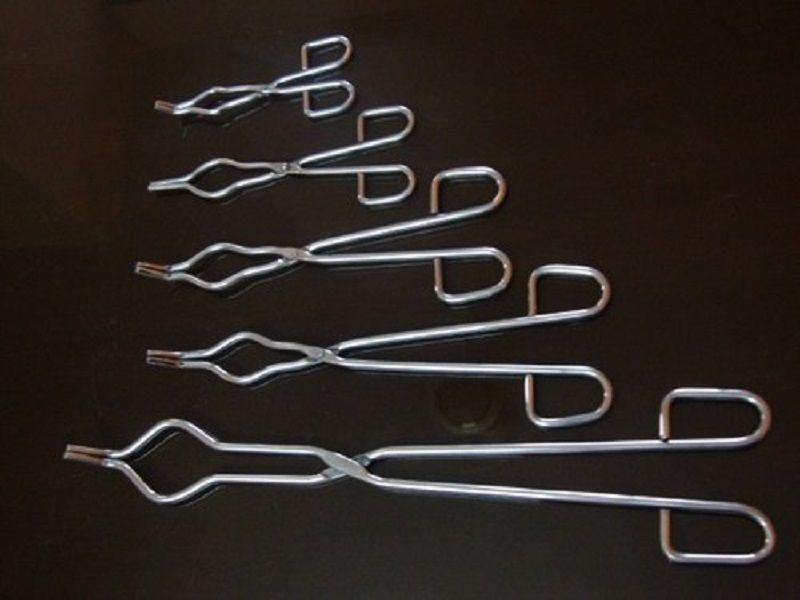 Brushes for test tubes
Test tube brushes, also known as spout brushes, are mainly used for cleaning test tubes and many narrow-mouth glassware like graduated cylinders, burettes, and Erlenmeyer flasks.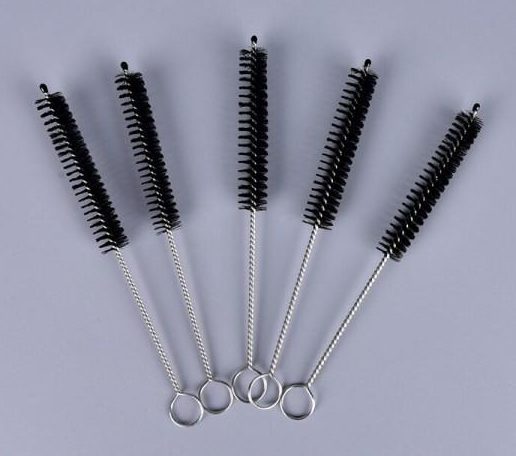 Watch glass
A circular concave piece of glass mainly used for evaporation in chemistry is called watch glass. It acts as a surface to evaporate a liquid. Other uses of watch glass include holding solids while being weighed, heating a small amount of substance, and as a cover for a beaker to prevent contamination.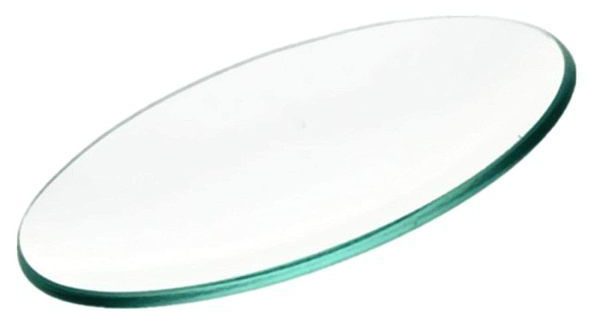 Wash bottles
Wash bottles are filled with appropriate cleaning liquids that are used for rinsing various equipment, like test tubes and round-bottom flasks, for cleaning purposes. It is a squeeze bottle with a nozzle at the top.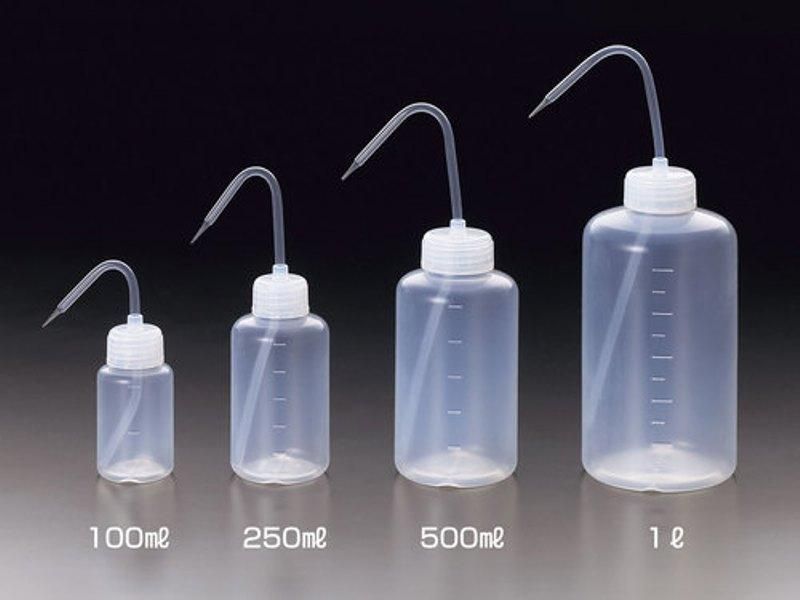 Crucible
Crucibles are storage equipment used to store chemical compounds when heated to extremely high temperatures. They are also used to stop metals, glass, and pigments from melting in a furnace. High-temperature chemical reactions and analyses are also done using crucibles as they hold a high tendency to withstand higher temperatures. Other uses of a crucible include burning, melting, or mixing of solid chemical compounds over a burner.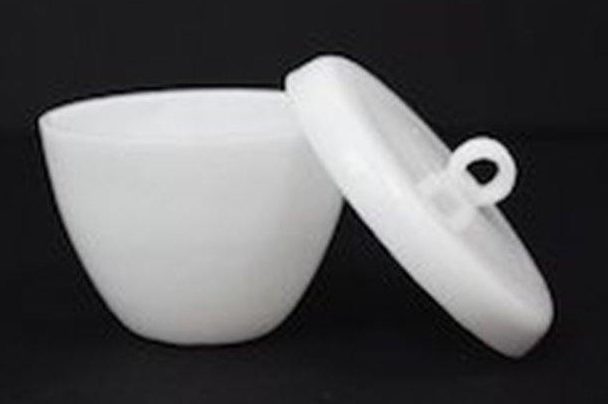 Tuning fork
A fork-shaped acoustic resonator that is used in many applications for producing a fixed tone is known as a tuning fork. It is basically a U-shaped instrument used for performing physics experiments. A tuning fork provides a useful illustration of how a vibrating object can produce sound. It consists of a handle and two vines. When the rubber hammer hits the tuning fork, the vines begin to vibrate. The back-and-forth vibration of vines produces sound effects.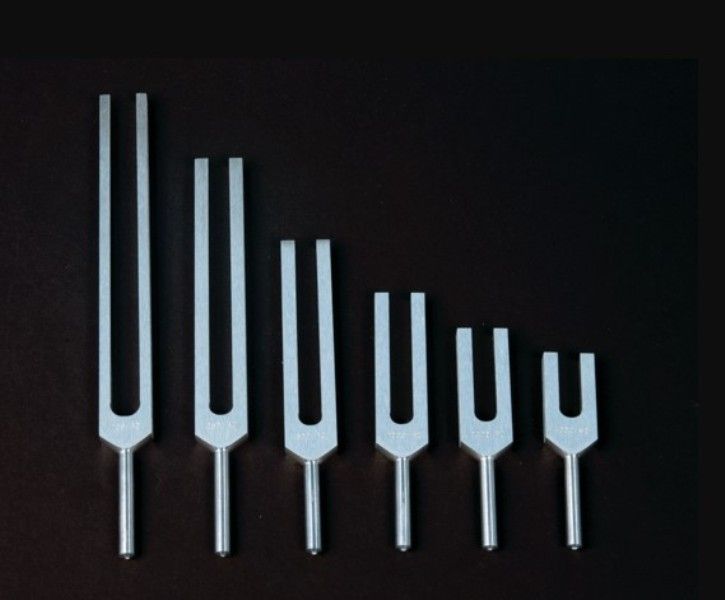 Wire gauze
Wire gauze or wire mesh holds great importance in chemistry laboratories. It is a sheet of thin metal that has net-like patterns. It is basically placed on a tripod stand between the burner and the heating glassware. This is because glassware cannot be heated directly on flames, so wire gauze is used to diffuse the heat which in turn protects the glassware. There are two types of wire gauze, plain and ceramic center wire gauze. Both transfer the heat efficiently, but the heat transfer by ceramic center wire gauze is more evenly distributed than plain wire gauze.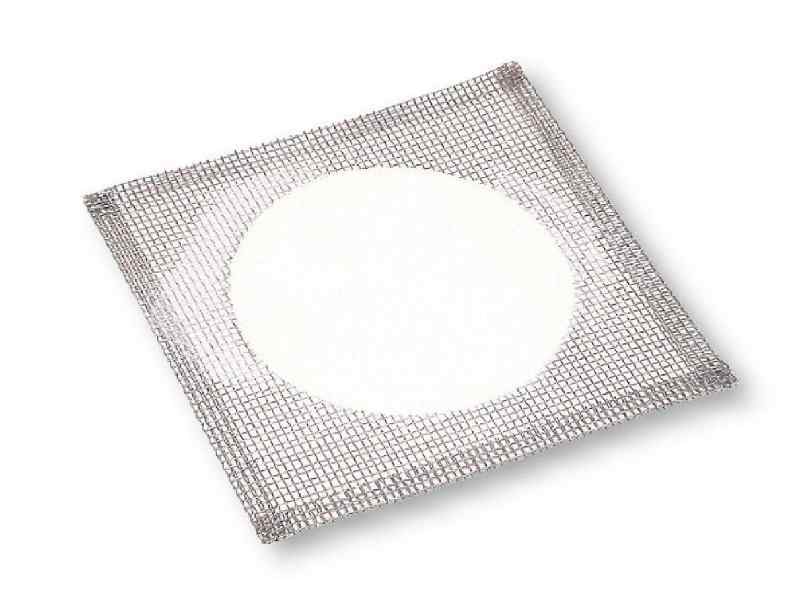 Mortar pestle
A mortar pestle is used in laboratories for grinding and crushing solid chemicals and samples into fine particles.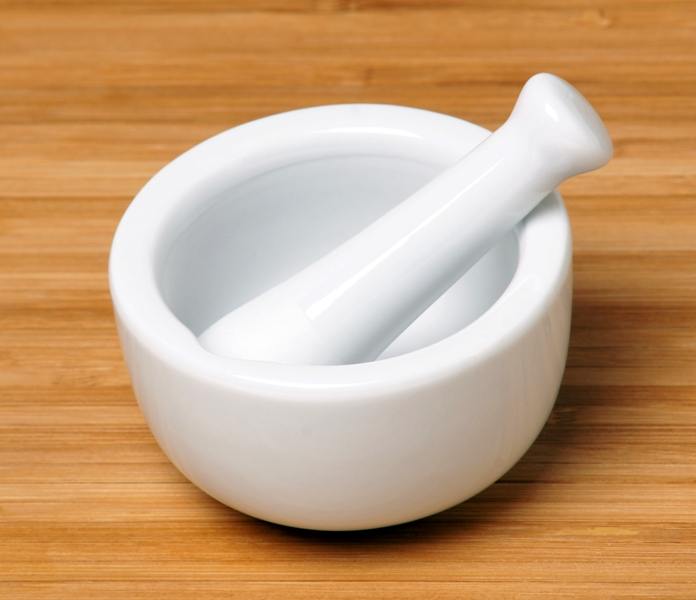 Forceps
Tweezers and forceps are small tools that are used in labs for gripping, and manipulating small and delicate objects, or removing tissue or teeth from the body. They are basically used in biology and chemistry labs for holding organic tissues or tiny specimens.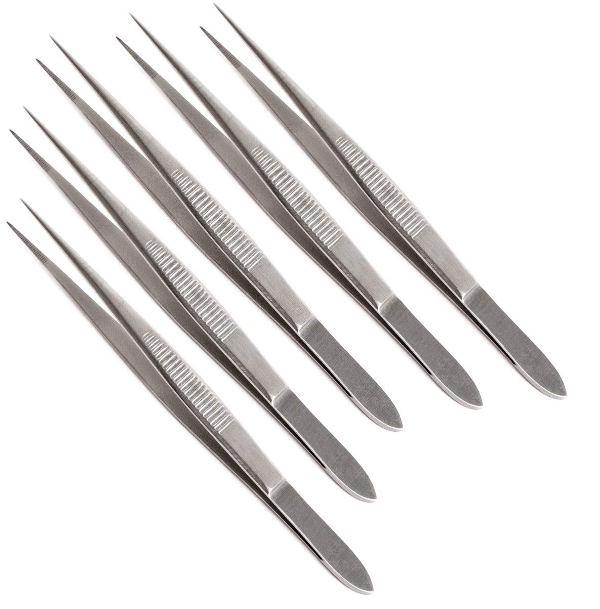 Bunsen burner
A Bunsen burner is a device that was named after Robert Bunsen and is used in chemistry laboratories for heating, sterilization, and combustion. The Bunsen burner is placed under a tripod stand for its function. Bunsen burner uses the combustion of methane (also called natural gas) and oxygen to produce heat. The flames of the bunsen burner are used to heat the mixtures to the ignition temperature.