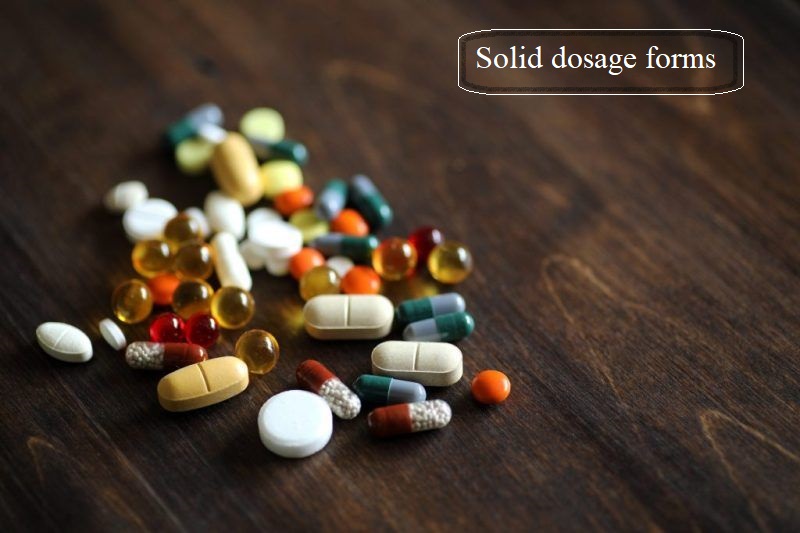 Solid dosage forms are the combination of two or more drugs intended to induce therapeutic effects. These can either be in unit dosage form or bulk form. Unit dosage forms include tablets, capsules, sachets, pills, etc., whereas bulk dosage form includes powder forms like dusting powder, insufflations, fine powder, etc. Unit dosage forms are intended for oral use while bulk dosage forms can be used for both internal as well as external use. Solid dosage forms are highly stable as compared to other dosage forms. They are more accurate forms of dosage with easy administration and are convenient to handle.
Examples
Tablets
Tablets are solid dosage forms of medicaments that are manufactured by mixing one or two drugs in certain amounts to induce therapeutic effects. This unit dosage form is highly convenient and easy to administer. Large-scale production of tablets is done using hi-tech machinery. Alu-Alu and blister packaging methods are used for tablet packaging. Tablets are manufactured using moulding or compressing methods. Powder-form mixtures of drugs are compressed to a certain level until highly rigid forms of tablets are made. Tablets are compressed and moulded in different shapes and sizes. Sometimes, a coating may be done to mask the bitter or unpleasant taste of the tablet and make it easier to swallow. Common excipients used in tablets are diluents, disintegrants, binders, glidants, lubricants, sweeteners, flavours, and pigments.
Capsules
The word capsule is derived from the Latin word 'capsula,' meaning a  small container. They are unit dosage forms in which the drug substance is enclosed in a shell made from gelatin to induce therapeutic effects. Hard and soft gelatin shells are used in the manufacturing of capsules. Excipients used in the manufacturing of capsules are gelatin, plasticizers, and other additives. Capsules are of two types, soft gelatin and hard gelatin.
Soft Gelatin capsules
Soft gelatin capsules are used for semi-solid drugs as well as the active ingredients that are dissolved or suspended in oil. For example, cyclosporine, Declomycin, chlorotrianisene, digoxin, vitamin A, vitamin E, and chloral hydrate.
Hard Gelatin capsules
Hard gelatin capsules are usually used for dry-powder ingredients. For example, Methoxsalen is used to treat psoriasis.
Oral Granules
These are the bulk dosage forms, which are dry aggregates of powder particles used to induce a therapeutic effect. They are irregular in shape and are often available in single-dose sachets (stick packs). These are bitter, nauseous, and unpleasant powders, which cannot be administered in tablet or capsule form. Liquid forms of such drugs are also not feasible due to stability problems. Some of the granules are placed under the tongue and swallowed with water, while some of them are dissolved in water before administration. For example, Montelukast sodium oral granules.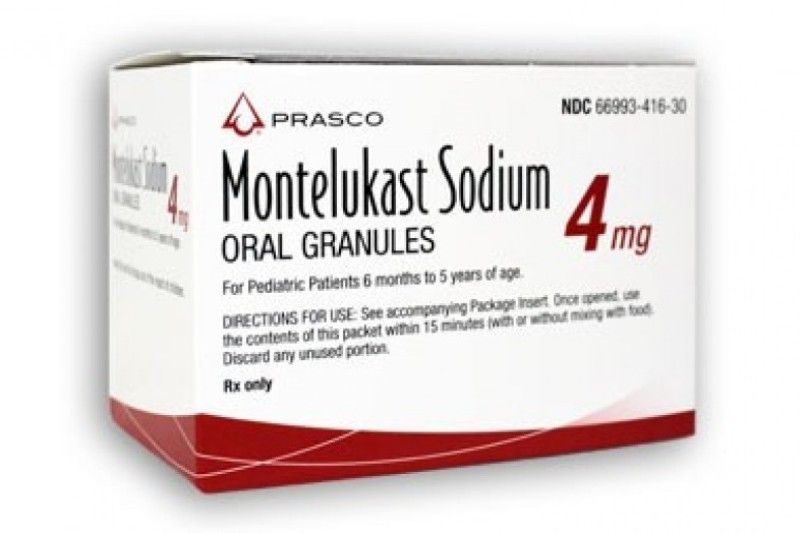 Sachets
Small spherical granules packed in pouch packets intended to induce a therapeutic effect are called sachets. Sachets are basically a packaging format that is used to yield dose accuracy and increase customer compliance. Sachets can be the most convenient dosage form for doses weighing 2g or more and are categorized under unit dosage forms.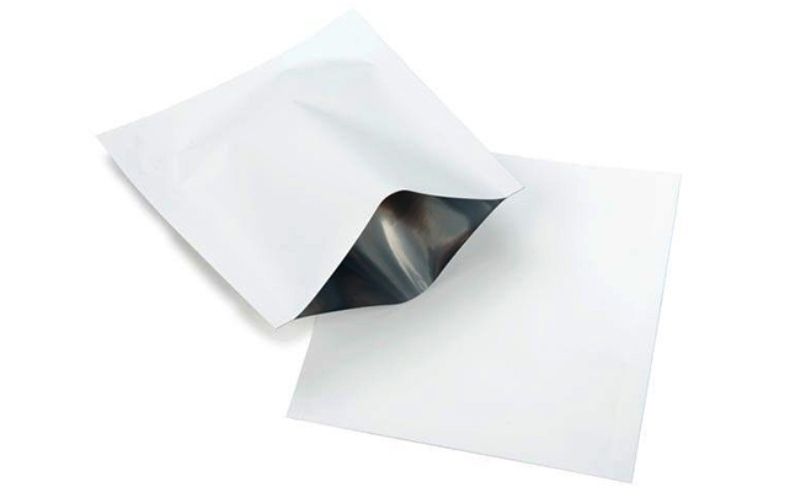 Lozenges
Lozenges are also the unit dosage forms consisting of sugar and gum, the former is added as a sweetening agent, while the latter is added to provide strength and cohesiveness to the lozenge, facilitating the slow release of medicament. It is useful in indigestion and cough remedies.
Chewables
Chewable tablets are unit dosage forms intended to break down into pieces in the oral cavity and facilitate the release of active ingredients. These are the tablets that can be consumed without water as flavoring and sweetening agents are added as excipients. For example, various vitamins are available as chewable tablets. It is the most convenient form of drug among young children who cannot swallow drugs as a whole.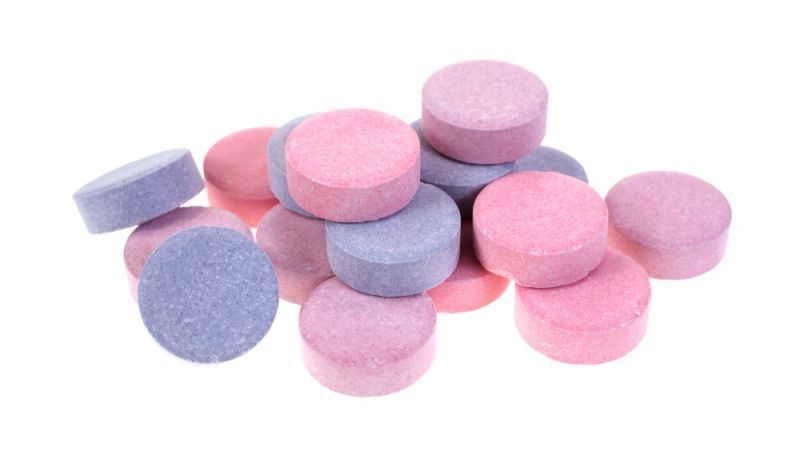 Pills
Pills are spherical-shaped solid dosage forms of a medicament intended to be administered orally. These are manufactured by rolling them under a wooden pill rounder to produce pills of uniform shapes and sizes. Sometimes, the drugs are coated with varnish, silver leaf, and gold leaf to improve the stability and finishing of the product. These pills are rarely used nowadays.
Dentifrices
Dentifrices are basically tooth powders that are used to clean the surface of the teeth. They are applied using a toothbrush on the surface of the teeth. Dentifrices are a combination of abrasive substances (sodium carbonate, calcium sulphate, magnesium carbonate), flavours, and a suitable detergent. Strong abrasive substances should not be used as they may damage the teeth structure.
Snuffs
Snuffs are finely divided bulk dosage forms, which are intended to induce a therapeutic effect. Snuffs are inhaled from the nostrils and can be used as an antiseptic, bronchodilator, and for decongestion action.
Dusting powders
Dusting powders are the bulk dosage forms of medicaments, which are intended for external use on the skin. They are passed through an 80-sieve mesh to get highly fine powder form to avoid local irritation. Dusting powders are manufactured by mixing two or more ingredients, one of them must be starch, kaolin, or talc. These ingredients are highly prone to pathogenic contamination and are, therefore, sterilized before their use. Dusting powders are widely used as an antiseptic, astringent, absorbent, antipruritic, and antiperspirant. They are generally considered non-toxic, but inhalation of these powders by infants may lead to pulmonary inflammation in infants. They are dispensed in sifter-top containers or aerosol containers, and the application of these powders is done with the help of a sterilized gauze pad or a powder puff. Dusting powders are of two types, medical and surgical.
Insufflators
Insufflations are powder medicaments that are meant for introduction into body cavities such as the nose, throat, ears, and vagina. Insufflator is an instrument that helps to spray the powder drug on the site of application. Nowadays, insufflators are available in form of pressure aerosols, which helps to administer a controlled dose of the drug through metered valves, and also protect the drug from the external environment.