Overview
When people are in need of cash for personal or business requirements, they seek loan services from banks or NBFCs (non-banking financial companies). For providing such loans, banks, or finance companies ask for security or collateral. A country like India is ranked 2nd position in terms of the world's largest consumer of gold and more than 60% of this gold is in the form of ornaments. Most of the time these gold ornaments are kept idle which created an opportunity for gold finance organizations to provide easy short-term finance to gold holders by taking gold jewelry as collateral. Moreover, in this manner, idle gold can be used for economic productivity. One such gold financing company in India is Muthoot Finance which is the largest NBFC in the gold loan segment in terms of the loan portfolio, as of 2019. Both personal and business loans (Gold loans) are offered by the company against the collateral of gold jewelry. Its customers mainly include people who don't have access to formal credit. The two segments of Muthoot finance are Power Generation and Financing. Different products and services like gold loan, life insurance, pension plans, silver coins, travel insurance, instant and domestic money transfer service, foreign exchange facilities, collection services, windmill power generation, visa services, consultancy services, and wealth management facilities are provided by it. Muthoot finance serves the needs of both individuals and corporates through these products and services. The headquarters of the company is in Kochi, Kerala in India. It has a wide network of branches in different states and Union territories of India. It has different subsidiaries for various products and services like Muthoot Brokers (P) Ltd for selling both life and non-life insurance products, Muthoot Homefin (India) Ltd for affordable housing finance, Belstar Investment, and Finance (P) Ltd. For microfinance, etc. The brand has more than 4400 branches in India and also, it has expanded its services in international countries such as the US, UK, UAE, etc.
A Brief Background of Muthoot Finance
Muthoot Finance is a flagship company of Muthoot Group and its inception took place on 14th March 1997 as a private limited company i.e. Muthoot Finance Pvt. Ltd. The promoters of the company are M.G. George Muthoot, George Jacob Muthoot, George Thomas Muthoot, and George Alexander Muthoot. On 18th November 2008, the promoters of the company converted it into a public limited company and renamed as Muthoot Finance Ltd. A total of 620 new branches were added to the company in the year 2009-10.
Initial Journey and Further Growth
In 2011, Muthoot Finance introduced the service of Western Union Money Transfer. Also, the network of the branches crossed 2,700 branches.
The gross annual revenue of the company crossed Rs. 45 billion and branch network expanded to more than 3600 branches in the year 2012.
The after-tax profit of Muthoot crossed Rs. 10 billion in 2013 and also, it got a license from RBI to operate white label ATMs.
In 2016, it acquired Muthoot Insurance Brokers Pvt. Ltd., and in 2018, the company got permission from the SEBI (Securities and Exchange Board) to start asset management services.
In 2019, it received various awards, including Flame Awards Asia, ABBY Awards, Gold at Golden Mikes Award. Muthoot Group became the first Non-Banking Financial Company to introduce AI (Artificial Intelligence)-based virtual assistant i.e., Mattu and Mittu. Through TRA's Brand trust report of 2019, Muthoot Finance has received No. 1 ranking as the most trusted brand of financial services.
Now, the famous actor Amitabh Bachchan is the brand ambassador for representing national campaigns of the Muthoot group.
Business Model of Muthoot Finance
A Business Model of an organization is a structure that is based on concepts that support the feasibility of a product or organization and demonstrates how an organization works, generates income, and how it moves forward to achieve its objectives. So a business model comprises all the processes and policies that an organization adopts and pursues. Peter Druker, the management guru has defined a business model as a model that is expected to explain your customer, a value that you can add-on or create for your customers and strategies you can adopt to do that at reasonable prices.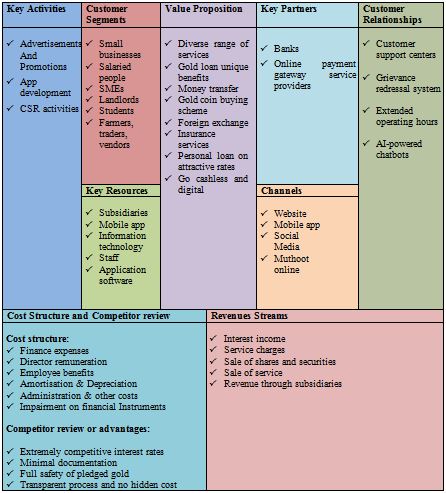 Now let's discuss the above elements mentioned in the business model canvas of Muthoot Finance in detail. 
1. Value Proposition
Muthoot provides the following unique benefits or value to its customers through its products and services.
A Diverse Range of Offerings: Muthoot Finance has a pool of products and services under one roof to cater to the different requirements of customers like Gold loans, Gold coins, Instant and domestic money transfer services, Insurance facilities, Home loans, Foreign exchange services, Microfinance, Mutual funds, PAN card facilities, White label ATMs, Foreign inward money transfer, Demat and travel services, etc.
Gold Loan Advantages: Muthoot Finance provides various exclusive benefits to its customers for availing gold loan i.e. the return of customer's gold in the same condition as taken in form of the security for providing loan facility, 24/7 facility for payment of interest online along with the facility of loan top-up. There are no hidden charges by the company and insurance is also free for customer's gold. This segment of Muthoot also gives advantages of part and prepayment facility and interest is applicable only on the loan amount that is availed. It also gives the facility to set free parts of the customer's pledged jewelry once they pay the loan amount equivalent to that part of gold along with interest. Apart from this, availing gold loans through the company is really convenient, customers can avail a gold loan in a single visit. Documentation is minimal and evaluation of gold is in-house.
Easy Gold Scheme for Buying Gold Coins: Muthoot Finance offers the service of purchase of gold coins which is differentiated due to various unique benefits like selling gold coins on easy monthly installments, higher ROI (return on investment), minimum investment risk, different domination options, 999 purity/24 carat, etc.
Money Transfer: Muthoot Finance offers different types of facilities for transferring money such as International money transfer, domestic money transfer, etc.
Transparent Service: International money transfer is considered as India's most transparent service of money transfer. The company doesn't take service charges for money collection. Also, the service is fast and easy. It facilitates direct credit facility after a certain amount.
24/7 fund transfer facility: Through the domestic money transfer facility, it provides a 24/7 fund transfer facility in any bank account in India. Customers can easily and quickly transfer money irrespective of bank holiday and service charges are very nominal.
Foreign Exchange Services: Muthoot Finance provides hassle-free services of currency exchange at competitive rates. All types of major currencies are available that are beneficial for a large pool of travelers. Also, the time and handling charges to send money in a foreign country are minimal.
Insurance Services: The insurance solutions offered by the company are customized solutions according to the specific requirements of customers. Both its insurance products i.e. Muthoot home protector (MHP) – General insurance product, and Muthoot lifeguard- Life insurance products offer competitive benefits to customers. Both products are offered to customers on the lowest premium, simple documentation, and hassle-free claim protocols. Immediate issuance of the policy is also there under both products.
Personal Loan at Attractive Rates: Muthoot Finance gives personal loan facilities for personal and family requirements through simple and lesser documentation. The other benefits of this product include doorstep service, flexible options for repayment, affordable charges, faster processing, etc.
Go Cashless and Digital: Muthoot Finance provides both digital customer services like E-KYC option, "iMuthoot" App for quick pay, Webpay facility, etc. and different options for loan disbursement like online payments, Instant cash facility, Pre-paid visa card, etc.
2. Customer Segments
Customers of Muthoot Finance include:
Small businesses or enterprises: The company provides small business loans for small businesses to meet their working capital requirements, purchase of equipment and new stock or inventory and for expansion purpose. The advantages of small-business-loan include insurance coverage, easy repayment facilities, and flexible tenure for re-payment without any pre-closure charges.
Salaried individuals: Working people who are working in government jobs or private companies are target customers of Muthoot Finance who are mostly of 24-58 years of age-group. It offers affordable and fast personal loan and home loan services to them on flexible options of repayment and without collateral.
SME business owners: To meet the working capital needs of SMEs (Small and Medium Enterprises), Muthoot Finance provides them a gold loan at a lower rate of interest.
Landlords: Landlord of premises are also customers of Muthoot Finance as the company extends its loan services to them for meeting personal requirements, house construction, expand business activities, etc.
3. Key Partners
Leading banks: Muthoot Finance has tie-up with leading banks like YES Bank, Nepal-based Global IME Bank, and Prabhu Bank, IndusInd Bank, etc. Muthoot Finance acts as the Business Correspondent or Business Representative of YES Bank who offers services to customers on behalf of the bank. For money transfer-related services between Indian and Nepal, it partnered with Global IME Bank and Prabhu Bank of Nepal.
Online payment gateway service providers: Online payment service providers like TechProcess payment services, Atom Technologies are partners of Muthoot Finance for e-payments. Through the partnership, customers of Muthoot Finance are able to pay their monthly installments using the digital platform.
4. Key Resources
Subsidiaries: Muthoot Finance has different subsidiary companies that are resources of different business segments of the company. The subsidiaries include:
Muthoot Homefin (India) Limited (MHIL): To take care of the home loan business of Muthoot Finance.
Asia Asset Finance PLC: To look after the finance business of the company in Sri Lanka.
Belstar Investment and Finance Private Limited (BIFPL): This subsidiary of Muthoot Finance provides services of microfinance to entrepreneurs.
Muthoot Insurance Brokers Private Limited (MIBPL): This is a wholly-owned subsidiary of Muthoot Finance which is considered as the insurance broking arm of the company. It provides both life insurance products and non-life insurance products of different insurance companies.
Muthoot Money Limited (MML): This subsidiary of the company is the main resource of equipment and vehicle finance operations.
Mobile App: The mobile app of the company also plays an important role as its resources for operating business. The in-house team of Muthoot Finance is efficient to develop different Android and iOS platform-based apps for Business to Enterprise (B2E), Business to customer (B2C), automation of the internal process. The iMuthoot mobile app of the company is developed for providing their superior quality products and services, along with advanced technology to customers. The customers can use the app to avail of different features and benefits.
Information Technology: IT plays a key role and one of the major resources of Muthoot Finance. The company has an advanced IT-enabled Core banking system (CBS) which is a user friendly and powerful banking solution and that is implemented in all branches in India. CBS functioning includes processing centralized transactions, management information systems (MIS), and back-office of the company. It facilitates enhancing convenience to customers by fast services and providing cost-effectiveness. Muthoot Finance also makes use of Artificial Intelligence (AI) based technology for enhancing its products and services. They have AI-based chatbots i.e. MITTU (Muthoot intelligent technology transformation utility) and MATTU (Muthoot advanced technology transformation unit.)
Application software: Muthoot Finance has developed a series of mobile application software for enhancing its internal support system and customer services. Their Smart Eye is one such application software that uses advanced technology to secure a big amount of gold in different remote branches of the company. It is a cost-effective and centrally managed tool.
Manpower or staff: The staff of Muthoot Finance is well qualified and skilled enough to handle all the financial requirements of customers and their queries. The technical staff is competent enough to develop in-house app software to enhance the services provided by the company.
5. Key Activities
Advertisement and promotional activities: Muthoot Finance organizes various informative ad campaigns through print and electronic media i.e. different TV channels, newspapers, radio, magazines, etc. Also, billboards, vehicle displays, etc.
App development: Muthoot Finance has an in-house technical team to develop various user-friendly mobile apps to view required information and for 24/7 online transactions. The team develops different apps that are compatible with both iOS and Android platforms for internal process automation, B2E, and B2C platforms of enterprise mobility.
CSR activities: The Company is involved in conducting various corporate social responsibility (CSR) activities to provide economic, social, and environmental benefits to all stakeholders or communities they deal with. Their CSR activities include providing scholarships, health and education initiatives, eco-friendliness, tree-plantation, sports, donations, women empowerment, etc.
6. Channels
Website: Muthoot Finance provides all necessary information of its offerings and platform to apply for gold loans and other services through its website i.e. muthootfinance.com
Mobile App: Through iMuthoot mobile app, Muthoot Finance provides facility to customers to avail of all features and available services.
Social media: The ads of Muthoot Finance can be seen on different social media platforms like Facebook, Youtube, Instagram, Twitter, Linkedin, etc.
Muthoot Online: Muthoot Finance offers its online services to customers through 'Muthoot Online". This is the online service platform for customers to make an interest payment and principal re-payment amount through net banking or debit card. Using this facility, the withdrawal of available loan is also possible and customers can renew eligible loans.
7. Customer Relationship
Muthoot Finance values and vision is inclined towards providing the highest quality services and support to its customers. For this, they have professional people (staff) at their branches and customer support centers that are centralized. The staff is well trained in the local language, understands the needs of customers, and also, disburses loans in less time.
The company has a proactive grievance redressal system for customers that address the issues or complaints of customers. Customers can reach them through e-mail or phone or SMS or personal visit or complaint form for any query or feedback or complaints. Also, customers can approach the Grievance Redressal officer or Principal Nodal officer as well for further escalation.
The competitive strengths of Muthoot Finance lie in its quick response time and customer service of high quality. They offer extended operating hours to meet the work schedules of customers.
The company also has AI-based chatbots to provide useful information to customers and handle their queries. Also, FAQ and Helpline are available for the same.
 8. Revenue Streams
The revenue segments of Muthoot Finance consist of interest income, service charges, sale of shares and securities, sale of service, etc. The total revenue of the company for FY19 was Rs. 6880.60 crore. The revenue contribution of each segment for FY19 is as under: 
*Source: Annual report for FY19 of Muthoot Finance.
The revenue earned by the company in 9M for FY20 was Rs. 6312.4 crore. This includes interest income of Rs. 6213.80 crore and income other than interest i.e. Rs. 98.6 crore. The Revenue contribution of the subsidiaries of Muthoot Finance is as under: 
*Source: Investor presentation FY20 of Muthoot Finance
9. Cost Structure and Competitor Review
9.1 Costing
Muthoot Finance anticipated different expenses i.e. Finance cost, Remuneration of directors, Amortisation & Depreciation, Administration & other costs, Employee benefits expense, Impairment on Financial Instruments.
9.2 Competitor

Review
The major competitors of Muthoot Finance include Bajaj Finance, Shriram Finance, Sundaram Finance, Esaf Microfinance, L&T Finance, Manappuram Finance, etc. The competitive advantages of the company over its competitors are as below:
The gold loans of Muthoot Finance are provided on attractive, extremely competitive interest rates and are the safest means for immediate fund requirements.
Documentation is minimal and the storage of customer's gold is fully secure as gold is secured safely in vaults.
Their process of providing loans is transparent as their staff provides a thorough understanding of their process to customers before sanctioning loans to them.
There are no hidden charges or additional fees other than already specified.
Different loan-related services are available through iMuthoot, mobile app, and their online internet platform for the convenience of customers.
Summary
Muthoot Finance is the largest NBFC in the gold loan segment. It taps on the financial needs of its customers. Along with providing unique and exclusive services to its customers, Muthoot Finance also knows the perfect business strategy to make itself a competitive NBFC in India.